Today on Twitter, the wife of Penguins prospect and current Wheeling Nailers forward Casey Pierro-Zabotel had a complete meltdown.
According to e-mails we've received, she has been jobbing Nailers leading scorer Nick Petersen all season long.
There is evidence of this:
(The other ones calling him a "retard" have been deleted).
This afternoon, she posted another huge Tweet:
Apparently, she was pissed off that Petersen and Ben Street were called up to the AHL over her husband.
All of these tweets have been deleted since, in an attempt to hide her hatred for the organization.
After fans confronted her about these ridiculous remarks, she claimed that the organization she was referring to was "the teachers and school".
CPZ has been the biggest bust in recent memory throughout the entire Pens system.
After coming off of a high-scoring prolific junior career, he made his pro debut last season with Wheeling (ECHL).
He was invisible the entire season and looked entirely lost in two short call-up stints with Wilkes-Barre (AHL).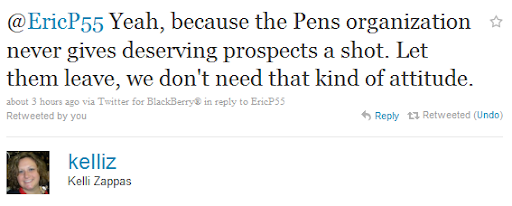 There was no chance this prospect (if you can even consider him one anymore) would ever hit the ice with the Pittsburgh Penguins,
but disrespectful tweets from your wife bashing the organization you play for will probably hurt your chances even more.
No matter how slim they were to begin with.