The thought of losing isn't even in the minds of one Wilkes-Barre/Scranton Penguin right now.
Tonight, they have proved themselves as a legitimate force in the East Divison.
Defeating a stacked Hershey line-up that included 67-year-old AHL superstar Keith Aucoin, and the 5.4 million dollar man Sheldon Souray.
It took the Baby Pens like four or five months to establish their identity last season.
They just did it in five games.
A couple specific players are out of their minds right now.
Everything after the jump.
[dps2002, Jordan B]
They contributed all of the sick in-arena pics, too.
I made a splash on Twitter when I posted the following pic during the national anthem:
Ray Shero isn't even watching WB/S on a 73 incher, just sayin'.
Ryan Craig was inserted back in the line-up after being out with an injury.
Keven Veilleux made his regular season debut.
Sterling was a scratch. He's still out with a muscle pull in his leg.
A familiar face opposed Brad Thiessen across the way:
Can't even say you still don't like Sabou.
Throughout Joe Vitale's entire rookie season last year, he potted six goals.
Tonight, he continued to prove that Pittsburgh knows exactly how to develop their prospects.
Vitale comes down on a shorthanded 2-on-1 rush against Sheldon Souray. He took the shot.
1-0.

All three of Vitale's goals this season have been of this variety. The nasty kind.
The first five minutes of this period were worthless, made up of just sloppy hockey.
Vitale got bored, crashed the net, and scored another goal. His 4th of the season.
Remember he had six all of last year. Man.
2-0.
Guy on the right with the glasses misses Matt Murley apparentlly.
Obviously you knew the Bears weren't going to go down easily.
Late in the frame, a Patrick Wellar point shot gets deflected in by Boyd Kane.
2-1.
No relation in blood or skill.
Brian Fahey takes a holding the stick penalty before Kane can even settle down on the bench and take a hit of blow.
Hard work in the corners, and Dustin Jeffrey comes out with the puck. Gets it back to Steve Wagner the point.
His shot gets blocked but the puck finds itself laying on Bortuzzo's blade, who decides to do his best Souray impression.
3-1.
Seriously, the hardest shot Bort's ever taken in his life.
All business with the no celly, too.
(Check the video at the bottom of the post).
After some jobbing, Potter unleashes a bomb from the point.
Sabourin makes the save, and then slides back into his own net.
The puck was clearly over the goal line, but there was no possible way to actually see it buried under his pads.
No goal.
For old time's sake…
Tim Wallace continues to be a man on a mission.
Running around, hitting everything. Generating scoring chances.
He's their best player right now. Probably will be the first call-up at forward.
And if he isn't a regular on Pittsburgh's 4th line next season I'll be stunned.
As we get late into the final period of play, Hershey starts to show desperation and they start pouring it on.
Thiessen was on his toes.
Under two minutes remaining, Kyle Greentree makes a sick pass from his stomach to Andrew Gordon.
All alone in front.
3-2.
Time to buckle up. The Bears pull the goalie down by just one.
Vitale is out there with a chance for the hat trick, but clears the zone instead of shooting for it.
That's a team player.
An unreal icing touch-up by Wagner with two seconds left, and that was all she wrote.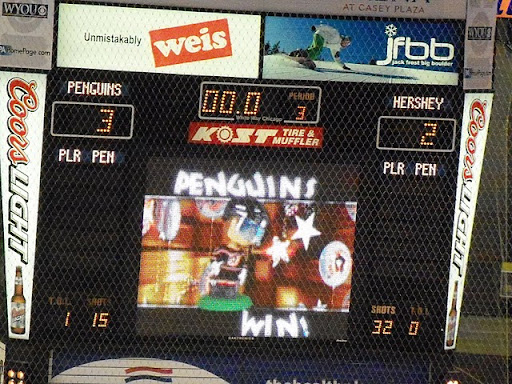 Game.
Hershey outshot the Pens 32-15.
Too bad Thiessen would have none of it.
Souray was invisible. What an idiot.
Can't even imagine when everyone is fully healthy, and they insert a demoted Eric Tangradi on the first line.
This team is for real. Get your playoff hats ready.
Nobody wants to come to Mohegan Sun right now.
WB/S is 5-0.
Highlights: