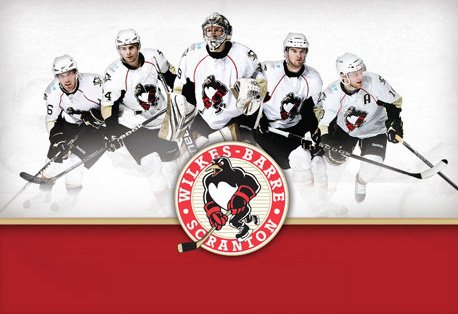 Wilkes-Blog will be giving a run-down on each Wilkes-Barre/Scranton Penguins member.
We'll be breaking the posts down by position. First up — the forwards.
*Jersey numbers are subject to change.
#25 ERIC TANGRADI
aka: The Big Dog
Player Type: Power Forward
Acquired: From Anaheim on Feb. 26, 2009, with Chris Kunitz for Ryan Whitney.
The team's number one prospect, Tangradi likes to make his living in front of the net. Screening goalies, causing havoc in in the blue paint, and tipping pucks are his M.O.
The coaching staff praises his skill-set, size, and strength. Projected as a top-six winger, eventually flanking Crosby or Malkin.
When he's not sniping goalies on Xbox, he likes to get in on the forecheck and bang bodies.
Look for Tangradi to make an impact in the NHL as soon as this season.
#23 RYAN CRAIG

aka: Captain Craig
Player Type: Power Forward
Acquired: Free Agent, July 2, 2010.
Fun fact: Enjoys cooking, long walks on the beach, and schooling defenses.
After captaining and being named Norfolk Admirals player of the year last season, Craig looks like he is the front runner to wear the "C" for WB/S.
In the AHL, his role will be on the top scoring line as the number one center.
As an NHL call-up, his role will be a fourth-line role player expected to fight and play physically.
Works hard every shift, which will set a good example for the younger prospects.
#29 BRETT STERLING

aka: The Ticket
Player Type: Sniper
Acquired: Free Agent, 2010.
Fun fact: Colby Armstrong influenced him to sign with Wilkes-Barre/Pittsburgh.
One of the proven elite goal scorers in the AHL, Sterling will be expected to lead this team to the Calder Cup playoffs.
As I
mentioned
back in July, he is undoubtedly the biggest signing in franchise history.
To quote Jonathan Bombulie, "
Will get you 30 goals, might get you 50."
It's probably not too crazy to say that he could set the franchise record for points in a season (currently held by Janne Pesonen).
Can't wait 'til he goes bar-down in Hershey and quiets that damn crowd.
#18 CHRIS CONNER

aka: Little Cons
Player Type: Speedster
Acquired: Free Agent, 2009.
Fun fact: Started the 2010 St. Patrick's Day Massacre.
Conner was among the top WB/S scorers last season. He relies on his quickness to motor past defenders at the AHL level.
He set the franchise record for most points in one game (6) last year.
A reliable top-six forward, look for Conner to have an even more successful year, playing with better linemates.
Can fill an NHL call-up role in a pinch.
#21 DUSTIN JEFFREY

Player Type: Playmaker
Acquired:
Drafted by PIT / 2007
, 6th round
(171st overall)
Fun fact: Scored first NHL goal against Manny Fernandez.
Jeffrey excels defensively, and is an offensive threat on the penalty kill.
He led WB/Scranton last season in scoring (24 goals, 71 points).
Plays in all situations including the top power play.
Was the Baby Pens lone AHL All-Star representative last year.
#28 NICK JOHNSON

aka: The Juice
Player Type: Dangler
Acquired: Drafted by PIT / 2004, 3rd round (67th overall)
Fun fact: Played four seasons at Dartmouth (NCAA).
Johnson is kind of a tweener, where he doesn't have the skills to play a regular top-6 NHL role and doesn't have the grit to play a bottom-6 role.
At the minor-league level, he is relied on for producing offense though.
His stickhandling skills are above average and a few highlight reel goals last year proved so.
He recently signed a 1-year, 2-way deal so this will be a make or break season for him.
#24 TIM WALLACE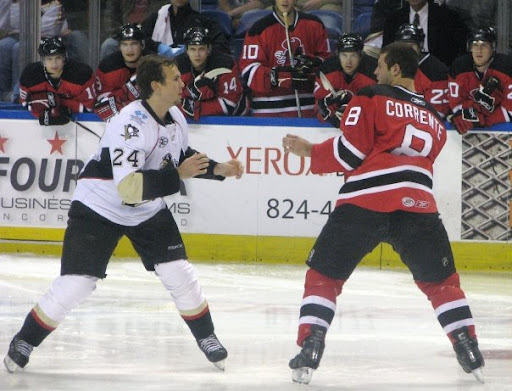 aka: The Alaskan Crab
Player Type: Grinder
Acquired: Free Agent, May 2007.
Fun fact: The jokester of the locker room.
Undrafted, Wallace was originally looked at as nothing but a fourth-line plugger.
But last season he continued to impress Shero and Co. by leading the team with 27 goals.
He has a willingness to fight, although he isn't overly strong in that category, coming from the NCAA.
He is actually one game under the AHL Veteran rule mark, so he won't be considered as an "overager".
(In the AHL, you can only dress 5 veteran players.
A Veteran player is one who has played a combined 260 games total in the NHL, AHL or European Premier League.
Basically, anyone with 3.5 years of experience in the AHL & NHL combined is a veteran.)
#26 JOE VITALE

Player Type: Grinder
Acquired: Drafted by PIT / 2005, 7th round (195th overall)
Fun fact: Won three state championships and one national title while in high school.
A faceoff-specialist and penalty killer, Vitale looks like he could have the ability to fill a fourth-line center role one day in Pittsburgh.
For what he lacks in production, he brings in speed and grit.
Near the beginning of his first pro season last year, he showed flashes of becoming a potential pest or agitator.
The second half of that year would disagree, as he did not show willigness to drop the gloves or get under the opposition's skin.
#44 KEVEN VEILLEUX

aka: Beast Mode™
Player Type: Power Forward
Acquired: Drafted by PIT / 2007, 2nd round (51st overall)
Fun fact: Pens drafted him after Tangradi was taken off the table by Anaheim.
One of the most intriguing prospects in the system, this giant of a kid is looking to prove himself at the professional level.
Some fans have realistic expectations of him putting up 35-40 goals this year in the AHL.
KV does things with the puck that no 6'5″ forward can do.
He can dangle through defenders and score a highlight-reel goal, and he isn't afraid to fight.
On top of that, he likes to finish his checks and is a go-to guy in the shootout.
#19 CHRIS COLLINS

aka: The Hamburgler
Player Type: Sniper
Acquired: Free Agent (AHL-only deal), 2010.
Fun fact: Boston College legend (NCAA).
After impressing greatly in WB/S camp/pre-season, Collins looks like he is primed for a high-scoring season himself.
After spending the previous three seasons overseas in the FNL / DEL, he is making his return to North American hockey.
He put up 22 goals with the Providence Bruins in '07-08.
His nickname stems from his apparently frequent visits to McDonald's.
#28 GEOFF WALKER

aka: Jumpin' Geoff
Player Type: Power Forward
Acquired: Free Agent (AHL-only deal), 2010.
Fun fact: Fan favorite in Manchester last year.
He opened eyes at the London rookie tournament last month, and continued to show up in training camp.
Should fill a nice third line role for Wilkes-Barre, as he brings a mixture of goal scoring and grit.
Has done nothing but score goals and fight since he signed with the Pens.
#11 ZACH SILL

Player Type: Grinder
Acquired: Free Agent (AHL-only deal), 2009.
Fun fact: Hates Greg Amadio (Grand Rapids, previously Hershey).
Sill will continue his role as the fourth-line center, flanking two heavyweight fighters alongisde him.
Although he'll be riding shotgun to these goons, don't be fooled. He can drop the gloves, and he throws from his heels.
He has some untapped potential in the scoring department.
A toe-to-toe style scrapper, Sill is still on an AHL-only deal but is highly respected by the coaching staff.
#41 JOEY HADDAD

Player Type: Power Forward
Acquired: Free Agent, 2008.
Fun fact: Favorite movie is Armageddon.
Undrafted, his first pro season was spent mostly in the Wheel House last year, where he performed decently.
He won't have a spot in WB/S handed to him – he'll have to earn his way into the line-up on a nightly basis.
A gritty player who can chip in is always valued by Shero and his staff, and that's what he can bring.
Aside from Sterling, he might have the best wrist shot on the team. He just has to find a way to get it off quickly enough against top-end defenders.
#62 JESSE BOULERICE

aka: Bowl-Of-Rice
Player Type: Fighter
Acquired: Free Agent (AHL-only deal), 2009.
Fun fact: TKO'd Aaron Downey in the first ever fight at CONSOL Energy Center.
Last year he played the entire year on an AHL tryout basis. This time around he's locked up on an AHL contract.
A former everyday heavyweight in the NHL, Boulerice spent most of his time with Carolina and Philly.
Every single player in the league knows what he's about. He'll try to end your life. That's why he's such a good deterrent.
He led WB/S with 19 fights last season high-lighted by this battle against Hershey jobber Grant McNeill:
#17 RYAN SCHNELL
Player Type: Fighter
Acquired: Free Agent (AHL-only deal), 2009.
Fun fact: Played for the US National Development Team from 2005-07.
Schnell was Wheeling's heavyweight last year, but he is looking to make his mark at the next level above.
He's a young, powerful fighter who proved himself as one of the best in the ECHL just a year ago.
Looks like he could ride shotgun to Boulerice, but there is another one of these guys in camp…
#55 PASCAL MORENCY

Player Type: Fighter
Acquired: Free Agent (AHL-only deal), 2010.
Fun fact: Had 596 PIM in '01-02 with Cape Breton (QMJHL).
A team-first guy, Morency was invited to WB/S camp and could easily have a fourth line role once again.
An already proven fighter in the American League, Morency plays a crash and bang style of hockey.
He runs around, hitting everything that moves, and usually ends up boarding some guys in the process.
Although he competes viciously, he doesn't always drop his gloves and ends up goading some other fighters into taking penalties.
#91 ANDREW ORPIK

aka: The Sandman
Player Type: Grinder
Acquired: Free Agent (AHL-only deal), 2010.
Fun fact: Played competitive golf.
Yes, he's Brooks Orpik's little brother. No, he doesn't have the same hitting ability.
But his role is a pure grinder, and his mission is to block shots, and finish his checks.
He knows he has to fight more too, so look for him to get into a few altercations this season.
He'll most likely start with the Nailers, but will be called-up quickly.
#15 NICK PETERSEN

Player Type: Playmaker
Acquired: Drafted by PIT / 2009, 4th round (121st overall)
Fun fact: Grew up a Senators fan.
Petersen will be making his professional debut this season, coming straight out of juniors (St. John's, QMJHL).
Most likely slated to start with the Wheeling Nailers, he should see his fair share of call-up time to the AHL.
Likes to tip pucks in front of the net, but is considered as a pure playmaker and is known for his above average passing ability.
Look for Petersen to open some eyes in the "E" early on, as he loves to rack up the assists column.
NEXT UP:

Defensemen