Wilkes-Blog will be giving a run-down on each Wilkes-Barre/Scranton Penguins member.
We'll be breaking the posts down by position.
*Jersey numbers are subject to change.
#10 ANDREW HUTCHINSON

aka: Hutch
Player Type: Offensive D-man
Acquired: Free Agent, 2010.
Wilkes-Barre's number one defenseman, Hutchinson will quarterback the power play and log a ton of minutes.
He was the assistant captain for the Texas Stars (AHL) last season, and I expect him to wear the same letter for the Pens.
An elite defenseman at the minor-league level, he will be a nice addition to help anchor the young defensive core.
#8 ROBERT BORTUZZO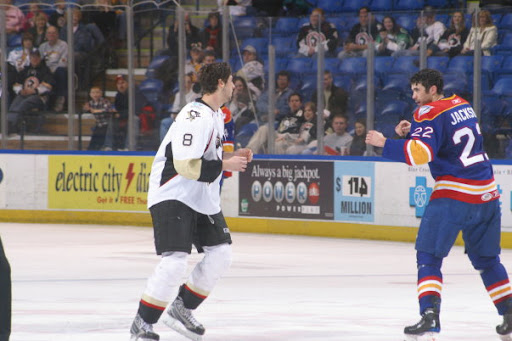 Player Type: Defensive D-man
Acquired:
Drafted by PIT / 2007
, 3rd round
(78th overall)
Fun fact: Ranked as the Pens' top defensive prospect in the AHL.
Last year was the first time, Bort was put into the "crease-clearing" defensive role, and he flourished.
He opened up the coaching staff's eyes with abilities they didn't know he had.
Plays with an edge and brings a lot of grit to the back end. Doesn't have a hard shot, but is good with the puck on his stick.
He also showed a strong willingness to drop the gloves with anyone, especially if it meant sticking up for a teammate.
Look for this beast from Thunder Bay to make his NHL debut sometime this season.
#7 BRIAN STRAIT

Player Type: Defensive D-man
Acquired:
Drafted by PIT / 2006
, 3rd round
(65th overall)
Fun fact: Won an award for the best playoff beard while in college.
Think of Rob Scuderi with a little more of an edge, and you have Brian Strait.
Plays in a pure shut-down role, and led WB/S last year in plus-minus (+22).
Doesn't have a shot, but with that said, it's still better than Scuds' is.
Slated to be matched up with Hutchinson on the top pairing, we'll see if he can keep his strong play going and earn a call-up.
#20 STEVE WAGNER

Player Type: Offensive D-man
Acquired: From St. Louis on Feb. 11, 2010 for Nate Guenin.
Fun fact: Played in 46 NHL games with the Blues.
After acquiring him in a minor move at last year's trading deadline, Wagner showcased what he can bring to the table.
He was put on the man advantage, where he racked up the PP points like a champ.
Look for him to be put on the opposite point of Hutchinson on the top powerplay.
Will get beat defensively at times, but his hard slap shot and puck-moving make up for it.
#3 COREY POTTER

aka: The Wizard of Wilkes-Barre
Player Type: Two-way D-man
Acquired: Free Agent, 2010.
Fun fact: Enjoys roller hockey.
Potsy brings a bit of everything in his game including a mixture of offense, defense, and grit.
In one call-up stint with the New York Rangers, he put up 2 points in 5 games.
Is a capable power play point man on a second unit, and will see a lot of penalty killing action.
While he is mostly known for his play with the puck, he loves to catch the other team with their head down and end them:
#5 CARL SNEEP
Player Type: Two-Way D-man
Acquired:
Drafted by PIT / 2006
, 2nd round
(32nd overall)
Fun fact: Won two national titles at Boston College (NCAA).
About to make his professional debut, Sneep has actually climbed the depth chart in the last week alone.
He has had a strong showing in AHL pre-season, and it looks like he will open the season on the third pairing.
Will work his way onto the special teams units, as he can go both PK or PP.
Expectations are high, as he is actually the highest drafted player on the current team.
#6 JASON DeSANTIS

Player Type: Two-Way D-man
Acquired: Free Agent (AHL-only), 2010.
Fun fact: Favorite TV show is Entourage.
One of the top blue-line performers in pre-season, DeSantis brings a puck-moving element.
Defensively minded, he also has offensive potential but has yet to prove that at the pro level.
Played overseas last season after spending two years with the Philadelphia Phantoms.
#44 DREW FATA

Player Type: Two-Way D-man
Acquired: AHL try-out
Fun fact: Drafted by Pittsburgh in the 3rd round (86th overall) in 2001
Fata is an established heavyweight fighter in the AHL.
Basically the complete opposite of his older brother, Rico Fata.
He loves to throw down and packs a heavy slap shot from the point.
He is trying to earn a spot on this team, as he was brought in on a try-out basis.
We're pulling for him to grab the number 7 spot.
#12 ALEX GRANT (+IR)

Player Type: Offensive D-man
Acquired:
Drafted by PIT / 2007
, 4th round
(118th overall)
Fun fact: Captained the St. John Sea Dogs (QMJHL) in 2007-08.
Originally slated to be WB/S' 6th defenseman, Grant was injured after he was boarded in the London rookie tournament last month.
Played most of the year in Wheeling (ECHL) last year, but in his late call-up to the AHL, he showed a lot of improvement in all areas.
A future power-play guy that can lug the puck up ice, Grant will be set back for months now, as he recovers from this current injury.
NEXT UP:
Goalies