MARC-ANDRE FLEURY GOES TO THE PSYCHOLOGIST
Dateline – Pittsburgh
Location: Consol Energy Center
Date: Monday, November 8, 2010
It's almost noon on this cold, crisp Monday in the Burgh. Marc-Andre Fleury pulls his car into his parking spot in the Consol Energy Center parking garage. His mind still on the first period of the Coyotes game, he sits back for an anxious second and sighs. He's not sure why Shero called him down to the arena on a day off.
Might as well get this over with. He heads toward the front offices, nodding to the security guards as he approaches the door. The guards buzz him in and he makes his way to the front desk. After checking in for his appointment, Fleury sits down in one of the lobby chairs. He's anxiously tapping his feet, as if it somehow would make the clock move quicker.
At noon sharp, the door to the front office swings open and Ray Shero steps out, smiling. "Come on back, Marc," he says, shaking hands with his franchise goaltender as they head through the door and down the hallway. "Thanks for coming in, kid," says Shero. "Mario's here as well and we just want to go over some things with you."
They make their way to a conference room. Standing at the front of the table wearing a suit that costs more than your annual salary is Lemieux. He strolls over to Fleury and shakes his hand, "Bonjour, Flower." Fleury can actually feel the levels of "First Class" increasing in his bloodstream as he shakes hands with Le Magnifique. "Have a seat, kid," Lemieux says. Fleury obliges, but not before he could notice Shero pouring himself a drink from a curiously-familiar, amber-colored bottle over by the bar. Before he can get a closer look, Shero comes over and sits down.
"We'll cut to the chase, Marc," says Shero. "As you know, Mario and I hung back here in Pittsburgh rather than go on the road trip with you guys, and there's a reason we did it." Fleury, sitting back in his seat, looks on inquisitively. "We've been listening to the talk shows and reading the message boards and the papers the last few days. People have been clamoring for us to address your rough start by, um…having you talk to a psychologist. They want to find out if maybe these struggles are the result of something going on in your head."
Fleury nods slowly, slightly unsure of what direction this is going. Shero continued. "We're receptive to ideas, so Ace and I agreed it was worth a shot. We spent the weekend screening a few prospective people, looked at a couple of different approaches."
Mario chimed in. "One of things we noticed was your tendency to maybe overplay the puck a little, so we want to keep you in the crease. We're not sure what's causing it, so we reached out to this guy named B. F. Skinner. We had him work up a couple of goaltending-related "testing machines" that might help keep you in the crease. He kept mentioning 'operant conditioning' or something like that."
Piquing his curiosity, Fleury leaned forward in his chair, but Shero put his hand up in a halting motion and shook his head dismissively. "Um, it wasn't quite what we were looking for. The first was a three-foot tether to the crossbar that was supposed to keep you from drifting too far out of position. Looked great, but we tested it out on Modig and he's now out two months with whiplash. The second was, well…a cattle prod. Not really the direction we want to go, especially considering that you're standing on frozen water."
Lemieux and Shero continued on, briefly discussing the others they met. They thought about Freud, but the last thing they wanted was Fleury pondering the Oedipus Complex or some sick shit while in net against the Flyers. They brought in Alfred Adler, but all he wanted to do was scream, "WHAT THE F*%K IS WRONG WITH YOU?!" That wasn't going to work. Hell, they could've just hired Tom Barrasso if they wanted "angry".
"So," Shero said, "we settled on two guys. We'd like you to sit down and have a quick talk with both of them, just see how this goes, OK?" Fleury nodded along with Shero and Lemieux. "Sounds good," he said. "Who's the first guy?"
Shero looked to Mario, a bit nervously, and said, "Well, just to give you a heads-up, Flower, he's a pretty intense guy. He's over in my office right now. He's been drinking coffee and loading up on donuts, and we should probably tell you that…"
**CRASH**
And with that, the door to the conference room blasts open…
Holy Shit! Did someone say "donuts"?!?!!
Fleury, Shero and Lemieux all jump out of their seats. Fleury does a triple take.
"Matt Foley!?" Fleury stood and yelled. "Wait a minute…aren't you, um…isn't Farley, um, dead?"
Matt Foley? Who the hell is Matt Foley? You're a goaltender, Fleury. Don't you recognize Martin Brodeur when you see him?
Fleury was stunned. "What? Um, no. You're not Brodeur. Brodeur plays right now for the Devils."
Easy there kid. I've been out of the league since the lockout. A year off, nothing to do, too much money and too many unopened boxes of Twinkies. I couldn't come back like this. Hell, why do you think the Devils haven't been out of the second round since we won the Cup in 2003?
Fleury, still stunned, managed to stammer out a question, "So wait, wait, wait…if that's not you in the net, who is it?
:Pasi Nurminen. Used to play goalie for the Thrashers. Think about it. He hasn't been seen in the NHL since the lockout, right? I couldn't come back after the lockout, so I sold the rights to my name, cashed in my chips and he's been playing in my jersey ever since. Kid's not too bad. Falls apart in the postseason though, if you haven't noticed. And hey, speaking of chips, have you seen the three bags of Ruffles I stashed in here?
Shero finally interrupted. "Marty, what about the discussions we asked you to have with Marc? The motivational tips to get his game back?"
(Uneasy) Yeeeahhhhhh, about that. Ummmm (hurriedly), keep your pads flush on the ice when you go to the butterfly. Square to the puck. See the shot. Other than that, (pause) I was just here for the free food, so…SEE YA!
And with that, Brodeur was gone. Shero, Lemieux and Fleury looked at each other in disbelief. "Might as well move on to the next one," Shero suggested. He rang the receptionist from the phone. "Can you please send in Mr. Maguire?"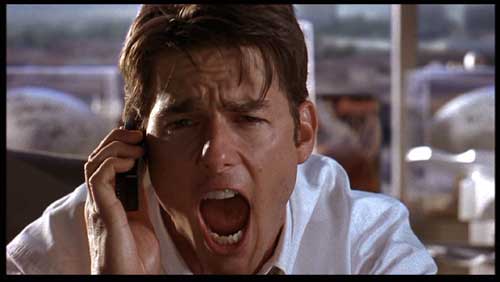 No, not him.
Jesus, please not him.
In walks an older gentleman with a grizzled appearance and a gray beard. He's carrying a large duffle bag, which he sets down by the liquor cabinet.
Hey there, chief.
Shero and Lemieux introduce Mr. Sean Maguire to Fleury and promptly leave the room. As Maguire shakes Fleury's hand, he winks at him. Something looks oddly familiar about him. Both of them sit down at the table.
Saw some of your games this year. Tough stretch so far, huh?
Fleury nods. "Yeah."
:
Any of the guys talk to you yet? About the bad stretch?
"They already talked to me a couple of times," Fleury said. "Max said something about going to some strip club or something like that to get my mind off it. But Disco got word of it and said, Uh-uh, no way. Brooksie and Sid talked to me the other night in Anaheim. Sid said he'd go off on the media the next time they asked. Brooksie, he just spent the entire time chewing on a shard of glass."
Magurie presses Fleury for more answers. Frustrations with the chances he's blown. Frustrations with the Montreal game. Frustrations with the microscope he's found himself under, not even 18 months removed from helping to backstop the team to a Stanley Cup. Frustrations that he's letting Pens fans and his teammates down. Nothing is working. The refined motion isn't there. He's not seeing the puck. As they talk, Fleury's voice raises to the point of anger.
As this is going on, Maguire stands up and makes his way toward the back windows of the room. He reaches into his pocket while Fleury is venting and lights up a cigar. As Fleury continues venting, he ambles back to the liquor cabinet, grabs a couple of glasses and the same bottle that Shero used earlier. Fleury gradually stops talking and just watches.
Maguire walks a glass over to Fleury, tosses him a cigar, and then sets the bottle down on the conference room table. Fleury now sees it for what it was, and realizes where he recognizes it from.
Cobra Scorpion Whiskey. The team meeting in Washington during the Cup run in 2009 that was immortalized here:
http://puckhuffers.blogspot.com/2009/05/playoffs-have-ended-war-has-begun.html
Finally, Maguire walks over to the duffel bag, pulls out a large board and tosses it to Fleury. It's a 2×4, but it has some markings on it. "To the greatest sport ever played" is burned into one side.
"Courtesy of Bill Guerin," says Maguire, as he picks up his stuff to leave. "Billy said you'd know what to do, and Mario said don't worry about what you break. He'll replace it." He turned back as he walked out the door.
"Your move, chief."