The Official 2010-11 Tuesdays With Stoosh Eastern Conference Preview…With Stoosh

Atlanta Thrashers
Hey, they've always got Ilya Kovalchu…no? Hmmm.
Well, Evander Kane is pretty badass. Right, Cookie?
And they've got Ondrejsakdkjdjlfaldsf Pavelecdasflfjdfsd in goal. He's not bad.
But what's the best thing about the Thrashers? Last year, they traded Ilya Kovachoo to "da Devil." In the package of players coming back, they received defenseman Johnny Oduya and forward Niklas Bergfors. Fox Sports Pittsburgh viewers everywhere would love to thank YOU, Atlanta front office. By virtue of this trade, we only have to hear about Steigy's man-crushes on Oduya and Bergfors four times a year instead of six. God bless you.
Boston Bruins
Tuukka Rask is solid. He's one of the best young goalies in the league, at least when he's not beating the hell out of the boards with his goalie stick.
Tyler Seguin is going to be awesome. Maybe not this year, but he's going to be awesome. Krejci is solid and Bergeron is decent when he's healthy. And sure, you got Nathan Horton…although what's it say when you get voted off the island that is the Florida Panthers?
But in the playoffs last year, your best players were Miro Satan & Mark Recchi. That's all well & good but unfortunately, this is 2010, not 1998.
And you won't admit it, but Zdeno Chara looked awfully slow at times last year. Like Hal Gill slow. But maybe that's what happens when you're forced to play 40 minutes a night in the playoffs.
Oh, and they've lost another center but I can't remember his name. It's a little foggy right now. I'm sure I'll remember it later. Maybe by next year.
Should've won Game Four, Five, Six or Seven when you had the chance.
Buffalo Sabres
Spiffy new duds. No more Raffi Torres eating nachos come playoff time. Ryan Miller and his wonky eyebrow. And this…
http://connnotkotes.ytmnd.com/
The Sabres scare the hell out of me this year. Don't know why. They just do.

Carolina Hurricanes
Did you know you that when you play as the Hurricanes on NHL '11, you can finally use the retro pea green Hartford Whalers jerseys? That fact alone is 100x more exciting than pretty much anything the Carolina Hurricanes bring to the ice this year, except maybe Eric Staal.
Florida Panthers
The good news is that the Panthers play in the Southeast Division, which is basically the NHL equivalent of Big East football. The bad news is that Florida is Syracuse.
The Panthers are the Pirates of the NHL, at least from the standpoint that it feels like a million years since they did anything memorable. And trapping teams all the way to the Stanley Cup Final wasn't exactly memorable for those of us who actually like skill. It's no wonder the 20 Panthers fans still around speak of those two years that they had Pavel Bure in hushed tones.
Drafting defenseman Eric Gudbranson third overall this past summer was probably smart, but I saw this movie eight years ago, Panthers, and it was called "Jay Bouwmeester". Ain't no one payin' money to see a stay-at-home defenseman. Do yourselves a favor. Finish last and take either Sean Couturier or Ryan Nugent-Hopkins next summer. Give your fans a reason to watch your team.
Montreal Canadiens
Laugh it up, dick.
New Jersey Devils
Kovalchuk. Now we get to see what all the fuss is about.
Fun fact: For all the blustering about how great the Devils are, they have not played beyond the second round of the playoffs since 2000-01, the year they beat the Pens in the Eastern Conference Finals and ended Jaromir Jagr's Penguins career. Yes, it's been that long.
That said, they also added Volchenkov on defense, so it'll be even harder to get those 12 shots a night on Brodeur. They're still probably the team that will present the biggest challenge to the Pens in the division, but they're starting to get old. Brodeur turned 38 in June) and they're backing him up with 37-year old Johan Hedberg. Yep. That Johan Hedberg. Thirty-seven years old. You feel old now, huh?
New York Islanders
Would've said they were ready to take the next step. But that was before Kyle Okposo went in for shoulder surgery a day after Matt Moulson guaranteed them a lottery pick by wiping out Mark Streit's shoulder in an intersquad scrimmage. Streit is expected to miss between four and six months; Okposo likely two or three months. Moulson has now earned the nickname "Friendly Fire." Now Mark Eaton is likely running their powerplay. Yeah.
New York Rangers
Derek Boogaard. Four-year contract. $1.625 million a year.
When the best move you made all off-season was to sign Martin Biron as your backup or waiving Wade Redden, well…
Ottawa Senators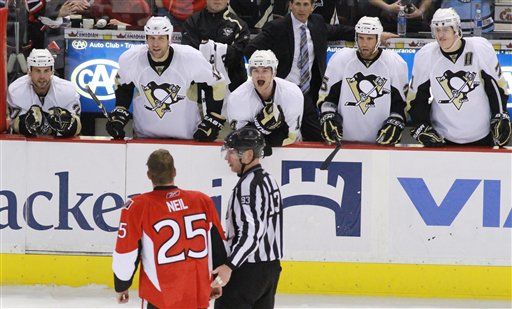 Let's see what Elliott and Leclaire do when they realize that Phillips & Gonchar aren't quite the same thing as Phillips & Volchenkov.
Philadelphia Flyers
They have Pronger. If anyone on the Rangers could score a shootout goal or if Torts doesn't mysteriously keep some of his best shooters on his bench in Game 82, Philly never gets to play in the first round, let alone for the Cup.
They have Pronger. Peter Laviolette looks like one of Nucky Thompson's cronies. Dude can also coach hockey. They have Pronger.
It's worth noting that Simon Gagne is in Tampa and Arron Asham is in Pittsburgh. Those are two guys who came up huge for them in the playoffs last year. But they have Pronger.
They still have Richards, Briere, Giroux, Muppet Hartnell, Van Riemsdyk and Carter. And in case you forgot, Pierre Mcguire will remind you 75 times that they have Pronger.
It remains to be seen if their bottom four defensemen – Carle, Coburn, Meszaros and some other pylon – can pick up enough slack to keep Pronger & Timmonen from having to play 30 minutes a game.
Oh, and it keeping with true meathead tradition in Philly, they eschewed a goalie to sign Jody Shelley.
Flyers-Pens games should be ridiculous amounts of fun. Good luck with Leighton & Boucher.
Tampa Bay Lightning
Footsteps, Capitals. Footsteps.
Stamkos was every bit as good as advertised last year, and perhaps even moreso. With him, Lecavalier, St. Louis, Ryan Malone and now Simon Gagne, Tampa has top six forwards that can rival those of the Caps, at least in terms of overall depth.
If they can get anything at all from their blueline – fairly underrated with guys like Ohlund, Hedman and Kubina – and their goaltending, they COULD give the Caps a run for the Big East title…er, I mean Southeastern Division.
Toronto Maple Leafs
Can we check to make sure Toronto is still there? Or did it get sucked into the giant black hole that was apparently created by Nazem Kadri not making the team? Holy hell.
Speaking of people not making the Leafs, neither did Luca Caputi. Somewhere Ray Shero is nodding his head.
Washington Capitals
Washington did nothing all summer. Not one major move, despite being eliminated from the playoffs again because their greatest weaknesses were exploited – goaltending and a defense that doesn't seem interested in playing much defense.
The talk is that Fat Teddy and GM George McPhee loved what this group accomplished in the regular season, and that they believe what happened in the playoffs was an aberration created largely by a goaltender playing out of his mind. They may be right. But if they're wrong? We'll take you to the offices of Boudreau and McPhee come season's end, especially if they wash out in ugly fashion in the postseason again.
Pittsburgh Penguins
Crosby and Co. have had an entire summer to stew over the way things ended last year.
You could see it in the way they played during the preseason.
How does Crosby top a 51-goal season? How about with a second Stanley Cup.

New arena.
Steigy and Errey on TV, with Lange and Bourque on the radio. Potash interviews between periods.
Jay and Rob King after the game.
It's the best time of the year.
Enjoy the games, folks.
It's hockey season.