One week ago, we were praising Brent Johnson and Mark Letestu.
Now we're praising MAF, Geno, and Bing. Makes much more sense.
A Malkin hat trick is good for everyone.
Pens play their next 3 (and 5 of their next 7) at CONSOL.
Big dose of MAF coming.

Best thing about twitter is stuff like this. Even FSN wondered where Talbot was. Amber was at the game and tweeted this in warmups
Wish there was video of it because it had to be embarassing. Thanks to Amber for the stunned pics below too.
1-0. Get real.
Then the Pens had to kill a Matt Cooke penalty.
Refs should be embarrassed about missing that too-many-men call on the Thrashers.
Kunitz-Crosby-Dupuis had a great shift.
Oddly enough, it was the Talbot line that drew a penalty.
Pens had that PP for about a minute, then Malkin went to the box. What a dick.
Malkin's penalty got killed.
The Thrashers were taking every shot they could get.
Including slashes. Another PP for the Pens.
The PP unit looked completely disinterested.

Period recap: Pascal Dupuis fell at least twice.
Solid first period for MAF.

Pens score, but it gets called back because Rupp bumped into Pavelec. Surprised Pavelec didn't pass out.
Malkin hits the side of a wide-open net. Whatever.
Kris Letang blocks a shot with his hand.
Somewhere during the second period, Crosby was visibily frustrated with his teammates' inability to get him the puck.
There were at least three times where Crosby would bolt up ice looking for a breakout pass.
Crosby would look back in time to see Dupuis or Kunitz pooping on themselves.
Then Malkin scored.· 1-1.· Huge goal. Arron Asham on the scene. Pens may have something with Asham and Malkin.
·Pens have to go on the PK.· Killed.
Chicken Little goes off for holding Malkin while Malkin was holding him.
At the end of the period, Orpik hip-checks Antropov.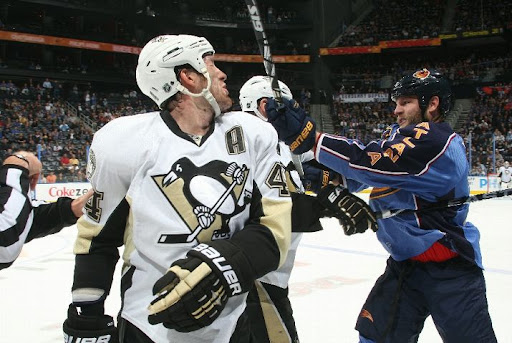 Ben Eager responds by putting a stick into Orpik's face.· Talbot goes off for roughing somehow.
Period recap: Malkin's goal was an eye-opener. Literally. Boring game up to that point.
Less than 3 minutes into the third, the Pens move the puck around.
Engelland gets it to the net. Crosby deflection. 2-1.
Arron Asham on the scene.
10 seconds after the goal, the Pens jump on the PP.
Paul Martin channels Kris Letang and misses the net.
But Malkin jumps on it after it bounces of the boards. 3-1.
The scariest part of exploding for two goals like this is that you almost forget how tight the game was before the explosion.
The game was far from over.
Halfway through the third, Bergscores. 3-2.
Sphincters clench up.
job job job
Evander Kane sucks.
Atlanta pulls Pavelec.
Malkin is on the ice hunting for an HT.
Crosby chips it up to him. Malkin with the layup. 4-2. Game.

Sean C.

Arron Asham


Pascal Dupuis fell at least 5 times.


Mike Comrie?

Big Buff is a pretty decent defender. Big time shot.

Penguin fans were arrested for throwing hats after Malkin's hat trick. Even Richard Jewel thought it was unfair.