It is October. Things are sloppier than the Duke Fuck list girl's vagina right now. Of course there is concern. Things can spiral out of control in an NHL season, but things can also be corrected. MAF needs to get his shit together, so does the powerplay, so does the coaching staff. So does pretty much everything.
These were the Penguins' bottom defensive pairings tonight:
Alex Goligoski – Deryk Engelland
Andrew Hutchinson – Ben Lovejoy
If someone would have told you that on Oct 1st, you would have crashed your car.
But despite all that, the Penguins had plently of chances and really should have won the game. But Toronto got a great goaltending performance by Jonas Gustavsson aka the Monster.
Don't know what else to say. Couldn't think of a worse start for Consol. Someone better think of something quick to turn it around.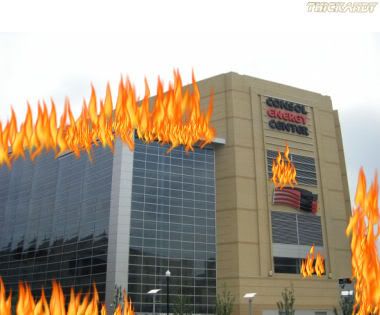 TJ Walters with the best anthem pic of the bunch.

Crosby hits Versteeg right after the opening faceoff. Dion Phaneuf comes out of nowhere and tries to hit Sid. There isn't a more clueless situational player in the NHL than Phaneuf. So stupid.
As noted, the Penguins defense is in shambles. Tough start for Hutch who looks lost. Maple Leafs are everywhere. They cash in too. Shot from the point. No one around Colton Orr who deflects it past MAF. 1-0
1-0.
Nothing good happens until Luke Schenn takes a dumb high sticking penalty on Eric Tangradi. Four minute powerplay. (Powerball Powerplay.)
The powerplay is up to its usual shitty self until about midway through when Malkin blasts one from the point and Kunitz gets a stick on it.
1-1
That was the Pens' first shot of the game.
Penguins take over the rest of the period. The third line, which seems to get unlimited shifts, finally does something. Talbot sees an HBO camera man shooting. He goes to the net after Phaneuf makes another mistake.
2-1.
After that Schenn starts messing with Crosby. Probably not a good idea. Eric Godard has a shift. It was unremarkable.
Period recap: Pens overcome terrible start and get a rare lead in Consol.

The second starts with a scramble in front of MAF. Three people jumped off of a bridge in fear before realizing the puck stayed out.
Gogo and Lovejoy get their chances the other way, but miss the net.
Malkin and Letestu work hard and generate something. Apparently we missed the press release that said only Geno could shoot at the Leafs' net. Tangradi jams at the puck, but Gustavsson keeps it out. Somehow Tangradi gets a penalty for something. No idea. A scrum follows. Luke Schenn whines about something and tries to act like a big boy.
He fails.
Leafs powerplay. Almost immediately someone named Clarke MacArthur scores. He has three goals in three games. Somewhere we're sure someone in the media is predicting 82 on the season for him.
2-2
So fun to watch other teams powerplays work. Not.
The play goes back the other way and there's another scrum around the Leafs' net. Cooke gets a penalty, two minutes for being Matt Cooke. Toronto powerplay.
The Leafs don't immediately score this time, which is nice. Kaberle inexplicably throws the puck to Gustavsson who, for reasons we'll never understand, covers it for a faceoff in the Leafs' zone.
Adams with a big time clear as the penalty nears its end.
Then Zigomanis does what he does, wins a face off and the Leafs score even strength.

3-2.
Engelland steps up in place of Godard and goes toe-to-toe with "one of the league's top heavyweights" Colton Orr. He drops him with a punch straight to the face. He just ruined his face there. What a fight.
Two gifs courtsey of @steelersdepot and @rogueA on twitter
boooooom
With that fight we officially decide to put serious effort into learning how to spell Engelland's name without looking it up. Colton Orr is out for the rest of the game, likely to repair his reputation as a big time fighter.
The fight temporarily energizes the Pens who immediately go on the attack. Malkin skates around the entire Leafs' franchise, but no dice. Phaneuf and Lovejoy collide. The puck goes the other way. Crosby sets up Dupuis, but Jonas makes a very nice save.
The puck bounces over Letang's stick and Mike Brown almost gets a breakaway, but Paul Martin saves the day with a solid defensive effort. It doesn't matter because MacArthur scores again.

4-2
He's on pace for 109 goals.
Marc-Andre Fleury starts to look around the arena for irrational snipers with twitchy fingers. Dan Bylsma starts thinking about the game that led to him getting this job. Arena beer sales immediately increase.
Malkin skates by and makes Dion Phaneuf look like Dion Phaneuf, leaving him behind. The Leafs take it back and the crowd decides this is a good time to heckle Fleury.
Crosby and Malkin get on the ice together and immediately get a couple scoring chances. They don't score though and the bridges in Pittsburgh are getting dangerously full.
Malkin's pulled down on a breakaway and there's a penalty shot. Geno is 0-3 on penalty shots in his career. A "Geno" chant breaks out.
Malkin goes in slowly……. and misses. Had the top left corner of the net. He break his stick on the bench.
Terrible camera work by FSN on the penalty shot.
The Leafs ice the puck with 1:34 left in the first. Malkin is frustrated. Cooke with a huge hit. Everyone on the Leafs forgets that Sidney Crosby is Sidney Crosby and they let him walk in alone. Scores.

4-3
Malkin with a good chance as the period dies down. MacArthur tries for the hat trick, but no.
Period Recap: The Pens are more talented, but the Leafs want it more right now. Engelland is a beast. Luke Schenn smells.
Third period. Down by a goal. It doesn't get much bigger than this, unless it's one of the other 78 games this year or a playoff game.
Crosby and Malkin are together again.
Armstrong steals the puck, but gets denied by a good play by Lovejoy. Solid game for Lovejoy. The teams trade the puck back-and-forth for a while.
Kennedy gets a good chance and the Pens put on a bit of pressure. Nothing happens as some Leaf blocks a shot and the zone is cleared. The Pens get it back and pass it around for a while. Job job job. Tangradi is on with Letestu and Dupuis now. They generate some energy and a "Lets Go Pens" chant starts up. Had no idea Dupes was playing this season.
Leafs superstar Clarke MacArthur throws the puck over the glass and gets a penalty.
Someone should really step up and sponsor the Penguins powerplays.
Geno gets a good chance, then Crosby gets one. The Leafs clear the zone. Mike Brown knocks down Kunitz and the Leafs clear again. The Pens go offside. Fire Mike Yeo.
Fleury hasn't seen a shot since some time in the second period, which is obviously his fault.
Dupuis sets up Adams in front, but Gustavsson has it. Goligoski loses it and the Leafs finally get a shot. Crosby breaks in with Tangradi, sets him up, but Tangradi can't handle the puck. Kevin Stevens buries it.

Just sayin'.
Father Time is standing at the American Eagle Entrance as Letang is called for tripping. Crosby gets a good chance shorthanded and the Pens kill it.
Letang misses the net. Again.
The Pens have a couple huge chances with less than two minutes left and a Leaf with a broken stick. Sid goes in 1-on-4, but he can't beat Gustavsson. The Pens call a timeout as Fleury's pulled. The Leafs clear it. Malkin almost sneaks it by Gustavsson. Letestu wins a huge faceoff. No dice. Game.
Period Recap: Trade Staal.
Orpik, Michalek, Comrie and Staal out, but it still hurts.
According to Jame Mirtle, Comrie was benched tonight. That isn't good.
Powerplay in the third period this season: 0-7. That is troubling.