Our good friends at
GTOG
said it best in their
season recap.
We all had a nightmare and woke up with 49 wins
.
One of the longest seasons in recent memory. And now the playoffs loom.
First off,
Malkin
isn't playing in this series. Crosby probably won't play, either. And that has absolutely nothing to do with where the Pens are
right now.
If either were in the lineup, it would certainly affect where the Pens are
headed
. But since early January, we've all taken this season one game at a time. No use stopping now. When you're invited to the biggest party of the year, you dance with who brought you.
Besides, compared to last year's championship-defending team, there is less pressure.
Whatever that means.
TAMPA BAY GOAL SCORED BY #26 MARTIN ST. LOUIS.
Get ready for it.
The Tampa Bay franchise was founded in the early '90s by European settlers. Instead of giving all the native people diseases, they gave them a hockey team. Tampa Bay won the Cup the year before the lockout in '03-'04 because everyone else was bored. The Lightning have had at least 20 different owners. Steve
Yzerman
is their GM for some reason.
idiot.
The Pittsburgh franchise joined the NHL in 1967 as part of a huge expansion that doubled the size of the NHL. It took the franchise nearly 80 years to reach the playoffs, but they finally did. Then they drafted Mario
Lemieux
and everything changed. He began building churches and community centers all through the Pittsburgh area. In 1991 and 1992, the Pens won their first two Stanley Cups. Then they drafted Sidney Crosby and everything changed. He began building brand-new arenas in the city. He also helped bring the Cup back to Pittsburgh in 2009.
Edge: The Penguins, since it is a plural-noun sports team.
Tampa coach Guy Boucher used to work for a landscaping company until Steve
Yzerman
saw him at Wendy's one day and asked if he wanted to be the head coach. Boucher brought his 1-3-1 landscaping system to the Lightning, and the team underwent a startling change under his tutelage. He has a scar on his right cheek from when Anna Nicole Smith threw a beer bottle at him in 1997. He Also looks like Johnny Depp's character in the movie "
CryBaby
."
The Penguins have Dan
Bylsma
behind the bench, staring intently at the back of the players' jerseys when he has nothing to do during stoppages in play. He is known for his rousing pregame speeches which include saying, "Let's Go," while smacking a rolled-up piece of paper in his hand and smoothly exiting the locker room. The over/under on times you hear the phrase "Get to our game" is unlimited. The Penguins have bought into his style of grinding bitches down.
Edge: Penguins, because Guy Boucher looks like Johnny Depp.
It's there if you want it to be.
For the first time in three years, the Pens are outmatched in the scoring department in a playoff series. Tampa Bay has at least 5 guys whose names you don't want to hear on a 2-on-1. Marty St. Louis finished second in the league in points this year somehow, while Vincent
Lecavalier
is an enigma. Ryan Malone sucks. Steve
Downie
skates around doing shit. Is Simon
Gagne
in the lineup?
Whatev
. Oh, and
Stamkos
.
While it's already been established that this series will come down to how well Marc-Andre
Fleury
plays in net, it'll be up to the forwards to give him a little breathing room. Since Crosby went down, the Pens have taken a scoring-by-committee approach. Tyler Kennedy is the Penguins' most dangerous threat.
Edge: Lightning.
See sentence above.
On July 1, Paul Martin and
Zbynek
Michalek
were signed for the playoffs. And here we go.
Michalek
Island is going to be the matchup on St. Louis and friends.
Paul Martin is gonna have to take his game to some unrealistic level, like after you beat Super Mario Bros. twice. Just seems like he is going to score soon.
Having Brooks
Oprik
/Kris
Letang
as a 1-A pairing ain't no joke either.
That is, if
Letang
doesn't play like he is an alcoholic.
The pairing to watch will by Ben Lovejoy/
Niskanen
/
Engo
.
Could be a pairing that we live and die with.
Engo
will be there for that playoff physicality.
The Lightning have
Hedman
and like Brent Clark. No clue.
Over/Under on how many times we see
Hedman's
hit on Crosby during this series: 9.
Edge: Penguins
That patch on his jersey is all we're
gonna
say.
That, and he will have to destroy his 2009 playoff performance this spring.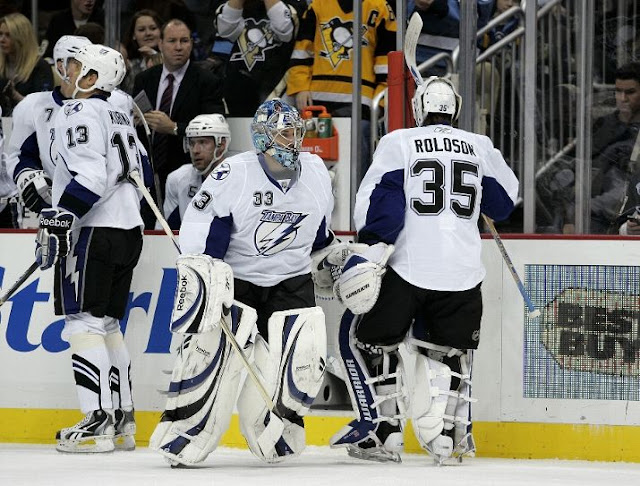 It doesn't matter what your roster looks like.
54-year-old Dwayne
Roloson
isn't standing in your way.
GAA
and Save Percentages from the regular season are meaningless right now.
Could not care less about it. Playoff goaltending is about swagger.
Edge: Penguins.
And this is what matters.
You want to talk about where this series is
gonna
be won and lost, just like any playoff series, it's
gonna
be who cashes in on their
powerplay
chances and WHEN they cash in.
The big thing we're
gonna
be watching for is how each game is officiated. Judging by the Pens PP and the Lightning
PK
, the Lightning may be willing to play the Pens tighter since they're not afraid of the Pens PP. If the officials "let them play," it will undoubtedly play into the Penguins' hands.
The Pens shouldn't be afraid to take penalties since they finished 1st overall in
PK
for the first time in franchise history, but on the flip side, it'd be wise to keep
Vinny
, Marty, and
Stamkos
off the ice in odd-man situations. The Pens would play with fire and get burned.
Prediction: Pens in 3.