Chris Conner may be an NHL jobber, but the dude makes the most of his opportunities.
He hadn't done much since his call-up a few weeks ago, but that all changed in one shot.
He took a great pass from Test Tube and buried it past Vokoun. He has now officially done more than Mike Comrie.
Count that Ranger game from last year, and he has had a major hand in winning two games.
Pens travel to Buffalo next. It will be good to see our old Buffalo friends.
B. King, Griesmonkey, Jess K., Cheyenne B.
Jess K.
griesemonkey

Nothing going on early.
Until Stephen Weiss decides to slide into MAF.
The Pens get a PP.
Before you can even register the Panthers have a top-5 penalty kill, Letang gets a shot off after a clean faceoff win by Bing.
Kunitz screen.
1-0.
Scary goal by Letang. It didn't even look like it was a hard shot. Man.
Then it was Eric Godard's turn to run a goalie.
The Panthers' PP makes an appearance. They have scored 5 powerplay goals all season. Jesus.
Crazy how the Pens also have a top-5 PK. Killed.
Job job job.
Apparently Marty Reasoner is still in the NHL. He takes a penalty.
Just before that penalty expires, Crosby takes a pass in flight from Kennedy.
Backhand to forehand. Vokoun had no chance.
2-0. Looks like he just smoked a bowl.
Boy, top right. He'll start a blog one day.
What the hell is the EH on that one jersey?
Some more job job job.
Then Craig Adams goes to the box for holding the stick.
PK unit teabags the Panthers.
At the end of the period, the Panthers put on some more pressure. Lovejoy and Goalagainstki out for the Pens.
Fleury had no clue where the puck was.
He finally finds it in time to make a save, but the rebound was uncontrollable.
Cory Stillman knocks it in with the shaft of his stick.
2-1.
Miley Cyrus blares after the goal. Ouch.
Should just play the Dexter theme.
If Crosby does what Stillman did, we're all sucking his balls.
Period recap: Pens get 2 powerplay goals.
But one was immediately off a faceoff, and the other was off the rush.
Whatever.
Jersey spotted at the game. – Mike S.

Just a bunch of jobbing to start the second period.
Nothing memorable. Florida starts to take over a little.
Then the Panthers scored.
Test Tube covers for Martin, who was pinching.
Bad break for Test Tube, as the puck goes off his stick to Bryan
McCabe
.
He buries it. 2-2. Party in the USA.
Dan Patrick sucks.
Brooks Orpik heads off for delay of game.
Pens kill another one.
With about 7 minutes left in the second, business started picking up.
MAF made two huge saves. Kris Letang stole Chris Higgins' identity with a huge hit.
Period recap: Pens hit a shit-ton of posts it feels like.
Intermission entertainment.
The dim lights mean this picture most likely wasn't taken during gameplay.
But, still.
Both of these pics from Jess K.
Penguins get a powerplay early. Nothing. Things settle for a while.
Under 10:00 to play, Chris Connor comes up roses.
Florida goes to their stupid trap, but Zibby makes a big time outlet pass to Test Tube.
Clearly pissed off from that one mistake he made, Test Tube wheels in on some d-man.
Finds Chris Conner lurking in the slot.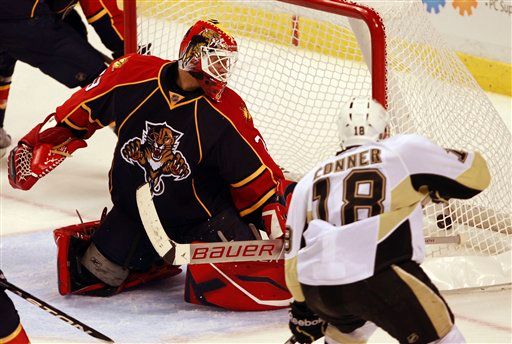 3-2. Goallllllll. Big time.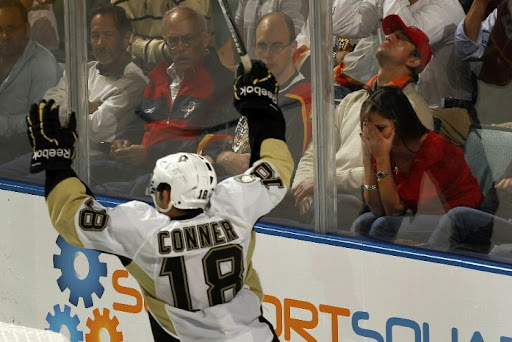 Stunnnnnnnnnnedddd. Solid coat on that old dude. What a stare.
Guy on the right just realized he's not getting any from Red Sonja after the game.
Michalek goes into second-goalie mode. He risked his life at least four times in the third period.
Tyler Kennedy takes an awful penalty. McCabe is such a dick, though.
Panthers have limited confidence in their powerplay. Pens kill it.
The Panthers pull Vokoun with a minute and some change remaining. The puck is bouncing everywhere.
Somehow the Pens block a few shots. Zone is cleared.
Bing misses the empty net. Stamkos buries it.
Crosby gets jobbed by some dude at the horn. Doesn't matter.
Game.
Matlock with an all business performance
Michalek is an enigma right now.
By our math, in the Buffalo game, he'll either score…or fall, leading to a goal against.
boobs