First game in a long while that made you want to go on a three-state or three-province killing spree. It shouldn't feel like that, since playing in Montreal is like having to go to a Lady GaGa concert, and it's always good to escape with a point. But still, losing to Montreal sucks; just something about it. We hate them more than the Caps. And it didn't help that we had to see Vanilla Price do some homeboy pose after stopping Kunitz in the shootout.
And it is never fun having to listen to the Montreal crowd influence the game. They draw at least one penalty per game by intimidating the officials. You know it is going to happen every time the Pens play there.
The Penguins, playing without Crosby and Cooke, badly outshot the Canadiens, but Vanilla Price made some plays. Escaping with a point didn't seem a remote possibility when the Pens kept shooting themselves in the foot in the third, forcing the PK unit to kill like 5 minutes of 5-on-3. But Craig Adams was on the scene, laying his life on the line two times to block a shot. Best penalty kill of the season.
Brent Johnson played well, too. His refusal to stop game action led to a fast-paced game. If you're looking for something to stick to the Habs, it would be Bylsma's complete disrespect for them in his decision to start Johnson. Pens had unlimited days off after the WC, so Fleury Fatigue wasn't an issue. It was a great move on Bylsma's part.
A huge "story" broke after the game when Disco made it known that Crosby had suffered a concussion, most likely due to the Hedman board against the Lightning, which in turn had probably compounded upon the effects from the Steckel hit in the WC.
See what we did there? We reached the most reasonable assessment of the Crosby concussion situation, and we barely had to think about it. But look out: Within 4 minutes of hearing this concussion news, members of the Canadian media became neurologists and started tweeting from their BlackBerries.
Not blaming Dreger for this. Logical conclusion to jump to.
Steckel hit was the talk of the world.
But coming from Dreger, it sounds like he's saying it because he was told by a source.
UPDATE: We called him out about it on Twitter, and he proceeded to put his BlackBerry in our mouth:
But then we have this stain:
We don't know much, but if "sources" were confirming negligence on the part of the Penguins Medical Staff,
someone named John Shannon wouldn't be "breaking" the news on Twitter. But now we're jumping to our own conclusions, since Shannon doesn't say that the Penguins Medical Staff knew about it. Maybe this tweet from John Shannon is true, and the Pens' flight to Montreal scrambled Crosby's shit. From our research team at WebMD, concussion symptoms don't always show up right away. Sometimes it takes something else, like a hit from Hedman or high altitude, to knock some things loose. Crosby's worth more than your life, so guaranteed there was no shady shit going on with this. Plus he's only slated to be out for a week. Not the end of the world.
And, by the way, TIOPS is a fraud. If he was truly an insider, he'd have known this and posted it. He's just a hack who pays certain members of Pittsburgh media to give him information that turns out to be nothing of consequence. He's being toyed around with by those media members, because if one of them had a big story, they aren't running to TIOPS with it. SHIT.
Wild come to town Saturday.
rogue pregame pic from our app

Yeah, there was a game last night. Penguins get a real nice set play off a faceoff in the Habs' zone.
Goose to Lovejoy, Asham with the tip and the follow-up. 1-0.
Letang and Martin both trip Habs players, and nothing called.
Right there you knew it was going to be one of those games.
Habs fans start their incessant whining.

No fanbase whines more than Habs fans. As soon as a Canadiens player falls over himself, everyone starts looking for a call. The fans complain about icing calls for Christ's sake. This shit is really hard to take, since as a hockey fan, you want to respect the Canadiens and their tradition.
pic of the year

Yeah. Pens came out exactly like they had to in the first period.
Asham was on speed. He almost had 12 goals. Price made some decent saves. But he sucks.

Halfway through the first, the Habs finally got their feet under them.
Probably should've stopped watching right then and there.

Johnson was challenged with some tricky shit, and he did the job.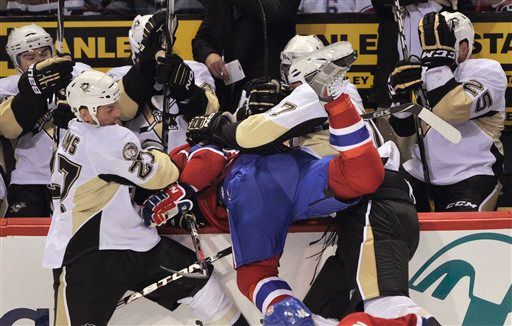 Period Recap: Rupp and Adams almost killed Cammalleri at one point.

Pens get an early power play because Soupcan sucks.
Honestly, what has P.K. Subban ever done?
He's an NHL defenseman, plain and simple. He's not on any highlight reels that we know of.
Powerplay gets a chance, but Brent Johnson ends up having to make more saves than Price.
Montreal builds momentum from the kill.
Habs getting some chances. Spacek hits the post. Somewhere in there, Letestu made an unreal defensive play on Soupcan. Soupcan got around him, and Test Tube lifted his stick. Huge play. Not like Soupcan was gonna do anything, anyway. In the NHL, the steak sells, not the sizzle. He sucks.
Malkin gets a chance in on Price. Great pass from Rupp.
Yeah right.
Later on that play, your boy Lovejoy heads to the box.
Pens kill it without having to face too much shit.
With less than 8 minutes left, the Habs score a trash goal. 1-1.
Hurts to say it, but Michalek got worked over on the boards.
Too many bounces. Really, a vintage Canadians period. Pens were lucky to be tied.
Period recap: Typical Montreal bullshit.
Always find a way to play that one good period and just job the rest of the time.
Third period actually starts out pretty well. Pens draw a penalty.
Price is up to the task, though, and he weathers the storm.
Then things start to go badly. Kennedy gets whistled for a penalty. Beej has to make some big save. Penalty was killed, but the Habs were just getting started.
no penalty. play on.
Goose gets called for a questionable penalty behind the Pens net. Montreal fans got the call. Refs were scared.
The unit starts killing it, but then Beej shoots it over the glass.
5-on-3 time. Craig Adams looks down the barrel of the gun and blocks two heavy shots by James Wisniewski.
The kill feeds off that, and Montreal looks stunned.
But then Paul Martin shoots the puck over the glass. We thought he was over the blue line, and the puck may have found a wormhole between the benches, but it doesn't matter in Montreal. Habs fans whine, and the Pens go back to killing a 5-on-3.
One of the more emotional penalty kills in recent memory.
The Habs only get one shot. Dupes runs out the clock.
Orpik pounced on a loose puck and skated the fastest we've ever seen him skate.
Guaranteed Habs fans wanted a call after Johnson made this save.
Then both teams start buzzing.
Malkin has all kinds of chances, but Vanilla Price is locked in.
Gionta has some chance. He asks Beej if he is going to a funeral.
Beej responds "Maybe I am." Nice game from Brent Johnson.
Scott Gomez makes a rare appearance when he blatantly trips Evgeni Malkin.
Malkin went down really awkwardly. It didn't look good. Montreal fans boo Malkin. Great stuff.
No penalty on Gomez, either. No clue.
Malkin seems fine after commercial break as he bitches the refs out.
With under 5 minutes to play, it was get-a-point-blog.
Jordan Staal gets horse/face-collared along the boards at the end of the game.
If that happened in the NFL, Roger Goodell's penis would have blown off.
OT time.

Malkin is flat-out pissed in OT. He does his best Mighty Ducks II impression and bounces the puck on his stick while flying through the neutral zone. He uses the move to toast Soupcan, so Soupcan pretends to fall in Malkin's way so that he can thwart Malkin's chance without taking a penalty. Soupcan is in our heads.
The rest of OT wasn't much. Both teams had limited chances.
Montreal almost won it, but Plekanec screwed it up.
Dupes got to use the Dupuis Play™. Nada.
Stupid shootout time.
First round:
Camel-joke vs Beej: Decision to Beej.
Letang vs. Vanilla Price: Letang shoots gloove side. Price gets lucky and saves it.
Second round:
Soupcan vs. Beej: Stupidest move of all time by Subban.
Dupuis vs. Vanilla: Not sure why Dupes was second. Bylsma's son sucks. Makes you wonder if the decision to use Dupes predetermined during an intense game of Dance, Dance Revolution on Tuesday night after dinner.
Third round:
Gionta vs Beej: Fuck off. no.
Malkin vs Vanilla: Shit. Price screwed up the move by falling. Malkin had him dead.
Fourth round:
KTits vs. Beej: Suck it.
Test Tube vs. Vanilla: No dice.
Fifth round:
French guy vs. Beej: French guy gives Johnson a face transplant. Goal.
Kunitz vs. Vanilla: Ain't happening. Crosby throws up his peanut-butter sandwich as Carey Price strikes some hip-hop pose.
Montreal fans celebrate the big win:
game.
NOTES:

If P.K. Subban dies tomorrow, we wouldn't go to his funeral.

Pens had two partial breakaways, and both players kind of got pulled down. No calls.
Might have been penalties in CEC.

Engo played wing. Well, there's your problem.

Disco says Malkin is fine.

piss