UPDATE:
Some say that until you come to play in the world's most famous area, you haven't arrived.
We've actually never heard anyone say this.
But if it's true, welcome to the NHL, Dustin Jeffrey.
Jeffrey started the Pens comeback and then sealed it with the shootout winner on King Henrik Lundqvist.
But this game wasn't just about one player. It was a gritty team effort from a roster that, by the end of the game, looked more like a roster for an intramural game at CCD. The Pens lost Mark Letestu in the morning skate to a knee injury, and then Arron Asham after the first period. Then Jordan Staal was ejected late in the second.
So basically without their top four centers, the Pens held off a Ranger team, playing at 110%, for the entire third period, overtime, and got it into a shootout.
Marc-Andre Fleury was solid with the game on the line, and he stopped the Rangers three times in the shootout when it was sudden death, with seven saves in all.
Too many times we look for problems when the Pens win.
We'll enjoy this one for the next 12 hours.
Really tough turnaround with a game against the Islanders tonight.
Could be a call-up sometime on Wednesday.
If you want to know what some of these WB/S guys are all about, listen to Eric P.
cool pic
Matt L. with anthem pic

If you missed the first period, you did not miss much. Cooke and Brandon Prust started going at it. Nothing happened, but at the intermission Prust jobbed Cooke kind of indirectly, calling him a pussy for not fighting.
Prust would get the first of many laughs on the night as he outworked Letang and Orpik and beat MAF. 1-0.
Rangers were buzzing and almost scored again, but Ryan Callahan sucks, so they didn't.
Overall, the Penguins didn't play a horrible first period.
They just had nothing going in the offensive zone.
Tyler Kennedy was killing more shifts than a bankrupt CEO, and Marc Staal was in everyone's mouth.
MAF helped keep the score at 1-0.
PERIOD RECAP: Forgettable period for Brooks Orpik, who looked a little bit rusty to start off.
He shot the puck over the glass for 12,000th time this season.

The second period was probably one of the better periods of the season.
It didn't start out that way, though.
Asstomouth scored a goal about two minutes in. 2-0.
Looked like the start of a blowout.
Up to that point, the Pens didn't really do anything. But they started to pick it up.
Orpik served Sean Avery some sugar with a brutal shoulder check.
Avery was stunned for a second.
Then Engo dropped the gloves with Prust.
Shortly after, DJ Jazzy Jeffrey picked up a puck and fired it on net.
It deflected off some jerk. Huge goal. 2-1.
Right after that, Max Talbot and Mike Rupp came down on a 3-on-2.
Talbot got it low, and King Henrik didn't control the rebound,
Rupp was coming down main street and tips it home. 2-2.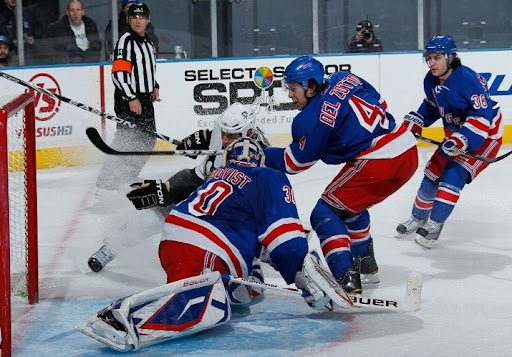 Just like that, the Rangers were on their heels. Pens force an icing, and Johnny Torts calls a timeout.
After that, Jeffrey wins a faceoff. Orpik to Z.
Z on target, and Kunitz deflects it home. 3-2. Man.
Chris Kunitz has 17 goals.
But then the fun really begins. Brandon Prust charges Tyler Kennedy.
Jordan Staal skates over to hit Prust, and Prust elbows him in the face. Staal responds:
thanks to Brian G. for the gif.
Here's Prust going down like a clown:
No penalty, either, for the Rangers dropping their gloves? Unreal.
Staal is ejected and given a match penalty. Prust said this after the game:
"He just caught me on my sweet spot and kind of dropped me for a second," Prust said. "He kind of rung my bell."
http://youtube.com/watch?v=NcmDt0p_2qA
What a liar. Prust dove.
Rangers tie it late on the five-minute powerplay they beat off on.
idiot
3-3.
PERIOD RECAP: Derek is working on a post to blame Tyler Kennedy for Staal getting ejected.
The third got off to a negative start with Michalek Island shooting the puck over the glass.
Pens penalty kill did its job.
Both teams traded a powerplay and then kind of went into a shell.
The Rangers might get away with more subtle interference penalties than any team in the league.
Terrible.
Paul Martin put on a skating exhibition all night. He smoked Sean Avery a few times in the third. Listening to the Versus feed, Billy Jaffe said something about Marian Gaborik being great in the third. Still have no idea what the fuck he was talking about.
MAF had to make a few big saves late.
What a point.

Overtime was a lot like the third period. Very conservative.
The Rangers had a few chances but nothing major. Goose was everywhere. Big time D from him.
The Pens sent out Letang, Dupes, and Kunitz.
The Rags countered with no one worth looking up how to spell.
Goose came out, and Henrik said no. Asstomouth got stoned by MAF.
Big-time duel between MAF and Henrik.
Tyler Kennedy steps over the boards for the penalty shot.
Top five worst penalty shot efforts of all time.
Some guy for the Rangers get stoned, then Chris Conner gets stopped.
MAF gives Dubi a mexican smokestack.
DJ comes up. Henrik was daring the Pens to go glove, so DJ goes stick side. BOOOOM.
MAF vs Gaborik for the win.
Peace.
NOTES:
-Paul Martin skated his balls off.
-No word on Staal getting suspended.
-Kunitz with 17 goals this season. On pace for 25. Solid.