Jordan Staal is a monster right now. He has both game-winners in the past two Pens' wins. Marc-Andre Fleury had to turn away unlimited shots in holding down the fort. The Library of Congress should archive the game Marc-Andre Fleury played and have it be automatically sent to trolls on the Internet when they say Marc-Andre Fleury isn't a big-time goalie. Then again, this was a weekend game in January. All things considered, though, the Pens blowing a 2-goal lead and losing would've been disastrous.
All in all, the Pens' win over the Bruins completes a bizarre week. After a vintage meltdown on Monday at CONSOL, the Pens had to go on the road against two playoff teams. prospect of two tough road games, and they got their shit together. Is it all smoke and mirrors? We're not sure, but just when you think things are about to fall apart, the Pens put something together.
Big week ahead.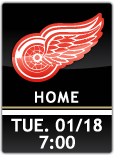 Wangs are always a big deal.
Carolina is 11-4 in their last 15.
No clue when Crosby is coming back.

Boston comes out guns blazing, and MAF had to be super sharp.
Empty Netters
had a great article about the Pens' lack of discipline. Pascal Dupuis didn't read it, so he took a bad penalty early on. But the Pens' PK bailed them out.
The Bruins got a penalty after that. Pens didn't do anything with it. Shortly after that, Matt Cooke took an interference penalty, and the Bruins fans went wild. But the Pens killed that, too.
Cooke come out of the box and makes a play.
He waits for Jordan Staal to clear on a 3-on-2 and hits him with a sick pass.
Staal knew what he was doing with the puck as soon as Cooke passed it.
Dishes it to Kunitz. Goal. 1-0.
15-goal season all of a sudden for Koon.
Underrated chip out of the zone by Michalek on that play.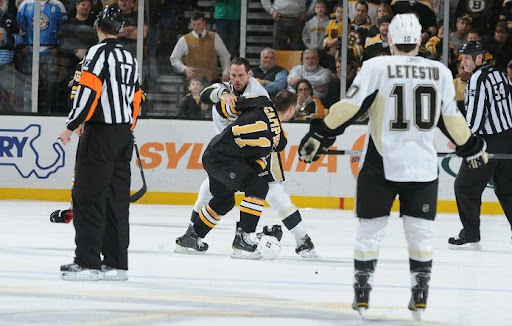 Adams and Colin Campbell's son got in a fight.
Colin Campbell's son won. By a lot.
PERIOD RECAP: Staal had huge minutes in the first.

Pens come out in the second ready to bang. Dupes puts home a rogue puck. 2-0.
Real bizarre turn of events on that goal.
Michalek fanned on a shot or something, and Dupes found it on the other side
Malkin gets an assist. Some Pens fans call the NHL wanting Malkin's assist taken away.
So, the Pens now had the dreaded two-goal lead. And things went south faster than Heroes. In the Bruins' zone, Chara high-sticks his own teammate, who starts bleeding all over the place. Somehow Dupes gets called for a four-minute penalty.
The Pens' PK once again comes up huge.
Staal and Chara start a battle during the kill.
They keep it up for the rest of the second period.
The Pens end up killing all 4 minutes.
It was supposed to be a boost for the Penguins.
It wasn't.
There was some back-and-forth action.
Bruins buzzing but can't get into sweet spots. Then the Pens get a huge chance.
Malkin has a breakaway. Save. And then a save on the rebound.
At the other end, Pens can't get it out of the zone.
Embarrassing defensive effort by Tyler Kennedy.
Seidenberg steps into one.
2-1.
13 seconds later, Ryder scores. 2-2.
Steigerwald or Errey said it was how Ryder usually scores.
Ryder sucks.

Bylsma calls his timeout.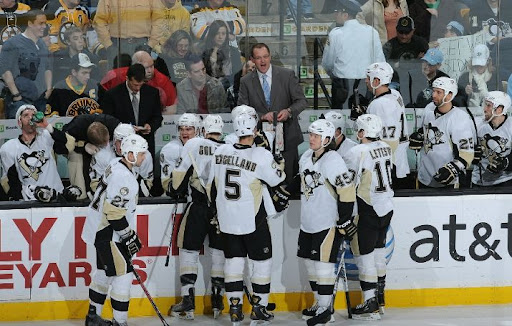 The Bruins wouldn't stop coming.
Mark Recchi was waiting to make an appearance.

Awesome action to the end of the second.
RECAP: Malkin had unlimited chances.
When they start falling for him, it is going to be big.
Maybe the tenth time we've said this.
At the start of the third, you had to wonder what Crosby was doing during this game.
Honestly there wasn't a good feeling to start the third.
The Bruins were lurking. Mark Recchi was poised to piss everyone off.
Pens start pushing back. The Staal and Cooke line dominate. Cooke finds Staal.
Staal enters Beast Mode™. 3-2.
Not sure if the Pens went into a shell on purpose after the goal or if the Bruins were just pushing that hard, but the Pens didn't do crap. Dupes hitting the post was about the only chance the Pens really had.
Bruins were everywhere. Engo smoked Savard into the boards. Savard went down as usual. It must have messed him up, because later on in the period when a puck almost trickled past MAF, he put his hands up like the Bruins scored. Idiot.
All Bruins as the Pens are in retreat mode. MAF was huge.
NOTES

woooooo

Pittsburgh sports on saturday: huge

Won't be the last time a pittsburgh team goes up to boston this month. Steelers vs Patriots. AFC Championship. mark it down

Pens/Bruins would be a hell of a playoff series.

Kinda of liked playing two games against Boston and Montreal in a row. Great hockey

Great game by Chris Conner.