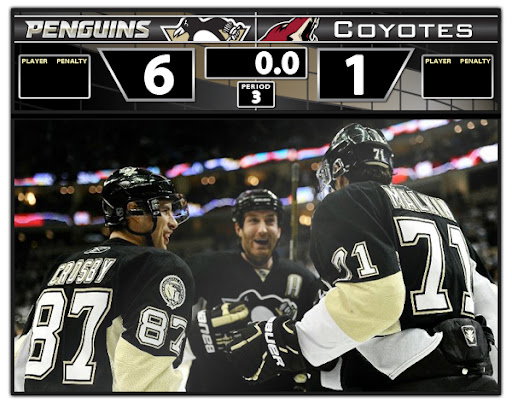 It was just a matter of time before Evgeni Malkin got going. That time has arrived.
And with an already red-hot Crosby, some games could get ugly.
Malkin poured in 5 points, Crosby 3, while extending his 21-game scoring streak.
For all the talk about the Western Conference, the Penguins have beaten up big time on the three opponents they have faced in CEC, outscoring them 13-3.
Chris Kunitz returned to the lineup.
Did you notice the difference? We did.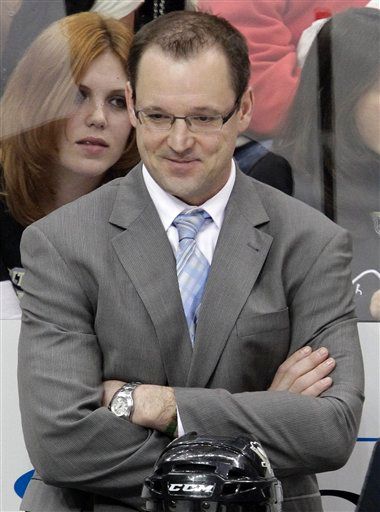 A real tough game against the Florida Panthers on Wednesday. They are playing unreal hockey.
Thursday, Capitals city.
First person to call the Panther game a trap game gets punched in the mouth.
Not posting anthem pics till wooing stops.

Pens come out banging early.
LaBamba making some saves. Not ripping his sac in the process, though.
How incredible is LaBamba's mask?
HBK and Bret Hart.
Thanks to Brian S. for the pics.
The Coyotes get a few chances, one bounces off the post, the other misses.
Rupp gets some breakaway, then Order In Chaos starts cycling shit.
First PP comes when Nolan Yonkman trips someone. What a name.
Kennedy was in LaBamba's kitchen, doing dishes.
Letang lets a shot go from the point. Bang. 1-0.
MAF gets a penalty for trapezoidal desertion.
Pens kill it.
But then they get another penalty.
Kunitz goes off for high sticking.
Another kill. MAF made a save on Wolski without even knowing.
Pens probably had to kill another three penalties. Marc-Andre Fleury had to make some big-time saves.
Coyotes were outshooting the Penguins badly at one point.
But then it was 4-on-4 after Shane Doan takes a really dumb penalty then loses his mind.
Looks like Dennis Quaid when the president is about to get shot in Vantage Point.
Offensive zone face-off.
Fiddler on the roof gets kicked out of the circle.
Crosby preys on the new guy at the dot.
Malkin scores before anyone knows what happened. 2-0.
PERIOD RECAP: Goal at the end of period took the wind out of the Coyotes' sails.
They never recovered. Marc-Andre Fleury with some saves.


Early in the second, Keith Yandle plays roulette against Sid.
He ends up falling. Sid feeds Geno. 3-0.
LaBamba had no chance. Crosby and Malkin actually laughed in his face.
That was two goals in about a minute.
Then the Coyotes were going back to the box.
Then the puck was going back into the net.
Malkin feeds Sid this time. Snipe job. 4-0. Jesus what a shot.
LaBamba still hung in there, though.
But then Cooke scores off a face-off. 5-0.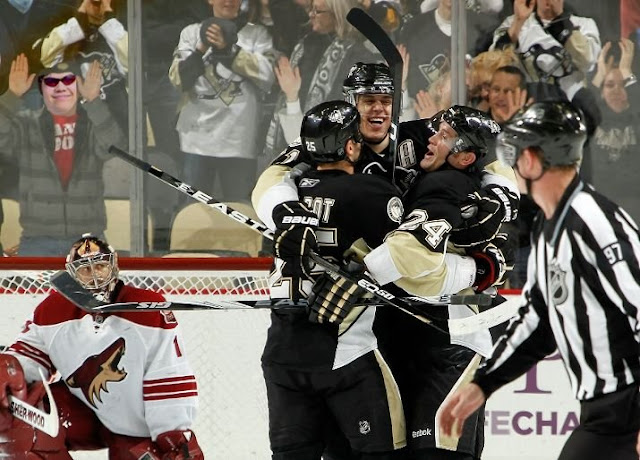 LaBambs goes to the locker room to kill Selena.
The NHL equivalent of Brian St. Pierre goes in net for Phoenix.
Malkin almost scores. What a pass by Chris Conner.
Rupp goes to the box.
Matt Cooke elbows Yandle in a 5-0 game. WTF.
Video of this doesn't seem to exist. Coyotes were pissed after the game. Whatever.

5-on-3 for over a minute.
No wait. Then Orpik goes off. Don't care anymore.
Pens kill all of it anyway.

Michalek blocking shit like he's in your colon.
PERIOD RECAP: Malkin and Crosby took over the game.
Cooke kind of started some shit with that elbow. Penalty kill had the crowd ready to run through a wall.

Crosby almost scored to start the third.

Then the Coyotes start defending their honor.
Deryk Engelland knocks Taylor Pyatt back to Winnipeg.
Best AGH shot of the year.
Great GIF:
Jesus

Shane Doan starts doing shit.
Said he was doing it because Matt Cooke is a douche,
Connor scores. You're terminated. 6-1. GAME.

Stop wooing at games. It doesn't work. Sounds stupid.

We were going to say that the Pens never played like this last year, but that isn't true either.In Game 34 last season, they beat the Flyers 6-1.

Three goals directly off faceoffs. Coyotes are the third best faceoff team in the league.

Malkin city

Engelland: two TKO's this season. Hard to remember that ever happening twice.

Shane Doan: "You're down 5-0 after a period and a half … it's pretty embarrassing," Phoenix captain Shane Doan said. "They scored on their power play and we didn't. That was embarrassing."

Highlights: