"I saw [Price's pose] during the game, and it was fine," said
Fleury
, who didn't play in that game. "He'd just won, he made all the saves (in the shootout), he played well. Tonight was just for a laugh."
"I have nothing against [Price's pose], he was just reacting. He was happy he won the game,"
Letang
said. "But we all saw it. It was maybe a little push in the back to make sure we came back here and put it in his face."
And then he tripped over his hair. As much as we hate Carey Price for doing this pose last week, there's nothing better than seeing this gamesmanship from players.
Just like Monday's meltdown against Boston, this was another game in January. But it feels just a little bit better than the average win. First, it nearly erases the memory of the Boston game; "nearly" being the key word.
Secondly, God, does it feel good to beat Montreal. Montreal isn't even close to being as good as the Penguins, but they've found ways to win the last four games. It was so nice to finally see the Pens get a two-goal lead and watch Montreal completely wither away. Such a joke. And it was even better to read Habs fans on
blogs
and Twitter whining about officiating.
The Pens needed two points big-time, and they got huge performances from Goligoski and Kris Letang. Jordan Staal had his first beast mode™ game of the season, and, shit, even TK scored. Goose has been inconsistent all year but somehow sports a gaudy +21. We have jobbed him, and we are more than glad to eat our words. We just hope he doesn't make us vomit them back up.
Can't sleep on Malkin's performance in this game, either. While he didn't light the world on fire, he helped grind Carey Price down like the bitch he is. MAF went toe-to-toe with Price all game, and he mocked Price afterward. Loved every minute of it. Probably the most gratifying regular-season win since the comeback in Detroit a few years ago.
Big sports day on Saturday. Pens n to Boston.
Then Baltimore comes to town.

Before you can breathe, Penaltyski goes to the box.
Habs can't even set up in the Pens' zone. Killed.
Malkin came out with a bounce in his step. You would too, if you spent the first three minutes on the bench. Pens start getting the best chances early on. Malkin has two sick passes. Kunitz can't finish the first. Michalek almost scores. Price looks sharp.
Then there was some shit going both ways.
MAF making some saves. Pens still getting the major chances.
Then Kunitz gets too big for his britches. He tries some toe-drag, and the Habs head the other way after a turnover. MAF makes a huge save on a breakaway. Then Kris Letang goes off for slashing Soupcan. Best penalty of the year. Pens kill it, and Dupuis almost scores at the end of the kill.
Pens used the kill to score a goal. Goligoski realizes what happens when he hits the net. 1-0.
No joke city, he played a terrible first period up until that point. Wicked, wicked shot.
Getting the first goal of the game turned out to be meaningless because the Habs score 4 seconds later. 1-1. Not sure why Paul Martin has started this whole "chase the puck and leave the front of the net open" shit, but it needs fixed.
Another thing that needs fixed is Soupcan's fetish for tripping people with his skate blades.
And outright tackling people.
Letang gets smoked by that guy who made the obscene gesture to Avery.
Travis Moen embarrasses himself when he bounces off of Rupp and does a face plant into the boards.
Brian Gionta runs MAF. PK Soupcan trips Staal. No calls.

Period Recap: Did Bob Errey call Soupcan a wild mare?


Habs score early in the second. Some French asshole gets his first career goal. 2-1. Probably the most frustrating moment of the night because it seemed like the game was going to be another cheap win for the Habs.
Pens try to answer quickly, and Kunitz takes a stick to the mouth. Whoever the officials were in Montreal, they were great, not allowing themselves to be intimidated by the fans. On the powerplay, Letang is running shit like Max on Saved by the Bell. He fakes a shot and passes to Tyler Kennedy. 2-2.

After that goal, it was all Pens for a while.
Chris Conner had one of the best shift of the year.
Jacques Martin has to use his timeout after an icing.
Then the Pens get a PP. Killed.
Pens still had unlimited odd-man breaks in the second period. TK and Malkin had one, so did Cooke and someone else. Price made a big save on Malkin, and the Cooke two-on-one fell apart.
The Pens owned the period.
But as usual the Habs had their little spurts.
Nothing but fast, nonstop hockey. Great shit going on.
Habs get caught for too many men.
All of a sudden, Staal is getting some powerplay time.
A puck bounces the right way. Jordan Staal puts one home. 3-2. Just a huge goal.
Period recap: Staal's goal put the Pens in the driver's seat. We hate the Habs, but it is hard to job the fact that the second period was a great period of hockey to watch.

Having a 3-2 lead going into the third was nice, but too many times we've seen the Canadiens find a way to stick around. Pens needed a two-goal cushion. And thankfully Benoit Pouliot, French for asshole, helps the Pens out. He murders Michalek. Easiest penalty call in the last 25 years.
Pens powerplay sets up with Staal in front. Pens throw it to the net.
Price does a terrible job of rebound control. Goose is all over it. 4-2. Two-goal lead.
Montreal can't pull their little tricks now. The French asshole makes another appearance.
This time, Pouliot two-hands Kennedy, causing a turnover.
Pouliot buries one past MAF, but the whistle has blown.
No Goal. Pouliot is headed to the box.
Habs fans through their hissy fit.
Pens get a powerplay. Letang. Goal. Beautiful. 5-2.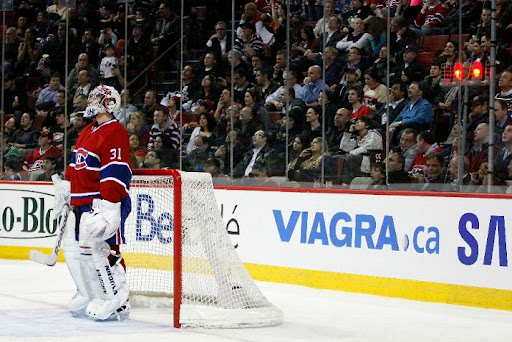 It was poetry in motion the rest of the way. Soupcan starts attacking people. He fights Test Tube. Test Tube got him to the ground. Win. Then Gionta and Gomez start shit. Habs were frustrated. So great.
Habs end the game on the powerplay. They can't do shit.
Horn sounds. MAF strikes the pose:
game
NOTES:
All the credit to the refs for not getting intimdated in Montreal and calling a great game.
Jordan Staal had a monster game.
Too bad Cameljoke wasn't on the ice to experience this for the Habs
Is there a worse contract in the NHL then Scott Gomez? Yikkkkkes
**