As frustrating as this game was, it's not as bad as everyone might make it out to be.
A.) You aren't going to keep winning road games in the NHL. Too hard. Pens got off to the third-best start on the road in franchise history.
B.) The high of almost getting Jordan Staal back…and then losing him was present in this game. It just was there.
C.) First game back for Big Z, and it was rough. He is going to be a huge part of the defense. Might be the worse game he ever plays. And he only ended up a -1.
D.) No Pascal Dupuis, who is just starting to get hot. He was with his wife, witnessing his baby being born.
Which begs the question: Would he have been given moustache leeway if they had this baby in October?
Would you really make Dupuis sport a porn stache in all the hospital-room pics? No way.
Even though we're sugar-coating this shit, it still wasn't a whole lot of fun watching the Stars pretty much dominate from start to finish. Not to mention that if you looked up in the sky around 9:30, you would've seen the Space Shuttle Johnson breaking apart as it came back to earth.
But that's where we are at. Expect MAF to come up big on Friday and Johnson maybe on Saturday.
It is going to be a choppy stretch here for the next month.
And apparently some reporter in Austin, Texas, has nothing better to do than attack bloggers on Twitter:
"So smoke on that and shutup" is the new "run and tell that, homeboy."
This tweet has since been deleted by Chris Sadeghi.
Brian Y.
JAKE
Stephen

Texas Rangers pitcher Cliff Lee had nothing to say after the game
as he got on a flight to New York to talk with Yankee management.
Don't know what the HD looks like.
But Dallas' TV camera angle is suffocating.
The Pens immediately change their line-up and have Talbot play with Kunitz and Crosby.
Johnson plays a puck, and it goes right to a Star.
The guy throws it at the net. Johnson plays it funny. No one knows where it's at.
If that wasn't an omen, nothing is.
Ott with a big hit.
Comrie confuses Ott with Hilary Duff and hits him from behind. No call.
FSN makes a "Toby Petersen used to be a Penguin" reference.
Stephane Robidas with a shot from the point. Goal.
Rock & Roll Part 2. Actually, Part 1 of 5.
1-0.
Robidas is a beast. Steiggy or Errey mentioned the Pens wanted him at the draft or something.
Felt like the Pens had no shots for the first 10 minutes.
Nothing was getting through. And that would be a theme on the night.
The Stars dump a puck in.
Michalek still thinks he's at Southpointe and loses a battle on the boards
Every Penguin in the zone stands and watches as Star comes off the boards with the puck.
Brad Richards is sitting untouched in the circle. Snipe. 2-0.
Richards is filthy. He kills the Pens. rogue mouse pointer.
The Stars come back with a chance, but they hit the post. Johnson was in trouble.
The Pens' defense has no idea what's going on now. They give up a two-on-one. Johnson with a big save.
Malkin and Sid are playing together with Kunitz. A long shift for them. The Stars take a penalty.
Godard got jobbed, and Malkin got a stick in the face. Another penalty. A Pens power play.
Pens had a 5-on-3 for almost an entire 2 minutes. And it was probably the most embarrassing 2 minutes we've ever seen on television. We aren't hockey experts, but Letang has to be on that instead of Goligoski. They're trying to set up one-timers, but that would be infinitely better if there is a threat of one-timers at both points. But, no, whoever was gonna pass that one-timer has to go to the left point before passing it. Way too predictable. Disappointing.
After the powerplay, apparently now sponsored by John Mark Karr, the Pens went to the box.
And Brent Johnson was keeping the Pens in it big-time.
Save after save.
The penalty's killed. The game gets chippy now and Engelland delivers a big hit.
Tons of chaos in front of the net. No one has any idea what's happening.
Ooooooooooooooooone minute remaining.
Some guy named Benn was jobbing Malkin.
Tyler Kennedy goes Nancy Grace on him.
Kennedy proved his point and suplexed Benn to the ice.
Period Recap: It was only going to get worse. Stars came out like it was a Game 7.
Powerplay smelled like ass.
Johnson doing his best to keep the Pens hanging around.

FSN shows Engelland's fights against Orr and Shelly. They're still awesome to watch.
Letang goes off for cross checking.
The Stars hit another post. Killed.
Letang gets crushed. It looked like interference. No call. First true sign that the game was getting chippy.
Malkin with some great work against the boards to keep the puck. EA Sports designed board play to work just like that.
Kennedy pounces on the puck off of a faceoff.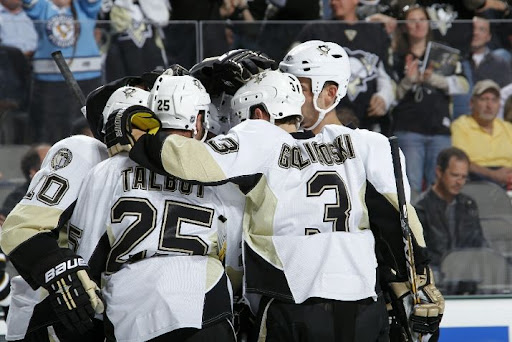 2-1. Have to give credit to TK.
Morrow gets two for slashing.
Normally, this is a powerplay where a team can turn the tide.
Instead it was a tsunami of piss.
It's killed. As the penalty ends, Talbot has a wide open net. Lehtonen with a big save.
Another defensive breakdown leads to a goal by Ott. 3-1. Ott was wide open there. Letang was like whatev.
Bylsma debates bringing in Ted Lincecum
suck it
Pens were still in the game.
But that was about to change.
Loui Eriksson and Go-Go are side by side in a race for the puck. Maybe Eriksson had a half-step on GoGo. MAYBE.
Eriksson falls down, the ref points to center ice. Penalty shot city. Really bizarre call.
Eriksson then undresses Brent Johnson on regional TV. Nasty move. 4-1. Rock & Roll Part 2 playing.
Some random screaming throughout the song for some reason.
Morrow and Letang get in a fight. Letang has a sore hand and throws no punches.
Did Morrow break some unwritten gentlemen's rule?
Letang was mouthing off at him in the box, and there was a regretful look on Morrow's face. Bizarre again.
Then things get out of control.
Sid drops the gloves with some joke. And then Sid drops that joke.
The Globe and Mail used this title for the AP article:
Crosby lost this fight?
Then the Pens send out this line: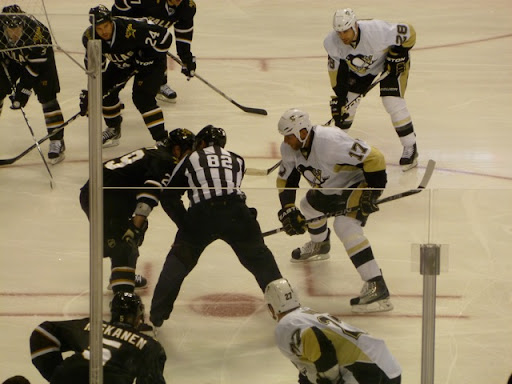 Clutch pic from STEPHEN
(actually that is not true because the guy Crosby fought is there. Maybe he didn't get a penalty because "he beat Crosby up."
Godard takes a penalty because the refs don't want him to murder someone.
Some other stuff happens. The Stars take a penalty.
Kunitz and Benn fight. Awfully convenient that no one on the Stars is willing to take on Godard or Engelland.
Penguins power play. We don't even care anymore. We just want Engelland to ruin someone's face.
The power play is killed, but Comrie scores. Nope. He punched it in. No goal.
He has basically reached the Chris Bourque zone.
Not sure how Tangradi isn't a better option than Comrie at this point.
Letestu almost jams it in with a wraparound. Pens started sniffing around the net a bit.
A shot rings off the post, and the hockey gods let out a chuckle.
The period ends.
Period Recap: Just kill someone.
Five minutes in, Loui Eriksson at least gives you the option to go to bed if you want.
He steals the puck from Letang, buries it past BJ.
5-1.
Tempers cool considerably in the third, time just melts away.
Mike Comrie kills at least two shifts. Almost feel bad for the guy. Never expected him to be great, but he's been a bust.
A case of get what you pay for?
A very subdued crowd in Dallas. No one seemed to care.
Matt Cooke got a goal in garbage time to make it 5-2.
Pens take a penalty real late in the game.
Dallas rolls out their top PP unit. Wouldn't expect anything different from that scumbag Marc Crawford.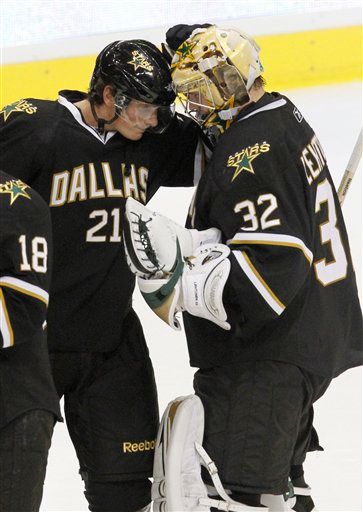 Game
Gizmo was not on the flight to Anaheim.

The Pens are now scoreless in their last 25 power plays.

FSN lets us know that Matt Cooke is November's moustache boy.

FSN shows us a pretty random stat of coaches' records in their first 119 games.
Couldn't they have saved that stat until next game and used a round number like 120?

piss