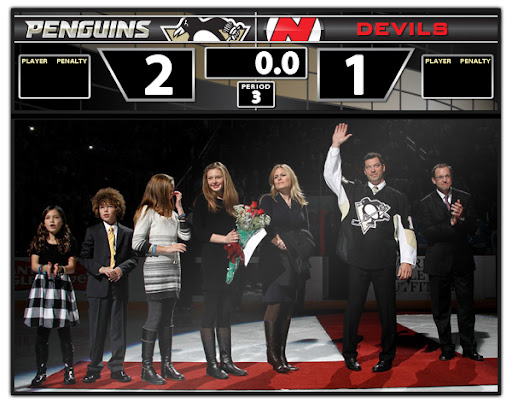 The Pens have reached the double-digit mark in their winning streak. That's big news. The games at this point of this streak feel like playoff games. And there are so many stats being thrown around right now, but we have to take a moment and look at the most astonishing stat: the Penguins have 40 points; the Devils have 18.
Ouch.
Any time you win 10 games in a row, it is a big deal. The Pens have a huge cushion in place when and if some three- or four-game losing streak blindsides them out of nowhere.
It doesn't need to be said again, but we'll say it anyway. The Penguins have won 10 straight games, and they don't even have a second line. Malkin is banged up, Staal's hand almost fell off. Two weeks from now, a healthy Malkin and Staal will be added to a team on a roll.
Whatever the situation it is better than the Devils.
[ thanks hulkster ]
They don't even look like a Devils team. Huge mess in New Jersey.
But no time to worry about that.
Toronto comes into town next. They always seem to find a way to win in Pittsburgh.
Hopefully someone hits Brian Burke with a cab before the game.

Nice ceremony and video before the game to acknowledge Bill Guerin's retirement as a Penguin.
Would've been classier if the Pens had included the Devils in the ceremony somehow.
Maybe they just wanted to deliver a shot to the Devils' nuts before the game.
The Moose getting the start for NJ.
As usual, the Buzzers Line™gets shit going early. What a line.
Colin White sucks. Him and Kunitz had a ladder match every time the Pens had the puck.
Rupp demolishes someone.
Kelly Clarkson comes and wants to fight Rupp.
Rupp, meanwhile, wants the Pens to get a PP. They get it.
Sayyyy iiiiittt
No dice. Good movement. Killed.
Pens got another PP soon after.
PP looking really good. Letang amazing at the point. Killed.
Devils would have a PP coming, and they got it when Dupes got his stick into somebody.
Devils get a bounce and score a PP goal. 1-0.
Brian Rolston sucks
Crosby receives a pass that we can't even explain. So we'll just show a GIF of it:
Disgusting. That face
Crosby
makes when he passes or shoots might be our favorite feature about him.
Kunitz one-timer city on the back end. 1-1.
Kunitz is starting to heat up.
Points in 16 straight for Bing.
Cooke falls, and the Pens get another PP.
Another kill for the Devils.
Devils used the kill for one last boost at the end of the period.
A couple of close calls, but no goals.
Period Recap: Devils just don't look right.

Billy Guerin graced the FSN booth with his presence.
Nothing happened in the game at all during that time.
Brian Rolston throws Martin into the boards.
Craig Adams defends PaulMart's honor.
Craig Adams was everywhere this game.
He was probably in the parking lot after the game serving hot chocolate to people.
The Pens get another PP from all that. Couldn't score on that one either.
Job job job.
Crosby gets his usual goal. 2-1.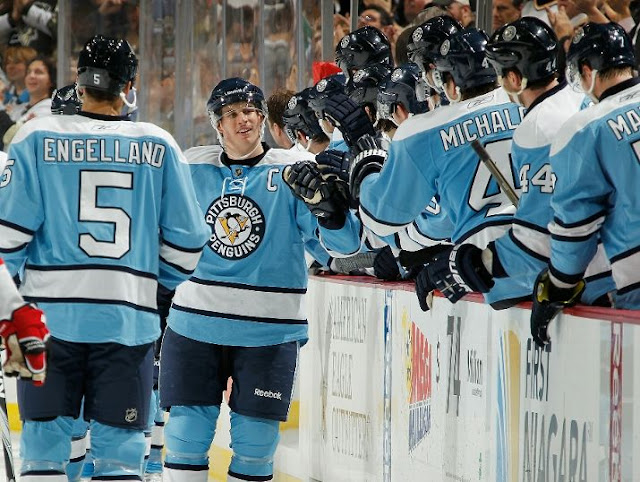 Nothing Marty could do about it.

Hedberg flips out because Kunitz brushed him. Get real, dick.
Concentrate on making big saves.

Good luck finding something else that happened in the second period.
PaulMart and Zibby take turns shutting people down.
Period recap: Tight hockey game. Not a lot of chances.
Pens had some carryover PP time from the second, and they had a 5-on-3 for a bit.
Letang almost scores some goal.
Kennedy went to the box. Killed.
job job job.
We really want to talk about stuff that happened in the third, but it was all run-of-the-mill.
The big moment came halfway through the third when Crosby went to the box.
This is where special-teams play comes up huge.
If the Devils had any idea what they were doing, they should've just repeatedly sent the puck to Kovalchoo for one-timers.
Killed.
John Maclean had no idea when to pull Hedberg.
Game.
3. Craig Adams
2. Martin/Michalek
1. Bing
Go Pens