The good news: The Penguins won a game without Crosby and Malkin.
The bad news: They almost melted down. Again.
But a win's a win.
And they beat a surging Hurricanes team.
Any wins without Crosby and Malkin is a plus.
Pens don't win this game without Mark Letestu and Dustin Jeffrey.
Jeffrey's goal woke up the Pens after 75+ minutes without scoring a goal.
There was little emotion in this game until the third when things got chippy.
Jeff Skinner melted down and tried to murder Chris Kunitz.
With the Flyers losing, the Pens pick up some ground going into the last set of games before the All Star break.
The Islanders come to town on Tuesday.
Fiddy14
Couch204
pensfan1989

Nothing happening.
Arena felt like a Terri Schiavo piano recital.
Kris Letang with a ridiculous giveaway that almost leads to a goal.
Then Goligoski probably gave it away somewhere. So frustrating when that happens.
Some Cane throws it over the glass.
The cast of Clarissa Explains It All could've done better on the PP.
PERIOD RECAP: We were at this game, and it's simply foolish on the part of the Penguins' entertainment people to think that they can keep fans pumped for the entirety of a game. It's just not going to happen. 10 seconds into the game, there was an icing. As soon as the whistle blows, they play that "Everybody clap your hands, left foot down, right foot stomp twice, whatev" song. From all the clapping and screaming that you're prompted to do throughout a game, it feels like you just worked out to a Tae Bo video.
Our solution: Show scenes from Diehard 3 and Behind Enemy Lines.
Then play Renegade and Cotton-Eyed Joe.

Each team almost scores a goal early.
Then the Ice Crew comes out during the commercial.
They worked harder than Talbot did all game.
Chris Conner holds up a Hurricane then makes out with Eric P.
Pens kill it.
Right after that, some guy partially interferes with Chris Kunitz.
Too bad Chris Kunitz dives. And dives really bad. Refs call it.
Hopefully no video of this will ever surface on the Internet.

The Pens get a goalie-interference penalty. While that's delayed, Erik Cole comes down and hits the crossbar with a shot. But he goes nuts with a celebration, thinking he just won the Cup. Ray Charles comes back from the dead to disallow the goal. Bizarre sequence. This was probably the most obvious non-goal of the century.
Up to that point, the Cole thing was the most exciting thing to happen.
Next play, the Canes go to the box. 4-on-4 again.
Pens cycle. Letang was in deeper than Peter North, making plays.
Dustin Jeffrey had been invisible up to this point.
We let his biggest fan, Eric P., know about it. His response:

Puck finds Jeffrey at the point. 1-0.
PERIOD RECAP: Even with the Jeffrey goal, the game was pretty boring through two periods.
And not because there weren't goals being scored. A game can be exciting without goals.
But this game wasn't it.
Third period could have started horribly.
Instead, the Canes take a penalty.
Mark Letestu goes downtown Julie Brown on Cam Ward. 2-0.
What the hell was Cam Ward doing? No clue.
Orpik goes off for something.
Staal hits Dupuis on a breakaway.
Boom. 3-0.
If you thought Dupuis was gonna score on that backhand, then you're obviously lying.
The Pens take their 3-0 lead and try to bury it in the backyard by the basketball-hoop pole.
With less than 5 minutes left, the Canes spoil MAF's shutout. 3-1.
20 seconds later, Kuntiz stiff-arms Lynyrd Skinner and gets four minutes while Skinner gets two.
Skinner went insane. Odd timing.
The Pens kill the Kunitz shit, and there's still a good feeling in CONSOL.
But with a minute to play and Cam Ward eating wings on the bench, Eric Staal scores. 3-2.
"Ohhhhhhh shiiittttttt."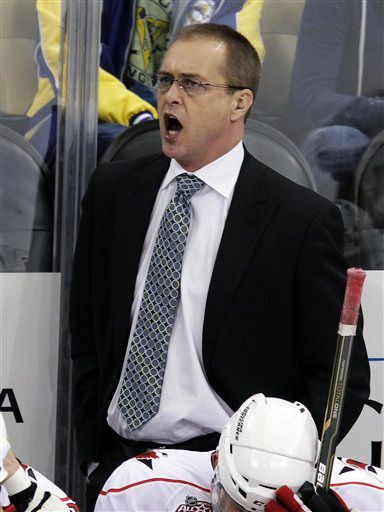 Paul Maurice calls his time-out while Ron Francis probably diagramed a perfect play to score on. After a huge battle at the ensuing face-off, the Pens battle a little bit harder and get the puck deep into the Canes zone. Jordan Staal keeps it deep for upwards of 30 seconds.
Looks like Granato is about to pull out a gun.
Time is running out, and the puck is deep. Nothing but a plus for the Pens. But then Brooks Orpik makes a really strange decision to try and pinch to keep the puck in. Eric Staal blows by him but can't get a clean breakaway. Letang's speed makes sure Eric Staal can't do shit.
Anxious moments. The Canes did have a couple cracks at the net.
But the puck can't seem to find a Hurricane.
Pens ice it, but they win the ensuing face-off and kill the rest of the time.
Jesus. Game.
Is that shirt/sweater for real?
GP
Cooke destroyed someone somewhere.
Arron Asham made some plays.
Paul Martin is in some kind of funk.
Perfume being worn by Pens Ice Crew girls engulfed an entire elevator shaft at one point.
Sat in the press box. In the hallway leading up to our seats the Pens have newspaper articles spanning the entire hallway. Might have to do a post on that alone.
Also can confirm that beer was delivered to the refs as seen in 24/7.