It took a while, but the Pens were finally able to solve Kiprusoff, who had the potential to be an enormous pain in the ass. The line combinations are finally beginning to all gel on the same night. And the Pens have given up only 4 goals total in the past 4 games. We don't like getting too high or too low during an NHL season, but, shit, it feels like the Pens didn't play like this at any point during the season last year, so there's reason to be pumped as balls. Crosby is a beast.
Pens make their first MSG appearance on Monday. Always good times.

Fans were chanting right off the face-off.
Bylsma starts the game with a jobber city line.
Dupuis has a solid chance early. Big save by Kipper. Not big Kipper fans.

Sid breaks free for a little breakaway. Unreal speed to gain separation.
Barely gets touched, but he still gets a penalty shot.
Sid goes Mae West on the penalty shot, but Kipper shuts it down.
Midget Line picked up right where they left off from Friday's game.
Johnson had to make a big toe save on someone.
A broken stick helps Conner draw a penalty.
Pens were on the PP. But Kipper was everywhere.
The rest of the period was just Kiprusoff making saves.
Olie Jokinen makes a rare appearance just long enough to remind you about all the times he won games at the Civic Arena.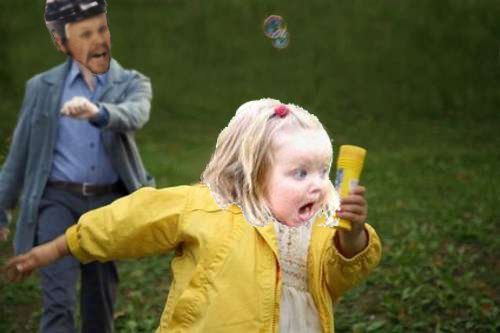 saw this in cblog, wtf?

Period recap: Kipper. Did Jarome Iginla play?

Early in the second, Michalek goes off for tripping.
Pens kill it. Johnson making big saves.
Engelland may have stopped a goal after the kill.
Asham-Adams-Rupp have a great shift against a tired group of Flames.
After a quagmire in front, Asham gets to a loose puck.
For as dominant as Kipper had been, it didn't even look like he tried. 1-0.
Great celebration by Asham.

Engelland and Jackman drop the gloves.

Letang gets jobbed after an offsides call.
Kunitz leads a rush out of nowhere, exhibits patience, and takes a shot.
Rebound bounces back to Kunitz, who pushes it over to Sid.

Wide open net. 2-0.
After maybe 3 or 4 missed calls, the Flames finally get caught with too many men. Killed.
How miserable of an asshole does Brent Sutter look like. Shut up.

Hangman tries to get Calgary on the board late. Goalagainstski makes a play.
Period Recap: Dominant of period of hockey for the Pens.
Dupuis heads to the box in the first leg of the third period.
Killed again.
After some shit, Pens get a PP.
Midget Line taking care of business at the beginning of the PP.
Then the big guns came out. Solid passes.
Crosby gets a goal off a deflection. 3-0.

Malkin went to the box for something. Killed.
Rene shows how a Bourque scores. 3-1.
Tick tick tick.
Pens take a penalty late, so they had to weather a 6-on-4 situation.
Crosby goes big fly into the empty net. 4-1.
EricP city.
Game.
Jay Bouwmeester is the worst defenseman in the NHL. How do you get toe-dragged by Kunitz. Ouch.
Another solid performance by Brent Johnson.
Third line keeps it going. Way to early to start bringing that "best third line in hockey phrase" out.
Penalty kill is insane.
Jordan Staal lurking in the shadows.
We'll be posting all the anthems pics and stuff on Sunday.
1. Bing. Taking the Stamkos Watch personally.
2. Letang. Starting to come into his own in both ends. Would've had he had three assists if Crosby didn't steal Paul Martin goal. (correctionblog)
3. Mike Comrie for not playing.