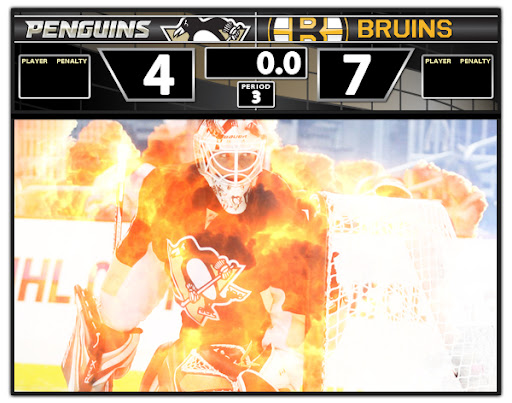 Expectations going into games are so high anymore that any loss is looked at as a dismal failure.
But this one was exactly that.
Pens were cruising. Start of a stretch of 5 home games in their next 6.
The crowd was sort of pumped. Pens had a 4-2 lead going into the third.
But then the collapse happened, with no warning.
Fingers being pointed at GoGo, Michalek, Bylsma. Hopefully David Morehouse gets blamed somehow.
Bruins are a solid hockey team.
The Pens aren't.


Man what a pic. help

Kid, the Pens just lost 7-4 in terrifying fashion. Did you even watch the game?
The last thing on Crosby's mind is touching your germ-ridden hand.
2935, Dustin D., OMGodard,
cb66, Chris B., Pittsburghler

Without a doubt, the Pens got out to their fastest start of the season.
The result? A goal. Arron Asham scores his first as a Pen. 1-0.
In this picture, does Arron Asham look like anyone we'd possibly know?
It's actually a frightening resemblance.

Then there were a couple of fights.
Godard and Thornton dropped the gloves.
Tablot took on soup. What an uppercut by soup.
The Pens' fast start essentially got wiped out when Kris Letang went to the box.
Mark Recchi battled a triceratops in the parking lot before the game. Got him pumped. 1-1.

suck it
After the Bruins goal, everything pretty much shut down for a while.
Arron Asham went to the box for a Flyers penalty.
Fans weren't in the game at all. First play of that kill was a skirmish in front. No one even cheers when Johnson keeps it out.
Pens end up killing the penalty.
But it didn't matter. Pens turn it over. Marchand snipes Johnson. 2-1.
The Pens come right back. Malkin goes to the net.
Puck squirts out to Candy. Tied. 2-2.
Period recap: Mark Recchi and Brooks Orpik scored in the same period.
This game already had the makings of something that would make no sense.

Bruins came out in Johnson's mouth to start the second.
They get off a couple quick shots. One hits the pipe.
The Pens come back, led by Malkin. He flies around everywhere.
Then Rob Rossi apparently shoots him with a BB gun from the media level.
Malkin came back for his next shift, and he turned out being okay. Scary. Rob Rossi sucks.
Asham fights the guy Talbot was jobbing.
Bruins hit another post.
Dupuis was running around doing shit.
Then Brooks Orpik went off for interference. Right in front of the ref.
Pens kill it. Huge.
After the kill, the Pens get to the net.
Kunitz puts a loose puck home. 3-2.
If Comrie was playing, he would've been there, so he would've scored.
Pens gets a powerplay late in the period.
Could it be?
Crosby tries to get it to Malkin through the crease.
It hits a Bruin's stick and goes in. 4-2.
Period recap: Pens have usually been on the shitty end of periods like this.

Bruins weren't gonna die. Bruins score 2 goals to tie it in the first 4 minutes of the third. 4-4.
Okay. Bylsma's was gonna take a timeout, and everything would settle down.
Except the timeout was never taken.
The eventual game-winning goal was scored with about 7 minutes left.
And it all started because Goligoski was hesitant on stepping up to go for a loose puck in the Bruins' zone.
The split second of hesitation allowed Shawn Thornton of all people to cruise in with some no-name on a 2-on-1.
Lovejoy did his job defending it. Johnson didn't. 5-4.

You know that dude with the arms up wanted them to score so he could complain about it and laugh.
The back-breaker came when Blake Wheeler scored.
Mark Recchi got his second assist and third point of the game on the goal. 6-4.
Milan Lucic made it 7-4 in an empty net. Game.

s

h

i

t