Did Ryan Miller know there was a game last night?
The emo Sabres goalie got outplayed, and badly, by Marc-Andre Fleury, who has gone from weak link to borderline Vezina candidate in one month.
The Pens jumped out to a quick 2-0 lead then just laid in the cut.
But they started making plays when they had to.
Dustin Jeffrey did something other Wilkes-Barre players have done lately when they reach the Pens: contribute.
Jeffery opened up the scoring, and he had the primary assist on Mike Rupp's huge insurance goal in the third.
Biggest game of your life coming up Tuesday night in Philly.
Timmy K., Apostletony, Nick
Some pics from @OneSmugPug here, as well.

12 seconds in, Sekera trips up Dupuis for some reason.
Pens get an early PP. Huge chance.
Pens did some shit, looking for deflections in front. Killed.
MAF was under siege for a while. Huge saves.
Goligoski saved a goal.
Kennedy comes the other way and hits the crossbar.
All eyes on Dustin Jeffrey.
Lovejoy pinches deep, finds Jeffrey in front.
Jeffrey redirects it in with his skate.
Habs were in Toronto Saturday night, so it was a quick call. 1-0.
Dude with the "A" has to chill out.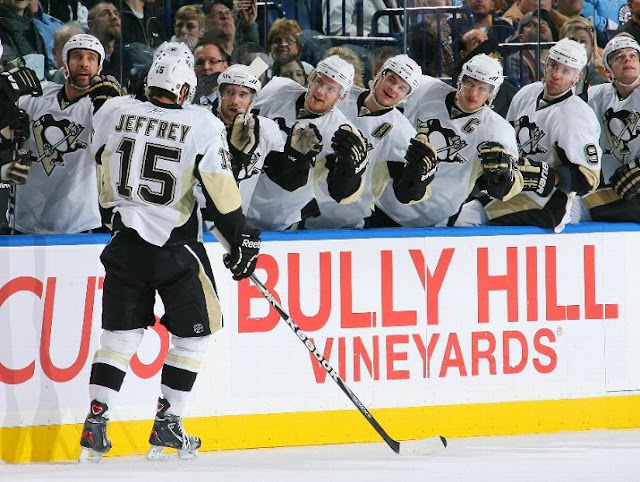 Is that Michalek far-right? Interesting.
Buzz Line had Miller flopping around.
Sabres D-men coming to Miller's rescue.
Talbot-Cooke-Asham start cycling.
They finish off an extended shift with a goal off a turnover.
What a shot by Asham. 2-0.
Lovejoy and GoGo gang up on someone, and Lovejoy heads to the box.
Big kill for the Pens.
Craig Adams then goes to the box for making a play.
Dupuis goes off, too. Yikes.
Sabres score. 2-1. And then all Hell breaks loose.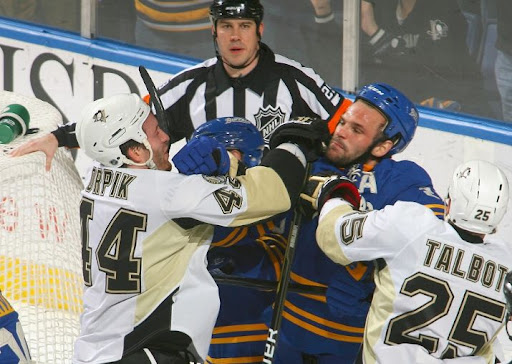 Orpik wasn't putting up with any bullshit

Sabres still had a PP after all that.
Pens kill the last portion.
Period Recap: Business picking up at the end of the period.
Huge late goal for the Sabres.


As if they weren't to begin with, opposing coaches are starting to build their entire gameplan around stopping Crosby.
Lindy Ruff told his players to get in Crosby's mouth and never get out.
It was working early in the second. Bing couldn't get shit going.
Buffalo starts to turn up the heat.
MAF gets pissed off and slashes someone.
Pens get the penalty kill.
Somehow it is still 2-1. Doesn't feel like it.
Bing starts getting loose. He has a breakaway on Miller at the end of an 8-minute shift, but he misses top shelf. He also gets slashed and draws a penalty. On the powerplay, Crosby has another chance, but Miller actually makes a save.
After that, Ruff turns up the balls on Crosby again.
He has one of his D-man, Mike Weber, rough up.
Just didn't seem like a good idea. Crosby had been whatev all game. After that, he was invested.
Mike Weber is apparently from southwestern PA. May have heard that about 40 times.
Orpik hands out some Starburst to Sekera

The period ends with the entire Pens bench calling Weber a dick.
Period recap: Physical period. Getting chippy.

Tempers had 17 minutes to cool. But they didn't.
Tyler Myers had a chance to put Crosby out for the year.
Crosby looked up at the last second. It would have been bad.
Right then, you just knew Buffalo didn't have the killer instinct.
Some Sabre falls down after getting hit by Orpik, so the Sabres get a PP. Pens kill it off, but not before Talbot gets destroyed while killing time in the Sabres zone. Cheap hit by Pominville.
Michalek again found himself making big plays in front of MAF in the third. And then he took a stick to the face, but the Pens couldn't do anything on the PP. Michalek has perfected leaving his feet and breaking up plays. What a player.
Tick tick central.
Letang goes to the box for slashing.
But Gerbe goes, too. Interesting.
Finally Crosby extends the point streak.
Goligoski. 3-1.
Went off some dude's stick.

Next shift, Pominville unleashes a shot through Michalek.
Pominville finds the rebound and puts it home. 3-2. Shit.
This felt like one of these games where Paul Gaustad would score with a minute left and it would go to OT.
But the Pens get a great shift out of Mike Rupp-Jeffrey-Adams.
Jeffrey throws the puck to the net. Rupp bangs it home. 4-2.
Great goal by Rupp.
Peace [ Nick ]
Sabres pull emo. Cooke buries the empty netter. 5-2.
GAME.

Goligoski tied the Pens franchise record for most GWG in a season by a D-man: 4.

Hell of a lot of Pens fans in the building.

stole the recap title from Steigy. yikes
3. Matt Cooke. Best game in a while.
2. Dustin Jeffrey.
1. MAF.