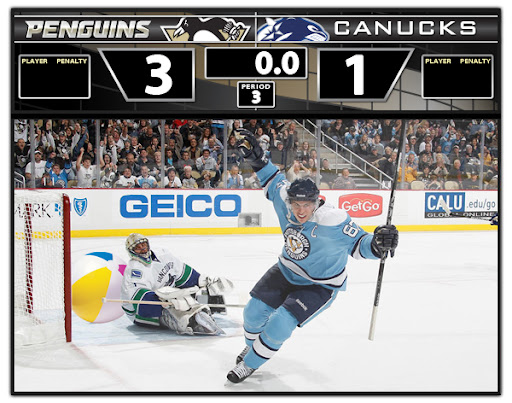 Two days ago, when he was asked about dominating the Eastern Conference, Roberto LOLuongo had this to say in regards to his big numbers:
"You do the math, I don't know what to tell you," said Luongo. "I can't answer that for you without being cocky."
What an asshole. No word if LOLuongo was still being cocky after the Pens put three goals in his mouth.
Marc-Andre Fleury, for the first time all season, seemed extremely confident and nearly flawless. He seemed hell-bent on out playing LOLuongo and he did just that. He was able to bail the Penguins out of a few tough spots late in the second period and he put on the cruise control in the third.
Vancouver looked out of sorts and vastly overrated. Pens have points in four straight games. Gotta keep it rolling against Carolina on Friday.


First play worth talking about happens about two minutes into the game. Kevin Bieska trips Craig Adams into Roberto LOLuongo. LOLuongo goes down like a house of cards and then Bieska fights Adams as if he can't believe he ran into LOLuongo. Bieska pops Adams on the chin.
Not a whole lot of action in the first as the teams are feeling each other out. Paul Steigerwald tells us that there is a difference in the Sedins. Henrik is 6'2 and Daniel is 6'1. FSN at its finest.
The crowd gets into it for a little bit, but nothing really going on. Crosby undresses some guy behind the net, but the Pens can't score.
A little later on Crosby is going for a puck in the offensive zone and holds a stick. The Vancouver defenseman almost Travis Roy's himself. Penalty blog for Bing.
Pens penalty killing has a big kill. Canucks look like they don't care. Then they forget about Crosby coming out of the box. Crosby breakaway from mid-ice. LOLuongo can't stop it. 1-0

Period ends shortly after that.
PERIOD RECAP: Another solid first period from the Pens. Pens D looks better, still some bizarre pinches from Letang.



Mike Rupp starts the second off by taking two penatlies. First one was legit, the second one was a garabage call. But when you don't have any penalties in the game previous to this one, don't look for calls. Just the nature of the NHL.
Pens kill the first penalty. Penalty kill is ranked fourth in the league.
On the second PK Talbot gets a break and tries the Talbot™ snipe. LOLuongo is there to make the save but he falls over.
Talbot gets the rebound. Wraparound city.
2-0. Great action leading up to that goal. What terrible goaltending by LOLunongo.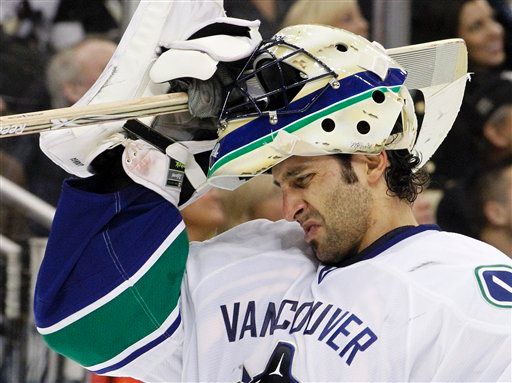 sucks
Penguins have all the momentum in the world and stop buzzing. Paul Martin makes a sick play to hold the puck in and bounces it towards the net. No clue what the Vancouver player was doing but he shits himself and turns the puck over to Rupp. Rupp to Asham, Asham fans no dice. But the puck hangs around the crease. Malkin comes flying in out of nowhere. Asham though, never gives up on the play. He knocks it in out of mid-air. 3-0.
Asham and Malkin get right back on it, unreal chemistry. Asham drops a puck to Malkin but it gets pokecheck. Several mistakes then occur:
1. Kris Letang was flying up ice, never expected the poke.
2. Brooks Orpik And Malkin leave their feet to try and block a pass.
3. No one picks up Dan Hamhuis.
And unlike this summer, Hamhuis doesn't wait. 3-1.
The goal woke the Canucks up and they start buzzing. MAF makes some huge saves. Keith Ballard takes a penalty to kill the Canucks momentum.
Pens nearly score after LOLuongo trips over his ego behind the net.
Hamhius lays out of save the goal on a shot from Malkin
Pens looked like they were about to overcome a possible Chernobly situation but then Dupes gets whistled for a tripping penalty. So strange, a random stick came out of nowhere and caused the trip, not Dupes.
Whatev though. MAF holds the line. Biggest moment of his season thus far. He gets some breaks. Brooks Orpik played a decent game, but he had a forgettable second period. Kessler steals a puck from him and nearly scores.
PERIOD RECAP: Asham with a huge insurance goal. Big time period for MAF. He outplayed LOLuongo big time.
Pens in full conservation mode. Not taking any chances. A few times Penguin defenseman thought about pinching only to turn around.
Canucks just never looked comfortable and the Defense locked shit down in the third period.
Michalek was everywhere shutting people down. Orpik shut the door on the Sedin twins.
But still the best player on the Pens was MAF. He was in control of all his rebounds. Just gave off a "no way in fuck am I losing to LOLuongo tonight," vibe.
Pens could not get that fourth goal on LOLuongo. Malkin almost did though. Malkin and Asham are going to be fun together this season.
Father time walked into Consol for the first time, all of sudden less than five minutes to play. Crosby trys to hit some chick he thought was talking about him in the stands. Turns out she wasn't. Penalty on Bing for shooting the puck over the glass.
MAF knocks Kessler off balance in front of the net. Kessler knocks the net off. Faceoff comes out of the zone. Right after that Vancouver takes a penalty.

Canucks pull LOLuongo, Talbot takes too long to shoot for an open net, and then Crosby gets jobbed. The empty net is a better goalie than LOLuongo. Nothing else happens.
Game
.

Vintage Canucks in the post game quotes: "It's unfortunate, I don't think Pittsburgh did anything special," Luongo said. "They capitalized on some of the mistakes we made."

"This is a team I think we should beat," Daniel Sedin said. "They gave up a lot of shots and we didn't capitalize."

Great video from reader Jerry. Some Canuck fan gets tossed from CEC: