The way we see it, any time you win in New Jersey, you have to be happy about it.
Remember last year, as the Devils swept the Pens in their season series, the New Jersey fans chanted, "You can't beat us."
Brent Johnson remembered apparently, because he outdueled Marty Brodeur.
The NYC Meetup Group remembered, as well:
The Devils had 15 skaters because GM Lou Lamoriello had a college moment and got some overdraft fees.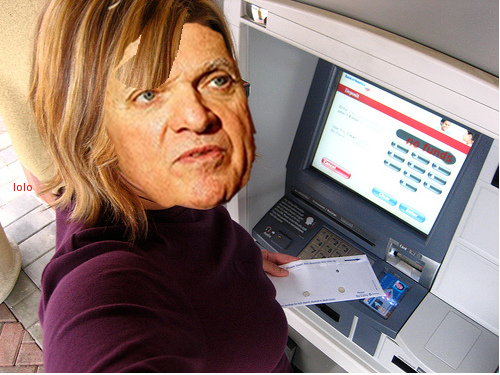 Biggest topic of conversation going into the Leafs game on Wednesday?
Who will be in goal for the Pens.
pensfan1989
Mystery partner. No clue who sent this in or how it got into our pics.
Our guess, it was probably Mark Letestu.

Crosby almost scores 6 seconds in.
And FSN viewers almost saw the whole play, as they were late coming back from commercial.
We don't know the particulars. It may not have been FSN's fault.
Brooks Orpik was a late scratch. No clue what that's about.
Weirdly, the game wasn't as locked-down as the Devils usually are.
You'd think they would be even more conservative since they only had like 7 guys dressed.
Charlie was in Jersey to watch Brett Favre play.
He didn't mention he'd be at the Pens game.
WulfBlud
Paul Martin gets the puck, and he gets booed for some reason.
Are they booing because he got paid big money in free agency?
If so, they should boo Kovalchuk, right? He's the reason they can't pay anyone else.
Johnson was steady throughout the first period. Had to stop a couple in close.
Tangradi and Letestu were dentists.
Pens had a couple powerplays or something. Like it matters.
At the end of the period, Tangradi jobs Kovalchoo and Goligoski races to a loose puck.
He takes a slapper.
1-0.
Period recap: Subtle play by Eric Tangradi to take separate the puck from Kovalchuk.
Tangradi-TestTube-Geno caused some problems for the Devils.
Goligoski goal was at 18:56 of the first.
Your winner:

Pens come out flying to start the second. Crosby has a chance.
Comrie makes a slick pass to Crosby. Crosby drew unlimited penalties.
The first powerplay unit was whatever, but the second unit cashed in.
Paul Martin made a big-time pass and Kris Letang one-timed it.
The puck hits Test Tube, Tallinder, and then it bounced into the net. Brodeur didn't have a chance.
2-0.
Devils came right back with a chance, and Johnson made a huge save.
Paul Martin was everywhere. Seems to be a theme. He has some wheels.
Game settles down for a while. Devils trying to save some energy.
Michalek gets hit into the boards. He was in pain right away. Did not look good, and he didn't return.
Craig Adams draws some penalty, and then Malkin blows by everyone and gets tripped. 5-on-3 for 1:23.
They didn't score, but we'll say this — Something is in the works. Crosby wins the faceoff clean, and the puck goes to Malkin at the right point. Malkin then dishes to Bing. Nothing doing, then all of a sudden the puck goes back to Malkin and he passes to GoGo. Malkin drifts past GoGo, skating left . Go-Go fakes the shot and pass to Comrie in the left corner. Comrie drops it to Malkin who comes in out of nowhere for the one-timer.
Of course the powerplay (the Powerball powerplay) fell apart after that, but there is something building.
Tough call on Mike Rupp because the refs felt bad. PK time for the Pens.
Talbot has some breakaway, but the puck won't go in.
Right after that, Cooke and Adams had a 2-on-1.
Brent Johnson helps kill the rest of the penalty with some big saves.
Engelland makes solid defensive plays on Kovalchuk and Parise. Great game, possibly on short notice, too.
Period recap: Tons of powerplay chances and shorthanded chances for the Pens. Couldn't cash in.
Pens still getting all kinds of chances to kick off the third.
Goligoski had 50 shots.
Rare moment: A penalty called against Zach Parise. Never seen that before.
One day the powerplay will bury a chance, and we'll all be happy. One day.
The Pens started backing up into Protect the Lead mode.
And the game started feeling like the Habs game.
Devils just hanging around.
And that fast, with a shot off a faceoff, it was 2-1.
The crowd was back into the game, and the Devils had a bounce in their step.
But Brent Johnson makes his stand, making save after save. Big-time.
Definitely survivor mode.
Crosby starts lurking around like a defensive back, almost picks off a few passes.
Nearly buries one right after that.
Pat Zajak almost ties it.
Looked like Adams came through on the play, but dude hit the side of the net.
Tick tick, under two minutes.
Devils pull Brodeur, put six forwards on the ice.
Brent Johnson nearly hits an open net, but he didn't get enough juice on it.
Devils waste some time and then Paul Martin turns off the lights. What a speed burst.
3-1. Game.
-pensfan1989-
That guy with the kid has to go buy a stock.
Greg in Bellevue comes through again.