Minus goalie Mike Smith eating his own farts in the first period, Tampa Bay is by far the best team we've seen play against the Pens this season. The Pens were in the game to the very end. But how often does a team score two shorthanded goals on the same kill? And how often does Craig Adams snipe that shot?
Tampa played some bizarre 1-3-1 trap that the Penguins slowly gave into.
After Dan Ellis came in, the defense buckled up.
If you're not coming out of this game jealous of Tampa's top six, you have issues.
When St. Louis-Vinny-Stamkos get rolling, it's game over.
They were missing Simon Gagne, as well.
On the flip side, we witnessed Victor Hedman play defense.
If you want to call it that.
Pens get three points in three games on the road trip.
Staal and Michalek are lurking.
scott91, clwatt3, Sean C.

Some guy named David Tourettes scores on the first shot of the game.
Second start in a row where MAF got owned on the first shot.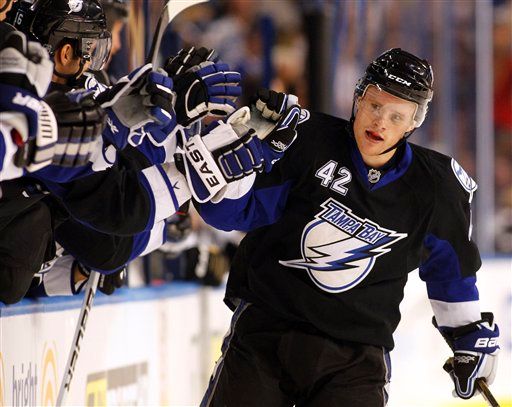 1-0.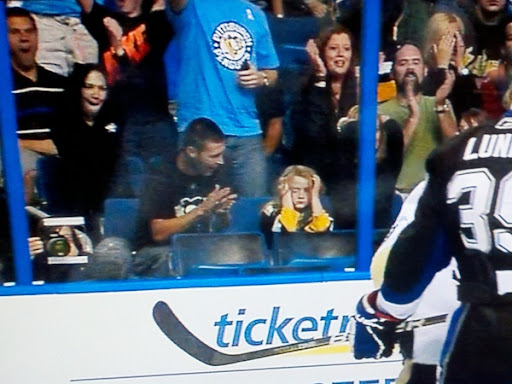 Sorry. You can't give up goals on the first shot of the game.
How many times has this happened in the Fleury's last 10 starts. Yikes.
Pascal Dupuis goes to the box because the ref thinks his moustache has reached creeper levels.
The snowball was about to start heading down the hill.
But out of nowhere, Craig Adams tells the snowball to lick his balls.
He snipes some shot, with his eyes closed nonethless. Shorty.
1-1.
EDIT: Pascal Dupuis came out of the box to celebrate the goal and then went back in.
And on the same powerplay, the Pens have another odd-man rush.
Adams gets it to Letang. Letang gambles and goes in deep while on the PK.
He shoots. Cooke picks up the trash. 2-1.
Don't tell FSN, though:
-Michael M.-
By this time, the potential snowball had melted into Fiji Water.
Later on, Kunitz was working deep and makes a great play to get it out to the front of the net.
The Pens apparently had a scoring chance there, but we didn't see it because FSN had to show Kunitz getting hit. Really.
Craig Adams was like Godzilla in the first period.
He peed on some Japanese person and went to the box.
Pens kill it.
Adams comes out of the box, and Crosby hits him with a bomb.
Adams surveys the scene and dishes a pass to Dupuis down low.
Dupuis goes to the net. Backhand. 3-1. Mike Smith peace.
Another assist for Adams.
Might have to double-check the stats, but Adams now has more points this season than Crosby.
Tampa went to the box for something.
What followed was one of the best powerplays in at least a year.
And they didn't even score on it.
Made by the one and only Duff.
PNC Bank sucks.
Things were going good, even as the Lightning killed the penalty.
Teddy Purcell reminds his mother he's alive. 3-2.
Period recap: What a period. Pens everywhere.
Still only had a 1-goal lead.
Tampa scored at 2:51.

That intermission was one of the longest of all time.
Pens come out, and Mike Comrie heads to the box, which is the most work he has done all season.
Pens kill it.
After the kill, Asham finds himself on the ice with Crosby and Kunitz.
Pens sustain pressure. Good shift. Asham doesn't look at home yet, but watch out when he does.
Crosby on top of men portion of the recap:
Steiggy and Errey started getting bent up about Tampa running a 1-3-1 defense.
It basically means there is no forecheck. It can get annoying.
Our solution if we were Bylsma? — Have our players shoot the puck at the Tampa head coach every time up the ice.
We were going to make a joke about Tampa coach Guy Boucher here, but this is the first pic that popped up on the image search:
distracted.
Pens got into some trouble with penalties.
Dupuis and Kunitz go off. Lightning score on the 5-on-3. 3-3.
What a pass by St. Louis to Vinny.
Pens kill the rest.
Then the Pens get their own PP. Lightning get a shorthanded breakaway. Hits the pipe.
Killed.
Then the Pens get another one. Pointless.
And the Lightning get another shorthanded breakaway. Crosby with a bizarre pass.
This time it was Sean Bergenheim, and Malkin jobs him. Solid play by Malkin to take the penalty.
Fleury stones him on the penalty shot because it's Sean Bergenheim.
Period recap: Third awesome game in a row.
MAF denied three breakaways, with help from the post and Malkin.
Pens were on a PP to start the third.
Then Tampa had one.
Things were calm then Marty St. Louis goes down the yellow brick road and scores some goal. 4-3.
Ben Lovejoy didn't have his big boy skates on, apparently. St. Louis torched him.
follow the follow the follow the follow the follow the follow the yellow brick road.
it's actually yellow because St. Louis peed on it.
Tampa Bay goes into unrealistic mode, and MAF and Paul Martin make some saves.
Adam Hall making a rare appearance, taking a stupid penalty for shuffling a loose stick at Dupuis.
The powerplay's new sponsor should be Neverland Ranch.
Tampa's system takes over.
Any shot that does get through is easily saved by Chamillionare.
All of a sudden there is a minute left.
The Pens call a timeout and draw a play up that won't work.
St. Louis puts everyone out of their misery. 5-3.
gammmmme

Mike Comrie has offically reached suck mode. 7 minutes of ice time.

Tyler Kennedy: 8 minutes of ice time.

Goligoski: 28 minutes. Man.

Ryan Malone elbowed Orpik in the face. What a dick.
John M.
Here is our first-ever podcast. It blows. Don't even listen to it.
You'll have more fun listening to a Taiwanese woman giving birth.
Having said that, though, we do want to craft this into something that is worth your while.
We'll have a little survey form on the blog soon, asking various things that we think matter.
We want to somehow fit this into your day away from the computer, no homo.
You're nuts if you're gonna sit at your computer for 20 minutes listening to us.
Future post-game podcasts will be capped at 15 minutes.
*We're jobbing the free podcast plan for now, so this link may eventually die.
We have to upgrade the plan.