Late in overtime, Big Number 8 stormed into the Pens' zone.
Tension everywhere. One shot away from victory.
But just inside the Pens' blue line stood Zbynek Michalek.
In the blink of an eye, an Ovechkin scoring rush turned around into a Penguins' possession.
Michalek is the mayor of shutdown city.
On July 1st, Ray Shero was looking ahead to games like this when he threw money at defensemen.
The Pens' top 4 played as well as you could ask.
Marc-Andre Fleury wasn't too shabby, either, and made several incredible saves.
None better than this game-saving save on Emo Green: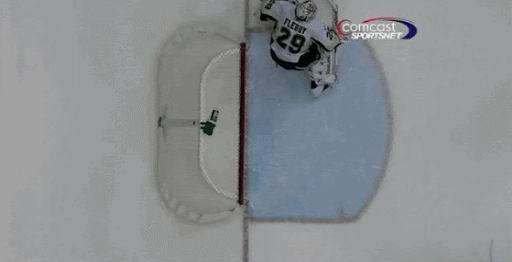 From
NHL.com
:
"If Crosby or Fleury wasn't the star of this clash, then Green certainly was. The two-time Norris Trophy finalist has struggled with injuries this season and isn't producing offense at his typical rate. Green looked more like one of the top defensemen in the League on this night. He logged more than 34 minutes of ice time – in part because Tom Poti was injured midway through the first period and didn't return – and finished with a goal, six shots on net, eight hits and five blocked shots."
If Mike Green would've have gotten a star in this game, we may have never watched hockey again.
In the end, this is just another 2 points. And don't let the Pens' recent 12-game winning streak diminish the fact that the Pens are now riding a 3-game winning streak. Doesn't sound as sexy, but 3-game winning streaks are tough to come by, as well.
But we are riding this high throughout the Christmas weekend. When your uncle tells the same story that he's told the past 10 Christmas dinners, your mind will easily be able to float to visions of this game. 24/7 is going to give women boners.
The Pens haven't beat the Capitals in over a year, either.
That's something else that can't be forgotten.
Just one look at this picture makes the victory that much more sweeter:
We hate you, too, Yoko Ono.
John Lennon called. He has your "H."
No clue how we will survive the Winter Classic, because this game was edge-of-your-seat blog.
Pens have unlimited games next week. Ottawa city on Sunday.

OV sets the tone with a great hit on Malkin.
Takes the Pens off their game.
Pens definitely should have gotten the only penalty out of the skirmish after that, but it turned out being 4-on-4.
Malkin didn't forget about the hit and interfered with AO.
Caps with a 4-on-3. Can't Capitalize. And they pretty much had to.
Things evened up, and Geno came out of the box with a rocket in his asshole.
Makes a play to get it to Letang. Crosby raises his stick. Letang aims for it the whole way. 1-0.
Just a sick deflection.
23

Chris Conner runs Neuvirth apparently. No replay.
Pens kill some of it, then Z throws it over the glass.
5-on-3 for 1:21. Unbelievable kill.
Then Brooks Laich gets called for interference for trying to stay onside.
Make up call for missing four calls either.
We will take it.
Pens kill off the rest of whatever penalty was left.
Paul Martin made a play. Cooke blocked a shot in AO's mouth.
MAF made a Richter save on Ovechkin in there somewhere.
Then the Pens had maybe 30 seconds on the PP. Nothing.
Then the game finally settled into a groove.
And the Pens dictated play.
Caps set up camp on the perimeter. Couldn't get close to MAF.
And the Pens started banging.
Letang on Semin. Rupp on Green.
Orpik on Ovechkin. Orpik was dishing out candy like it was a Fourth of July parade.
And that was pretty much it.
Matt Cooke looked like he elbowed Mike Green in the face.
If Green didn't cry every time he was touched, they might have called it.
PERIOD RECAP:
MAF and some great penalty killing kept the Pens afloat. Malkin got back on track after the A.O. hit.



Mike Green, who got punished in the first, starts looking over his shoulder and ducks while clearing a puck. Turnover.
Pens turn it into a Malkin breakaway. Green hops on his Vespa and hooks Malkin.
Penalty shot. Geno is 0-4 lifetime.
0-5 now. One day he'll score on a penalty shot, and it will be huge.

Goligoski goes to the box for something.
Pens kill it. Big time.
Crosby has a mini breakaway. Can't put it home.
Doesn't help when you take a stick to the face.
Crosby flips shit on the ref after that. Can't blame him.
Then the Pens get caught in a real tough stretch.
Pen's iced it maybe 10 times in a row. Couldn't get shit going.
Disco takes a timeout.
The Pens come out fresh and take a penalty. Bizarre.
Then Matt Cooke goes big fly over the glass behind Neuvirth. WTF.
5-on-3 for almost 2 minutes.
Pens almost killed it all.
Mike Green with the easiest goal of his career. 1-1.
His celebration looked like something that would happen at a Creed concert.
The Pens wake up.
Ovechkin jobs Kunitz and goes to the box. Ovechkin whines about the call.
Killed.
PERIOD RECAP: Pens survive the second-period lull tied at 1.
Last season, the Pens got owned in third periods against the Capitals.
Got outscored something like 8-3. Actually we just made that up. But it was bad.
And what happens? Pens score 17 seconds into the third.
What a play by Crosby somehow getting the puck to the net. Bob Newhart couldn't make the save. Kunitz finds the puck.
2-1.

Then Perreault takes down Letang. Dangerous play.
Letang may or may not have slammed Perreault's face into the ice.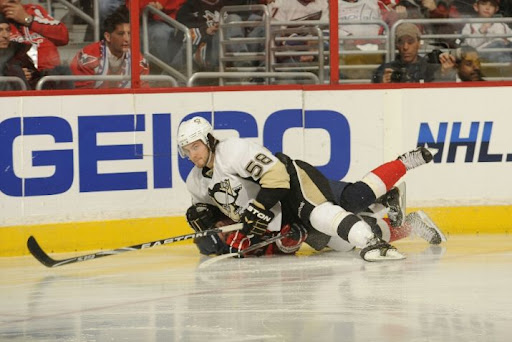 Overall the Penguins out-played the Capitals badly in the third.
They forced the Capitals to take three penalties, but then couldn't do shit with the PPs.
Orpik and Kris Letang were big all night. Probably Kris Letang's first complete game all season. Beastly.
Orpik saves a goal on with a poke on Ovechkin, and then he almost kills Semen.
The Pens were rolling. Craig Adams almost scores. Pens draw that third penalty.
Chance to bury the caps. Instead everything goes straight to hell.
Goalagainstski makes his untimely return and throws an ill-advised pass to Letang along the blue line.
Goalagainstski doesn't skate hard to get back.
Fucking Mike Knuble ties it, shorthanded. 2-2.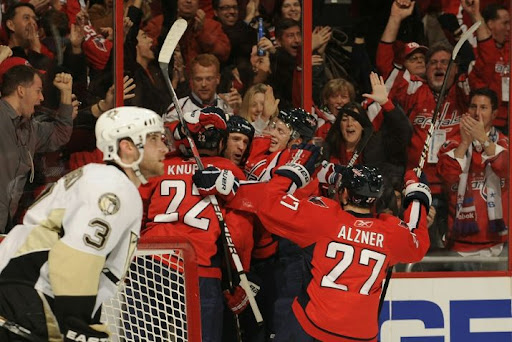 Just a terrible situation. Everyone was all over Goalagainstski for the goal and rightfully so. But it was a really bad break.
Go back and watch. The puck just jumped away from Letang. Goalagainstski wasn't prepared for the worst-case scenario there.

Pens go into survival mode. Just trying to hold on. OT it is.

Back-and-forth action. At no point during this game did the Pens or Caps not skate well. Just fun stuff.
But the best chance is for Mike Green, and Fleury holds him at gunpoint and robs him.
Capital fans started crying that it was a goal. No dice.
After that, Orpik almost kills Mike Green.
It springs Malkin, who almost chips one in. Such a shame it has to go to a shootout.
A.O. is first. Goal.
Pens send out Letang:
Nasty move. Goal.
Semin up for the Caps. He sucks.
Crosby. Stunned. Tried a quick shot.
Backstrom can't score.
Malkin for the win:
just rolls off his stick.
Mike Knuble for the Caps. Nope. Can't believe he didn't score.
Test Tube can't open the legs.
Brooks Laich doesn't even try.
Kunitz makes a nice move, can't finish.
Tweet of the night:
Perreault vomits on himself.
Kennedy trips.
The screen flashed to Mike Green. Oh no. Whew. No Goal.
Dupes time.
Turn out the lights.
Some really alert people got the entire shootout on tape in the stands.
Great stuff from PensAreYourDaddy:
Unlimited pics from Pens fans at the game.
Mike Green sucks.
Perreault is solid.
Didn't really notice Deryk Engelland. As a rookie 6th-defenseman in a huge game, that's good in a way.
GIFs may have affected load times for this post. Don't care.