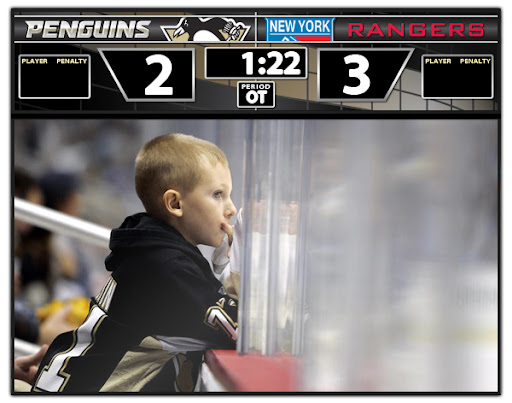 A frantic finish has a way of stripping away facts.·For 57-plus minutes, King Henrik Lundqvist stood on his head, and the Penguins botched powerplay chance after powerplay chance.·Marc-Andre Fleury wasn't spectular, but he gave the Penguins every chance to come back.· Those are the facts, and they are undisputed.
But it won't be the 57 minutes that everyone will remember. It will be the Pens scoring two goals in 38 seconds then giving up the game-tying goal, shorthanded, no less, (Rangers did pull Lundqvist, but come on), and then lose to Ryan AKA Tommy Callahan in OT after Michalek's tires blew out on I-70.
To us, at the end of the day King Henrik, minus him being Stunnedqvist for 38 seconds, stole the game.
Evgeni Malkin will be having nightmares about him.
Luckily, we won't have to worry about facing a good goaltender for a while.
Joey L, cb66, emily v, Alex C., jshank66,
We're friends with the Hulk Hogan guy, ·he sent a couple of his signs for last night:
This one refers to when we said some managers at Wendy's had betters shifts than Tenk last year
This is going to be a wonderful friendship.

So Comrie was a late addition to the lineup.
Apparently the Roseanne marathon on TV Land was over.
Pens were winning races to every loose puck early in this one.
One of their best first periods of the season.
Oddly, Del Zotto had the best chance early on, but MAF made the save.·Should've been a goal.
Speaking of Del Zotto, he's a dick.
After Malkin almost scores on a diving backhand, he and Del Zotto start messing with each other.
Both go off.
The ensuing 4-on-4 was the Kris Letang show.· He was everywhere.
All this All-Star talk is boosting his confidence up.· It may never go back down now.
We want to say the first period had some great end-to-end action.
The Pens held up their end of that bargain, with their three top lines all generating shit.
Meanwhile, at the other end, Marian Gaborik would skate into the zone and lose the puck in the corner.
Comrie probably watched that episode of Roseanne where Mark punched Becky's boss at the grocery store.·
Because he and Tommy Callahan dropped the gloves.· Not sure anyone at CONSOL cared.
Potash was smooth during the Clint Hurdle interview amidst that fight.·Comrie got jacked.
Near the end of the period, GoGo takes a run at Fedetenko and goes mouth-first into the boards.
And then there was a race to an icing call in the Rangers zone.
FSN switches to some shot of a guy's beard instead of showing who won the race.
Apparently the Pens won it, so there was no icing.
Sean Avery takes a Pen off the ice with him.

@mshaffer– From the Ice Time program.· douche.
Period recap: Solid first period.
BackTeching's Chris Devivo stars in the first-intermission Potashblog.

Pens get a PP early in the second.
Buzzing around.·Lundqvist crying about something.
Huge kill for the Rangers.
Uh-oh.·Gaborik skates down the wing and shoots.
Gaborik skates down the other wing and shoots.
At the other end, Pens kept getting chances.
Lundqvist seeing everything.
MAF probably didn't even see Christensen's shot.· 1-0.
Malkin was still everywhere as the second period went on.
Big save by King Henrik on a wraparound.
Crosby getting jobbed left and right.
Marc Staal punching him in the head and shit.
Then Marc Staal almost gets away with a high stick.· Almost.
Ryan Mill pumps up the volume, lights start flashing.·Must be a 4-minute powerplay.
Big save by MAF early on the PP.·Malkin gets away with a hook.
Fans start crying about the inept PP.
If we were in attendance, we would've been too busy laughing to boo.
Especially during that episode where MAF was doing snow angels behind the net.
Period recap: Lundqvist.

@NoSkellingtons
Pens probably had a 5-on-2 or something to start the third.· Nothing happening.
Mark Letestu gets a breakaway after a PP.· Big save by Henrik.
job job job
Probably a couple more powerplays for the Pens.

Tick Tick Tick.
That's the sound of the Pens' chances running out.
All of a sudden, the world opened up for the Pens.
Ryan Callahan goes for a penalty.·Then Girardi gets hit in the face with a puck.
The big boys for the Pens get a free timeout while Girardi checks his faculties.
Pens don't score on the PP.·
But it doesn't matter, because Chris Kunitz finds a loose puck and puts it home.· 1-1.
As much as Lundqvist deserved a shutout, the Pens deserved a goal.
CONSOL comes alive.
40 seconds later, Matt Cooke has some room down the wing.
Steigerwald thinks it's Crosby for a split second.
By the time it hits the back of the net, everyone knew it was Matt Cooke.· 2-1.
The first stunned pic taken inside Consol:

All the credit in the word to jshank66. Perfect stunned pic.
This is two seconds after the Cooke goal. You are basically watching this guy shit himself.
·And this is where the Pens' coaching went to Hell.
30 seconds into the PP, Marc Staal scores a shorthanded goal.· 2-2.
Call it laziness on the part of the PP unit.·
Or you can call it bad coaching, since the priority should have been 100% defense.
Either way, the game was heading to overtime.· Unbelievable ending to the third.


All that matters in the OT is that Michalek falls down somehow, and the Rangers get a 2-on-1.
Admirable patience by Dubinsky as seals the deal, feeding the puck to Tommy Callahan on the doorstep for a tap-in. Shut up, Fleury.
Game over.

Now, there's a stunned pic.game

Rangers didn't have one single powerplay.

Sean Avery with a hilarious/embarrassing acting job trying to buy that Paul Martin boarding call.

AND NOW FANNNNNNNNNNNNNNNNNNNNNNNNNNNNNNNNNNNNNNNNNNNNNNNNSSSSSSSSSSSSSSSSSSS

Hopefully consol has a good drainage system in the visiting locker room. Tons of tears are usually shed after Canuck games.