In a surprisingly dull game, the injury-riddled Sabres couldn't touch Marc-Andre
Fleury
, who was perfect in the shutout.
MAF
didn't face the complete Sabres lineup, but he made the saves he needed to make.
So maybe the reason the game was dull is because Lindy Ruff had his scrubs playing conservative.
Great quote from MAF: "When you win, nothing else matters."

Dupes got the goal for the Pens. Other than that, it really didn't seem like the Pens had more than a handful of scoring chances on Enron.
Interesting next three games coming up.
Ottawa comes to town Friday, and then Calgary visits on Saturday. Both 1:00 starts. Vomit.
Pens make their first trip to MSG on Monday.
Timwel, Whistler, Matt A.
Matt A.
Here's a bunch of game pics from these guys, too:

Now, these are MVP stats. Thanks to everyone who sent this in.
Wish the Sabres would've worn their stylish third jerseys for this one.
Mike Comrie replaced Arron Asham in the lineup for this one.
A lot of people saying it was because of the Dads trip.
Didn't know appeasing Mike
Comrie's
dad was part of the season objective now.
All eyes were on Enron in net for the Sabres at the beginning of the game.
Meanwhile, MAF had to make some big saves.
Then FSN experienced technical difficulties.
FSN comes back, and the score was still 0-0. We'll job FSN for not knowing how to produce an NHL broadcast, but it's hard to get on their case about a power outage. Although the conspiracy theorist in us has to wonder how that's even possible with all the potential backups a major broadcasting operation should have.
Rumors were circulating that Steven Stamkos sabotaged the FSN truck then scored a big goal.

Brooks
Orpik's
dad looked like he wanted nothing to do with Potash.
Malkin and Gaustad get into it.
Talbot jumps in, so he goes off, not Malkin.
Next thing you know, Crosby takes the puck off a Sabre after a turnover.
Pascal Dupuis goes to the hole. 1-0.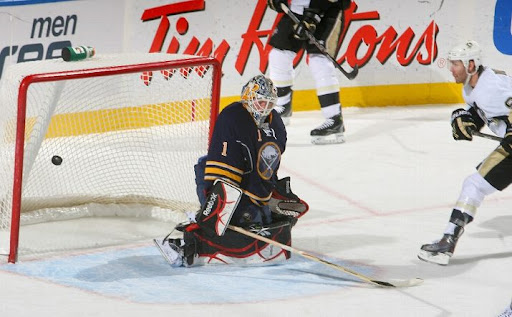 Showed how tight this game was.
Only goal of the game came off the worst turnover of the game.
Pens get a power play late in the first.
Looked like they wanted to score, but nothing happened.
Period recap: Pens scored. MAF with a few nice saves. Very sharp.

Huge mistake to let your daughter wear meat on her head as a child. Sends a bad message.
Malkin
takes a penalty early.
30-some straight killed penalties on the road.
Gerbe for the Sabres looked like he wanted to be annoying, but he was more like a pebble in your shoe.
MAF
makes a huge save on
Kaleta
after the penalty was killed.
Sabres get a great chance, but the shot goes over the net. A lot of missed chances for Buffalo.
Comrie led a charge the other way. Nothing happened. But then he got a text message from Hilary.
Fleury
had to make another big save, this time on Derek Roy.
Pens had a couple odd-man breaks, but it was nothing.
Malkin
had a pretty decent chance on a three-on-one but he hit the side of the net.
Pens ice it a few times, prompting Bylsma to use his timeout.
The timeout after a few icing calls has become the fashionable thing to do.
Steigerwald
and
Errey
start licking
Crosby's
balls, saying he is the
MVP
of the league. It's November.
Then
Errey
says something about
Stamkos
not being as impressive because he has Marty St. Louis. Get real.
Consider this matter closed.
Jordan
Leopold
trips
Crosby
, which reaffirms that
Crosby
is the
MVP
of everything.
A real
MVP
would score on the power play he had just created. Killed.
Late in the second period, the Sabres get a goalie interference call.
Sabres wanted to complain, but it was about the fifth time in the game that a Sabre ran into MAF.
Pens don't score on that PP.
Busted. [ JimmyGuerin ]
Period recap: MAF city. Who knew Mike Grier plays for the Sabres? Wow.

Talbot takes an interference penalty right off the bat.
Not a good way to start the third. But the penalty kill is on another level.
Just after the penalty expires the Sabres look like they keep a puck in the zone, but
Crosby
forces the ref to call the
offsides
.
Lindy
Ruff's head almost explodes on the bench.
Immediately
after that,
Kunitz
gets called for slashing.
And if you're into the butterfly effect, if that wasn't blown dead, Pens had a scoring chance the other way.
MAF
makes his biggest save of the night when
Vanek
dishes to Tyler
Myers,
who is all alone in the circle.
Towards the end of the penalty,
Orpik
goes on a seek-and-destroy mission. He gets jobbed by
Ennis
.
Pens set up a solid
powerplay
, but Enron makes some saves.
Hard to job Sabres fan.
This is probably the first game pic of the year where everyone in the crowd was watching the play.
Dude with hot blue pretty excited about the play.
Bylsma
rolls four lines late into the third.
If Mike
Comrie
was any softer, he would be on your Thanksgiving dinner table as cranberry sauce.
Crosby
makes a
bizarre
bullet pass to
Engelland
, and the puck jumps over
Engelland's
stick.
Engelland gets back in the play just in time to break a pass up that looked like goal city. Best defensive play of the game.
Tick tick tick that's the sound of your game running out.
Minute to play, Pens win a
faceoff
and clear the zone. Sabres look lost.
7 seconds left, Crosby could've went behind the net to battle for a puck to get an empty-net goal.
Instead, he hangs back, cautiously playing defense or something.
Game.
Dan M. with the Gif.

6-0-1 streak going

Surprised Gaustad didn't score. He almost killed Orpik.

Bob
Errey
after an icing: "Sidney
Crosby
stayed out there to take the
faceoff
."
No, Bob, it was an icing. He had to stay on . Get it together.

suck it
1. Marc-Andre

Fleury

.
Nothing epic, but solid
nonetheless
. Huge saves on Kaleta and Myers.
2.
Deryk

Engelland

.
Played an underrated game. Almost killed
Kaleta
for running the net.
Made a huge defensive play after
Crosby
tried to frame him.
3. Pilgrims and Indians. Unreal performance. Best holiday.
1 Goal, 2 assists Wednesday night
Go Pens