Saturday, November 8, 2003.
The Pens played a game in Tampa against the Lightning and got smoked 9-0. [ Box Score ]
We've never forgotten it.
The Pens could've scored 74 goals in this game, and we wouldn't have flinched. We would've rubbed our balls and complained the next time the Lightning didn't get called for a trip. Kind of interesting that the first game after the 2008 Classic, the Pens exploded for 7 goals against the Leafs, featuring a Malkin hatty. The only thing that could've made this game better was if Dominic Moore took off his skate and attacked Adam Hall and Ryan Malone with it.
We have zero sympathy and no time to cry for Tampa Bay. Even with this game being the second of a back-to-back against two Eastern Conference powerhouses, there is no excuse for coming out flatter than Kate Moss.
Maybe the best thing to come out of this game, or any blowout for that matter, is that Bylsma had ample time to assess any bad habits the Pens can fall into. It's a shame that the Pens have to play tonight, because it's guaranteed that Bylsma would've skated their balls off in an off-day practice today.
Speaking of that game tonight, it's one we circled on our calendar back in the summer.
If you're not up for the game tonight in Montreal, you have no soul.
With Jordan Staal back, we'll see if P.K. Soupcan has to atone for his sins.
Nick Z., Bixby, Dz315, emily v, Cole Harbour, Lisa Rec


In Jordan Staal's first shift in CEC with Malkin playing wing, the Penguins scored 7 seconds into the game.
There are times when we can't even open a Starburst in 7 seconds.
Malkin intercepted an ill-advised pass, cruised toward the Tampa net, and ended the Bolts' night before it even got started. If Geno doesn't bobble the puck, it could've been the fastest goal in NHL history. It is the second-fastest in Penguins history. 1-0.
Kennedy-Staal-Malkin had three unreal shifts to start the game.
After that, Crosby has a breakaway but can't score because he's lazy.
But the Pens don't take too long to score again.
Unlimited patience from Ben Lovejoy at the point. If we had money, we would bet that Lovejoy was aiming for Conner. Regardless, Conner gets to the spot where you score goals. He celebrated the goal by giving Bylsma the finger. 2-0.
It doesn't stop. Staal and Malkin on the same line means extra room for their linemate, and Tyler Kennedy actually makes the most of it. He holds the puck for two hours, waits till you're about to call him out, and then puts one in. 3-0.
This is the look of a defeated human being.
Roloson is pulled. In comes Dan Ellis.
Chris Kunitz adds to #DanEllisProblems. Straight snipe. 4-0.
Kunitz was on coke. He gets a deflection goal with a minute left in the period. 5-0.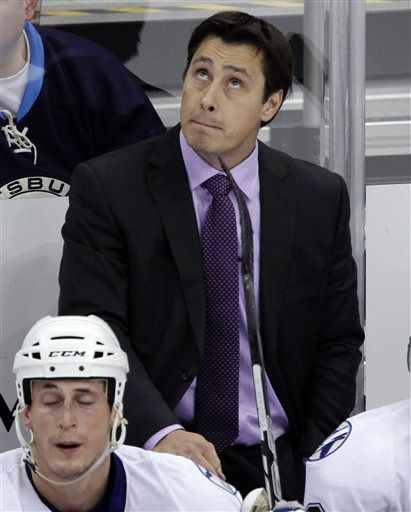 Period recap: Tampa didn't even care. They didn't even act like they cared.

You usually can't take anything for granted during an NHL game, but everyone knew this game was already over.
It was just a matter of how bad it was gonna be.
The Lightning come out in the second and start jobbing people.
Ryan Malone acted like he was going to do something.
No word if Marty St. Louis even played in this game.
Stamkos gets awarded a penalty shot because the refs feel bad for him.
Looked like he skates got jobbed when he went into the boards on the trip.
Nevertheless, he's given us great fodder.
Test Tube goes to science class 8 minutes in. Sick backhand roof job. 6-0.
Victor Hedman boards Craig Adams after that. Pens go on the powerplay.
Goose runs the show. Kunitz kicks the extra points on a nice deflection. 7-0.
Wow.
Period recap: Really ugly for Tampa Bay. Yeah, they had a big game in Washington the night before, but come on.
No clue how they will make it in the playoffs if they are that burnt out after a big game.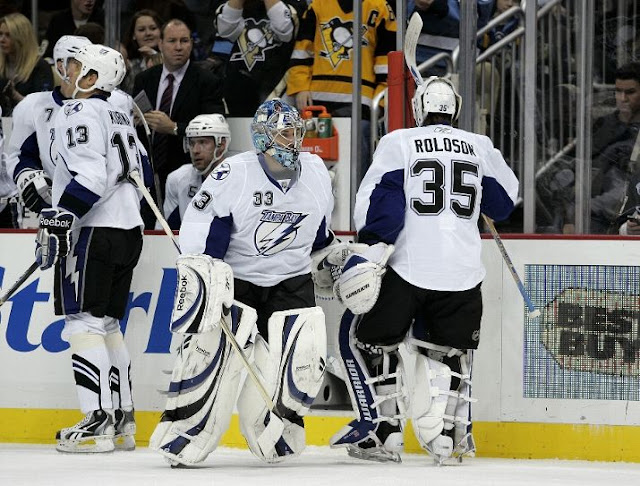 This happened maybe 5 times during the game.
Only thing left to care about was MAF's shutout, and they went to wayside when Adam Hall scores. 7-1.
He celebrates it like it's the biggest goal of his career.
So, you ask, why did he celebrate like that? Answer: It's Adam Hall. He doesn't do it very often.
Right after that, Tampa starts buzzing like they are going to score six goals, and they forget to play D.
Pens have a 12-on1 the other way. Goose puts the nail in Guy Boucher's mouth. 8-1.
No joke: We blasted Goose, and he showed up.
Game was over after that, other than Ryan Malone getting owned by Michalek and Candy.
By that time, we were already watching Canada's massive collapse in the WJC gold-medal game.
They were up 3-0 in the third. Not for long.

Letang a quiet 3 points. What a season.

Pens are gonna set some record for hat tricks. Anyone know a stat on this?

All the Pens' big guns will be fresh for tonight.

Trying not to overreact, but Malkin and Staal together makes the Pens a different team.

Looking for a 24/7 torrent.

Comments. Yeah. Things will only get smoother from here on out. From Gameday threads from now on, the comments will be split into three periods, with the actual Gameday post serving as the first period. Thanks to everyone sticking with us and forgiving out all the kinks.