Lose two straight, win two straight.
The Pens bankrolled themselves with 12 straight wins, so now they can afford to drop a few and win them back.
The Panthers came in playing some good hockey, but the Penguins took them out early.
Before leaving with an injury, Brent Johnson played a hell of game.
The Pens had a rough stretch in the second period, and Beej closed the door.
Now it is on to Washington for one of the most-hyped regular-season games we've seen.
Because of HBO and Winter Classic, this is the rare December game that's worth more than 2 points.

Crosby and Malkin come out on coke.
The Buzz Line comes out.
It's just not fair after teams have to deal with Sid and Geno.
Buzz Line scores a rare on-the-rush goal.
Test Tube has more patience than Dr. Drew. 1-0
But the Panthers come back and score on their first shot.
Brent Johnson honeymoon is pretty much over.
1-1.
Crosby draws a penalty simply for skating up the ice.
Pens set up a PP. Solid two minutes. Got some good shots on Vokoun.
Then Kunitz chips it up into the neutral zone like it's Game 7.
Crosby comes in. Kind of looked like Gretzky on that slapper. Assist for Beej on the play. 2-1.
That shot was no joke.
Then it was Malkin's turn. He comes down with a carbon-copy slapper.
Puck somehow stays loose.
It ends up in the slot. Cooke turns and fires. 3-1.
Tomas Vokoun was gone.
What's the single-season record for most times a team has forced goaltender changes?
Two straight games Matt Cooke has pulled the plug on the goalie.
First terrible game Vokoun has played against the Pens in Pittsburgh.
Hopefully when he gets traded to Washington it continues.

Lovejoy and some jobber fight.
The Zack Morris vs. AC Slater fight was more interesting.
Beej was making some no-name saves to keep it 3-1.
Pens had to kill half a penalty to end the first.
Michalek saving a goal.
PERIOD RECAP: Another fast start.
We never suck Crosby's balls, but he made some play coming off the boards late in the first period. So fast. Scary stuff.

Panthers were all over the Pens to start the second.
Even after they were off the PP, they were still hunting for a goal.
This has happened to the Penguins at times this season, especially in the second period. Letdown central.
Nothing was going right. If the Panthers had some pretty decent snipers, it could have been a different story last night.
The Pens end up nipping all that in the bud.
Ben Lovejoy scores. 4-1.
Probably the worst feeling in the world for a team: Dominate play then let up a joke goal.
Talk of a Gordie Howe hat trick started. Gordie Howe sucks.
Beej making some more underrated saves.
He looked injured.
Pens get a power play toward the end of the period.
Killed.
Then TK goes to the box.
Pens kill a bulk of it, but the Panthers go to the box.
Whatev.
PERIOD RECAP: Brent Johnson holding down the fort.
Apparently Johnson got hurt on one of his big saves.
MAF between the pipes to start the third.
Pens have to kill an early penalty.
Orpik destroying people, and MAF making some bizarre saves.
Panthers were bringing everything they could for the entirety of the third.
MAF making big saves. Tired of typing that.
Panthers score some goal. 4-2.
They pull Clemmensen.
MAF tries for the empty net.
One of the first stand-up-wherever-you-are moments of the season.
If he gets it in the middle of the ice, it's a goal. No dice.

Dupes eventually finds the dice. 5-2.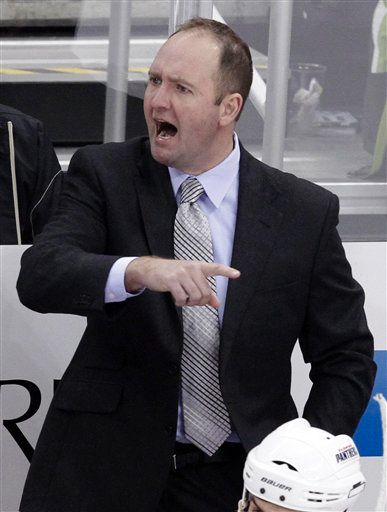 Game.
Seems like the Panthers have 20 of the same players on their team
Darcy Hordichuk seems like a dick
In light of 24/7. anyone else now grading the Pens 1-to-5?
Crosby's goal was definitely shades of Gretzky. But just 'cause he's left-handed.
Highlights in case you missed the game: