We would really hate Rob Rossi less
if he did more articles like this one.
He was gathering clues about the Pens' Winter Classic uniforms, and interviewed the guy who has drawn up a lot of logos in Pittsburgh sports history.
beast
Back in the summer, Dick's Sporting Goods starting selling these shirts.
The powder-blue was curiously absent in the color palette.
The interesting thing to keep in mind is that the Pens have
never
had the
scarfed
Penguin on a uniform.
So unless the Pens are planning to commit a jersey foul, this is probably what we're
gonna
see: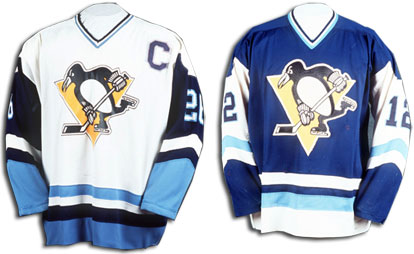 It's 5:30 in the morning right now. We may have missed something. Go Pens.