As an homage to
Puck Daddy's
popular Mount Puckmore series, we wanted to do some Penguins-centric Mounts.
Over the last two decades, a plethora of fighters have donned the Penguin emblem on their chest.
Today, we show respect to the four greatest by embedding them in Photoshop stone forever.
Much like Mount Dirtymore, we were forced to make some tough decisions, but it had to be narrowed down.
The requirements that were necessary to be nominated:
1.) The player had to excel at fighting while in a Penguin uniform
2.) The player could not be acquired in exchange for Daniel Carcillo.
3.) And we personally had to have seen them play
All fight win/loss records are fan-generated results from DropYourGloves.com.
Before we get to the Mount itself, here are several players that definitely were in the running for a spot, but didn't make it:
Jay Caufield —
Nobody can doubt Jaybird's courage and willingness. As a former collegiate football player, the strength was there, but he didn't have very good balance, which is the most important aspect when talking about a fighter's ability. He didn't care though. His fight card lists top guys like Dave Brown and Joey Kocur, two of the toughest in the league at the time.
Ultimately, he didn't make the final cut due to his inability to defeat his opponents.
He still co-hosts the post-game show on FSN and stars in segment titled "Ask Jay".
He answers the fans questions while sitting in his rocking chair. Ask Tolliver.
If we do a Mount Secretly Train Larger Than Life Superstarmore, Caufield's time will come.
Record (Wins-Losses-Draws-No Decisions)
10-23-11-10
Total: 54
Troy Loney — An integral part of the Penguins '91 and '92 Cup runs, this grinder contributed goals but also played with a chip on his shoulder. And then when he was on the bench, he probably ate the chip. He was known for his hard work in the corners, and he was actually the most willing Penguin in the last 20 years in the fighting department.
Why wouldn't he be the first one on the Mount, then?
There is a heavy lack of results in terms of most of his fights, and therefore we were unable to rank him fairly among some of the more recent scrappers.
In 1990, he threw down with Gary Roberts. All you need to know, really.
Record:
7-19-23-34
Total: 83
Chris Tamer — Unlike the two mentioned above, this scrapper played on the blue-line and he definitely brought an edge with his game. Described himself as a solid Dman who was always ready for a fight. Just didn't have that extra boost on his résumé to bump him up over the guys who made it. Plus he knocked the net off in the Caps OT game.
Record
13-26-19-6
Total: 57
We have a few more runner-ups saved for another day.
Mount Fightmore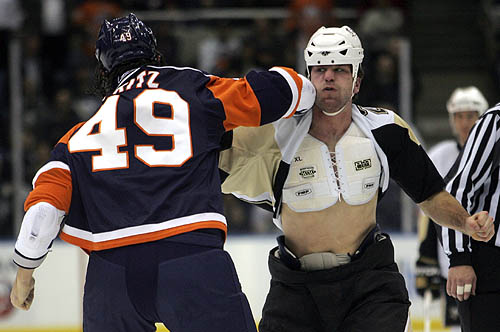 ERIC GODARD
The "God of Thunder" is getting ready to suit up for his 3rd straight season with the Pittsburgh.
To most Pens fans, he comes as a relief from BGL because of his strict enforcer mentality.
He's proven himself as one of or possibly the best heavyweight in the current NHL.
He's in a different league than Rupp and Asham.
When Colton Orr takes a run at Crosby, he isn't asked to fight; he's forced to.

Last season in a game against Minnesota, the 6'8" 258 lb. Derek Boogaard ignored a fight request from him.
If that doesn't tell you what Godard's all about, go make a new thread on HFBoards about it.
How did he earn this coveted spot? He is the most victorious of all Penguin fighters in the last 20 years and he's only played 2 seasons.
Record
17-7-7-2
Total: 33
*Edit: This is what an enforcer does.
MATTHEW BARNABY

Not the biggest guy by any means, but his animated and over-the-edge style of play made him a fan favorite in his years in Pittsburgh. Probably the "funniest" fighter of all-time.
A master in the art of chirping, TSN ranked him number 1 on the Top 10 Hockey Agitators Of All-Time.
"Whatever I had to do to get them off their game, whether it be a slash in the back of the legs when the ref wasn't looking, spraying snow in the goalie's face to get them mad, saying something that I know about their background or history."
"If you had a low-end player called up from the minors that wanted to fight you, I'd say turn around so I can see the name on your back because I won't know you in a couple days when they send you back on the bus … come wash my car, you don't make enough money, I'll give you an extra ten bucks on the side so you can get by in the summer."
He had a huge heart and didn't care if the other team's fighter was 6'10 with a moustache; he'd fight him.
After he'd get under an opponent's skin, he always flashed his signature smile just to piss the guy off even more.
His actual fighting record was nothing to boast about, but his suspensions and attitude sparked the team every time he threw down.
Most known for hugging his opponent until they tired themselves out and continuously asking the refs to stay out of it.
"Planet of the Apes," Barnaby said. "Look at him. Seriously. He looks like Cornelius."

"I don't know what he's yapping about," Odelein said. "He should take a look at his wife. She's god-awful to look at."
When you think "Penguin fighter" you probably think of Barna-beast.
Basically a no-brainer to grab a spot on here.

Record
11-17-4-6
Total: 38
Taunting the Hurricanes crowd:
Getting into it with Darcy Tucker:
FRANCOIS LEROUX
An undeniable candidate for a spot, Big Frankie Leroux played with the Pens from '94 to '97.
Within this time period, he had a few moments that made you say "Wow I wish this guy was my dad."
The first one most notably came when he ended Pat Lafontaine's career with a clean shoulder open-ice hit.
Rob Ray tried to seek justice, but Leroux sent him to detention and called his parents.
He's the only Pens fighter to ever scrap with a goalie.
You may recognize him from his work in the Camp Joke promotional video.

Last but not least, one of the most iconic Penguin fights of all-time:
Leroux bloodies Twist with a taped hand.
0:44 – 0:50 mark.
"Wipe yourself off…. you're bleeding."
Record
16-9-8-1
Total: 34
KRZYSZTOF OLIWA
Oliwa was known as "The Polish Hammer" to teammates, and the fans in Pittsburgh accepted this fellow Polack with open arms. Served as the Pens resident heavyweight from 2000-2002.
Rather than fighting just for the sake of fighting, he usually only dropped the gloves when one of his teammates was being harrassed.
Take a look at this Islanders game from 2001.
Some joke named Branislav Mezei was giving 66 the business all game.
His response:
No questions asked.
Considered by die hard fight fans as the toughest European fighter the NHL has ever had.
The only Polish-born player to win the Stanley Cup.
In his last season with Pittsburgh, he gave Billy "The Kid" Tibbetts a nice pounding.
His effectiveness and reputation as deterrent gave him the last spot on the Mountain.
Career
11-11-10-4
Total: 36
Note: If you spied the byline at the top of the post, the decisions surrounding Mount Fightmore
were entirely under the discretion of EricP from The Wilkes-Blog.
This post was comprised without TPB Staff Proper's input, since we aren't learned in the history of Pens fights.
Thusly we feel like dicks for recently questioning Godard's purpose on the team.