Links that are higher than Charlie Sheen.
As you are reading this, Jordan Staal is getting surgery on his hand. Man.

Ray
Shero
confirmed that
Staal
broke his hand or whatever, but the explanation leaves the imagination to wonder.
The Penguins website says he was hit by a puck, and that's it. [
Pens
]
Shero
wasn't really worked up about anything, just preaching to stay positive.
No word on
Malkin
or
Letang
either.
If the Penguins call someone up Tuesday, you know
Malkin
will be out at least for the Dallas game.

Seth from Empty
Netters
had this tweet:

Speaking of Seth, he has a
story on

Engelland

.

Mark Madden says
Bylsma

is to blame
for Pens' problems on the PP.

Some article
about Tom Fitzgerald and Bill

Guerin

.

Da
'
Guins
Blog asks,
"Where are they now?" in regard to some former Pens.
E-mail that came into the Verizon Wireless E-mail Inbox.
Brought to you by Verizon Wireless.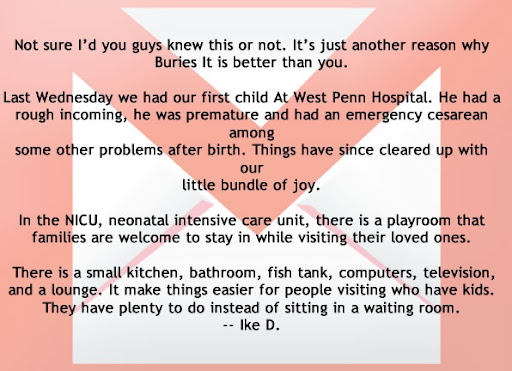 Some late pumpkin stragglers:
Charlie was at the Colbert/Stewart rally.
Completely our fault for missing this from the Flyers game.
Stephen N. sent this in.
"Ability to block first shot." This goalie is amazing.