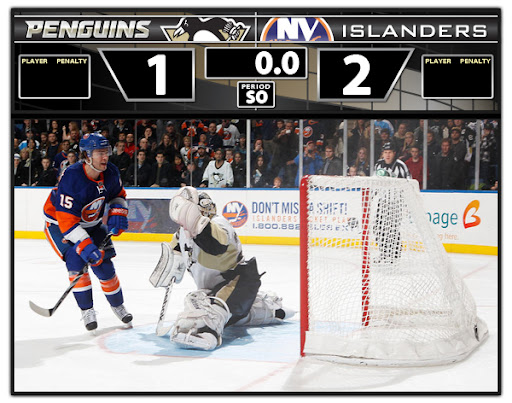 At least once every season, the Penguins travel to Long Island and play a game that makes you bang your head off a wall. It never fails. Nothing good happens on Long Island. Only good thing that's ever happened there was 66 scoring his 500th goal. Other than that, it sucks.
A few years ago, the Pens lost a huge unbeaten streak there.
And last night, Crosby's 25-game point-scoring streak was buried in the dark and gloomy arena.
It was the Pens' 6th game in 10 nights, and second of a back-to-back.
They got a point. We'll take that all day.
Nothing else to say.
It's still annoying to see Rick Diaper running around mouthing off.
But he'll get hurt soon enough.
Winter Classic awaits.
WP

As always, for whatever reason, Islanders games provide the best photos.
Islanders come out all business. Complete shit lineup.
Both teams trade chances in the first ten minutes. Nothing really happens.
Craig Adams tries to get something going and fights Tatanka.
Uneventful
Pens get an odd-man rush, and Mike Rupp's stick breaks.
MAF with a huge save on Josh Bailey. Penguins changing their lines up. Dupes playing from the top line to the fourth. Interesting move by Disco. It will be really nice to see Jordan Staal. Islanders were loading up on Crosby and Malkin all night.
Mike Rupp getting tons of time, almost scores.
Penguins look strong, but then they start running around in their own end. MAF calms it all down with saves. Penalties on the play go to Kunitz and P.A. Parenteau.
Diaper starts this shit where he makes a save then skates up the ice acting like he is about to play the puck. So stupid.
Pens get a two-on-one with TK and Crosby. TK waits too long to pass to Crosby.
Crosby makes a post on crossbar blog.
Both teams trade some scoring chances. MAF makes a save.
Tavares tries to job Crosby. Isles playing an airtight defensive game.
Period recap: Least interesting period in the last two weeks. It's good to see Mark Eaton.

All starts fine, but then the Islanders enter the Pens zone.
Michalek makes a rare mistake. Josh Bailey finds it and nails it home. 1-0.
Islanders come out flying some more. JT almost scores on a two-on-one. Fleury makes a save.
Isles rough up Crosby then Dupes takes a penalty. Frans Neislen played the game of his life. He was everywhere.
Penguins kill the Dupuis penalty without anything.
Matt Moulson needs a hearing aid. He knocks a puck past Fleury. Too bad the whistle already blew. Idiot.
Matt Moulson is the same guy that claims the Pens didn't offer him a contract. Shero says they did. So Mouslon is going to be a tough guy and act like he is trying to prove something every time he plays against the Pens. Get real.
Nothing going on. FSN shows Shero and Guerin talking.
Probably the most exciting moment of the game to that point.
Islanders playing insane defensive. Pens can't generate anything.
Jon SimCity jobs Orpik. Somehow Orpik gets a penalty. 4-on-4.
Diaper makes a subtle play and tries to step out of his crease and interfere with Malkin.
So stupid. Never have seen such a jerk-off goalie.
Crosby gets a break and dishes to Malkin. Can't score. Diaper skates out of his crease again. Just a joke.
MAF goes about his business on the other end making saves and not being a dick.
Matt Martin for the Isles takes a penalty. Big PP.
Isles kill it, no problem. Goalagainstski refuses to hit the net.
Then it looks like Goalagainstki was about to be burned again after a bad pinch.
But Test Tube strips some dude of the puck.
TK goes the other way. Actually hits the net.
Conner terminates Diaper's face. 1-1.
What a play by Test Tube to start this whole sequence. Conner with no fear going to the net.
Pens almost get burned late.
Some Isle gets the corner on Goalagainstki. Crosby cleans up the mess.
Rough period for Goose.
Goligoski might have to start paying a pimp because he can't stay on his corner.
Period recap: Stingy defense by both teams. Pretty boring.
Bad start to the period. Michalek with a rare penalty. Kind of a shitty call.
Fleury makes a big save. Pens kill it.
Malkin-Crosby-Kunitz make some things happen. Malkin has a few chances.
Letang gets whistled for a penalty.
Borderline call. But probably the right one. He stopped skating. Can't do that.
Fleury with another huge save. Pens kill it.
Malkin gets held up. No call. Islanders get away with unlimited penalties against the Pens at home. Just a rule. Has always been like that. Mike Rupp lays down to block a shot. He looks like he is about to throw up on the bench.
Biggest chance for the Pens in the third. Little Ricky mishandles a puck.
Kennedy misses a wide-open net. Wow. Should have been an easy goal.
Bizarre sequence happens next. After a scramble around the Isles net, the referee points to center ice. Penalty shot. He awards the Penguins a penalty shot because he said an Islander covered the puck in the crease with his hand. Tough call.
Pens try to get Crosby to take the penalty shot, but he wasn't on the ice at the time of the play.
The rule states someone on the ice has to take the shot.
Pens pick Letang.
And he misses.
MAF makes a huge save on Jerkcina. man.
Crosby and Malkin can't get anything going. Buzz line generates some shit.
Isles start flying around. Frantic times. MAF makes another big save.
Going to OT.

Crosby and Malkin have a 90-second shift to start OT. Not ideal. They didn't have much chemistry.
Back and forth, with DiPi and MAF making saves.
Paul Martin almost ends it.
With under two minutes to play, Crosby and Malkin job on. Isles have a bad change. Too many men.
Crosby has little over a minute to extend the streak.
And he has tons of chances, but Diapers keeps saying no.
Fran Neilsen was insane on the PK.
With time running down, Malkin takes a slapper, and Diaper makes a save and then skates towards him. Pens get another shot off late and Kunitz digs like a coal miner but can't score. Diaper flips. He and Malkin have words.
such a dick.
Shootout time.
First up, some guy for the Islanders. He scores.
So does Letang.
Frans Nielsen wasn't missing. Goal.
Crosby up:
no dice
JT. whatever for the Islanders. Nope.
Malkin up for the Pens. He pees in the Diaper.
P.A. Parenteau steps in.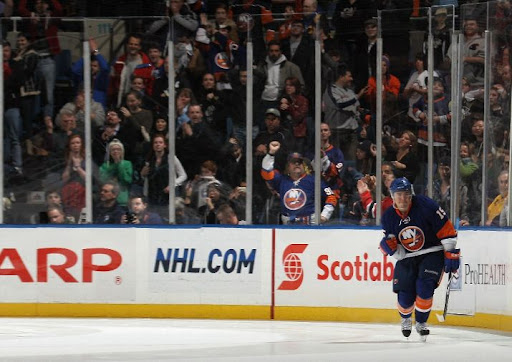 Little kid, top right. He knew. It was over.
Test Tube for the tie…
no.
Diaper does some dance and then jumps around.
game

Pens looked tired. Isles will never play that well again.

The Crosby streak was starting to become too big it feels like. Almost glad it's over.

Frans Nielsen. man

We jobbed Goalagainstki, but he had a solid third.

Crosby and Malkin wasn't a good idea, but hard to job decisions.