7:00 PM
Know the Enemy:
Sergei Gonchar returns to Pittsburgh.
That's one of our favorite interviews from the Cup win.
Sarge is exhausted and injured, but never happier.
The Cup doesn't come to Pittsburgh that year without Sergei.
This time the booming
slapshots
from the point will be coming toward the Penguins' net.
The Pens three wins came with Johnson in net, so it's tough to question this start.
In the Senators goal, Pascal
Leclaire
is once again out with an injury. This time
it's his groin
.
Brian Elliot will get the start for Ottawa.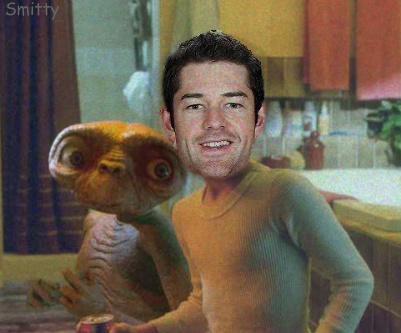 Second
gameday
in a row that we've received an ET Photoshop.
There probably won't be any changes to the Pens' lines from Saturday:
Chris Kunitz – Sidney Crosby – Pascal Dupuis
Eric Tangradi – Mike Comrie – Evgeni Malkin
Matt Cooke – Max Talbot – Tyler Kennedy
Mike Rupp – Mark Letestu – Eric Godard

Paul Martin – Kris Letang
Alex Goligoski – Ben Lovejoy
Deryk Engelland – Andrew Hutchinson

Brent Johnson
Milan Michalek – Jason Spezza – Daniel Alfredsson
Ryan Shannon – Peter Regin – Alex Kovalev
Jesse Winchester – Mike Fisher – Nick Foligno
Jarkko Ruutu – Chris Kelly – Chris Neil

Matt Carkner – Chris Phillips
Sergei Gonchar – Chris Campoli
Brian Lee – Erik Karlsson

Brian Elliot
It's a shame that we'll have to wait a bit longer to see
Michalek
versus
Michalek
.
Completely forgot
Jarko
Ruutu
existed until we typed out the
Sens
lines.
For future gameday posts, if you want to send in arena pictures, Photoshops or anything else (but not anthems) send them to penguinsexperience@gmail.com.
Make the subject of your email "
Gameday
."
Do It.
Go Pens.