7:00 PM
Verizon Center
Know Your Enemy:
Pens' lines:
Chris Kunitz – Sidney Crosby – Pascal Dupuis
Matt Cooke – Evgeni Malkin – Max Talbot
Chris Conner – Mark Letestu – Tyler Kennedy
Mike Rupp – Dustin Jeffrey – Craig Adams

Brooks Orpik – Kris Letang
Paul Martin – Zbynek Michalek
Alex Goligoski – Deryk Engelland

Marc-Andre Fleury

Caps lines from Empty Netters:
Alex

Ovechkin

–

Nicklas

Backstrom

– Alexander

Semin

Brooks

Laich

– Mathieu

Perreault

– Mike

Knuble

Jason Chimera – Marcus Johansson – Andrew Gordon

Jay Beagle – David

Steckel

– Eric

Fehr

Scott

Hannan

– Mike Green

Karl

Alzner

– John Carlson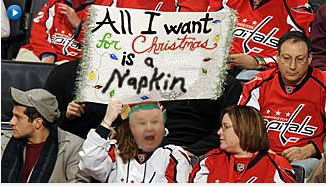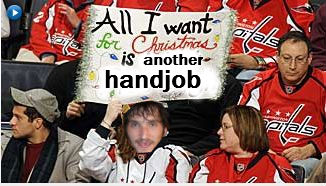 Great work everyone.
Sidney Crosby glitters like gold because of what he does on the ice. This puckish, Pittsburgh Penguin star is considered to be a Canadian treasure. And in the Christmas celebration of 2010, Crosby's gift to the game still creates a sense of wonder.
It's a regular season game, but that doesn't mean it won't be tough. The Capitals are fighting back from a long losing streak, and they want to prove that they're on the Penguins' level. This is especially true because the HBO special has made the Pens look far more professional than the Caps.
They need this win to give them momentum and inspiration. The Pens need this win too.
There isn't a single regular season game where the Pens don't want and need to win.
This is the NHL. Two points can make a big difference in this league. But momentum can mean even more. Perception and confidence are incredibly important. Sure, the playoffs are where dreams are made and rivalries are born and heroes step forward. But the grind of the regular season is where you define yourselves as well.
Both teams are looking to make statements tonight. Both teams are looking to define themselves.
Do It.
Go Pens.