Arron Asham is now a Pittsburgh Penguin. By the time the puck drops at the CONSOL Energy Center, Bill Guerin could be a Philadelphia Flyer. It's always tough watching a beloved player suit up for a rival. You're forced to cut any emotional ties that you once had with the player, place all positive memories in the back of your mind and hope a player on your team runs him over like a freight train.
It's almost equally tough – and possibly tougher – to see a player you once hated suit up for your own team. Depending on how long he played for the opposition, you've probably spent several nights cursing his name and wishing for horrible things to happen to him. Then, in the blink of an eye, you find yourself cheering him on.
There have been several players that have worn both black and gold and orange and black. These players have seen both sides of one of hockey's most hate-filled rivalries.
For the record, we're not counting Daniel Carcillo as he never actually played for Pittsburgh.
Ruslan Fedotenko
Feds spent two seasons with the Flyers between 2000 and 2002. He was undrafted and signed by the Flyers. After spending a full season with the Phantoms of the AHL he was brought up to the Flyers eight games into the 2000-2001 season. He played 152 games in Philly, scored 33 goals and recorded 62 points before being traded to Tampa Bay.
Fedotenko would spend four years with the Lightning and win the Stanley Cup with Tampa Bay before signing with the New York Islanders as a free agent. In 2008 he came to Pittsburgh where he won the Cup once more.
Billy Tibbetts
A member of Mount Dirtymore, Tibbetts played parts of two years before being traded to the Flyers. He only played nine games in Philadelphia.
Yes, we've far surpassed our "Mentioning Billy Tibbetts on the blog" quota for the year.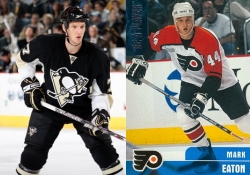 Mark Eaton
Eaton was signed as an undrafted free agent by the Flyers in 1998. He only played 27 games for Philadelphia in the NHL before being traded to Ray Shero and the Nashville Predators for a third round draft pick.
He signed with the Penguins as a free agent in 2006 and won the Stanley Cup in black and gold in 2009. He spent four seasons with the Penguins.
Mark Recchi
Recchi is the one player on this list who spent significant time with both the Flyers and the Penguins. He was drafted by Pittsburgh in 1988 and played with the Pens for four seasons, winning the Stanley Cup in 1991.
He was then traded to Philadelphia for Rick Tocchet, Kjell Samuelsson and Ken Wregget. His first full season with the Flyers was incredibly successful. In 1992-93 he scored 53 goals and recorded 123 points in black and orange, setting a Flyers single season scoring record.
He was traded to Montreal in 1995, but returned to the Flyers in 1999, where he played until 2004.
After the lockout he returned to the Penguins as a free agent. At the 2006 trade deadline he was sent to Carolina where he once again on the Stanley Cup. He came back to Pittsburgh again that offseason. In 2007 he was placed on waivers by Pittsburgh and claimed by the Atlanta Thrashers.
Kevin Stevens
Stevens was originally drafted by the Los Angeles Kings in 1983 but, following a trade, he played his first NHL game as a Penguin. Between 1987 and 1995, Stevens played primarily with Mario Lemieux, recording a career high 123 points in 1991-1992 and 111 points in 1992-93. He was traded to the Boston Bruins in 1995.
Stevens signed with the Flyers in 2000 as a free agent. He played 23 games for Philadelphia before being traded back to Pittsburgh. He retired as a Penguin in 2002 and was hired as a Pittsburgh talent scout in 2005.
Paul Coffey
The Doctor came to Pittsburgh in 1987. He spent parts of five seasons in Pittsburgh, winning the Stanley Cup in black and gold in 1991 before being sent to Los Angeles in 1992.
In 1996 he found himself on the Flyers where he played for a season and a half. He helped Philadelphia reach the Stanley Cup Final in 1997 where they lost to the Detroit Red Wings.
John LeClair
Between 1995 and 2004, LeClair was a fixture in Philadelphia. Along with Eric Lindros and Mikael Renberg, he was a member of the team's "Legion of Doom" line. He recorded 97 points in both the 1995-96 season and the 1996-97 season, scoring 51 and 50 goals respectively. He completed his third consecutive 50 goal season in 1997-98 when he recorded 51 goals.
He signed as a free agent with Pittsburgh in 2005. He recorded 51 points in his first season as a Penguin, but was released by the Penguins in 2006. Perhaps his most significant moment in black and gold came in a preseason game in 2006 when he accidentally dislocated Evgeni Malkin's shoulder.
Outside of Recchi, all of the players listed above are recognized more as a member of one Pennsylvania franchise than the other. Players like Kevin Stevens and Mark Eaton as considered Penguins first while LeClair is much more well-known as a member of the Flyers.
Will the same hold true for Arron Asham? Will history remember him as a Philadelphia Flyer, where he spent two seasons or will he have more impact as a member of the Penguins? Will he endear himself to Penguins fans or will be always be a Flyer playing for Pittsburgh? For those who look down on Guerin for possibly playing with Philadelphia, do you feel the same way about Coffey or Stevens? Or are the circumstances different? Can they drop the puck already?
Go Pens.