The best game that the Pens have played so far this year? Maybe.
One of the most entertaining games that we'll see this season? Definitely.
Nothing better than an OT win on the road, no matter what the record, month, etc.
Conceding a point to a Western Conference team means nothing.
Puts a hop in your step knowing some Nashville fan was pissed off on his way home last night.
All of a sudden, the Pens have won four games in a row with a makeshift defense and their second-line center in the press box.
Marc-Andre Fleury got the win.
He made some really big saves all night. Don't let anyone tell you differently.
On to St. Louis.

Game was delayed for a few moments to determine if the size of Barry Trotz's head was going to be a distraction.
Things looked good for the first 50 seconds.
Then Nashville got a shot on goal. 1-0.
Yiiiiiiiiiiiiikes.
With all the MAF/Johnson talk, that was hilarious. No way you could have taken that moment seriously.
First real Michael J. Fox moment of the season, though. Things were shaky on how MAF was going to respond.
MAF makes a huge save on Legwand about four minutes after the goal. Big moment for him.
Mark Twain would have nothing to write about when it came to the rest of the first period.
Both teams took penalties and couldn't capitalize on powerplays.
Pens almost scored at the end, but they needed an extra second or so on the clock.
Period recap: Jordan Tootoo was in everyone's face.
The makings of a physical game.
Nashville scored at 0:53.
@daverdave
has won two Twitter contests in a row. Get real.

Business picked up early in the second.
Mike Comrie makes his presence known.
Evgeni Malkin picks up rebound city. 1-1.
Things were moving for a while.
Then Crosby went to the box to the delight of Garth Brooks. Bad penalty to take.
Predators score some bullshit goal. 2-1.
Malkin takes a solid run at Jordan Tootoo.
Some joke goes after Geno.
Engelland goes after the joke.
We don't mind Engelland fighting in the least bit.
But he needs to take a d-man off with him. It puts the Pens down a d-man for at least 5 minutes.
Shouldn't make a difference, but whatever.
What Sidney Crosby did next is just what he does.
The entire game didn't have a good feel.
But Crosby takes the puck and ruins life.
2-2.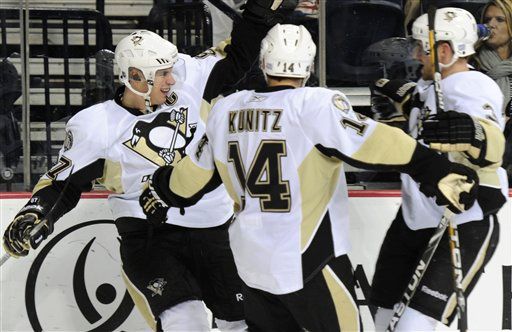 Period recap: MAF making big saves to keep the Pens in it.
Crosby blocked a Malkin goal.
The Pens are shorthanded to begin the third. Pens win the faceoff and throw it into the Nashville end.
Nashville brings it back, but nothing really happens. Weber with a huge shot that misses the net in a Letangian fashion.
Penalty killed.
Preds get called for interference on Comrie.
Comrie probably paid off the ref with some of his millions.
GoGo gets the puck off of the faceoff. Awesome chance for Sid is blocked by Rinne. There's some chaos in front of the Preds net. Legwand somehow ends up on a breakaway. GoGo with a great play to stop him. The Nashville crowd boos, not recognizing a defensive effort. A brief "Refs you suck" chant breaks out and we think we're in Washington for a moment.
Then the Preds score. Patrick Hornqvist.
3-2.
Rock & Roll Part 2 is played. Miss that song.
Tangradi with a good chance. Crosby's all over the place, getting chances left and right, despite the crowd telling him he sucks.
FSN tells us that the last time the Pens won in Nashville was some game in 1999. Crosby was 12. The Predators weren't even 2.
Malkin with an awesome spinorama move. Nothing.
Letestu with a chance. Rinne with a save.
Rinne looked unbeatable.
Malkin and Crosby were determined to score.
It's like the irresistible force meeting the immovable object, except both are moving quickly and we're at a hockey game in Nashville.
The Pens get called for a penalty, but Martin Erat hates pooooowwwwweeeer plaaaaaaaaaays, so he takes one himself to even things up.
Malkin makes some guy on the Preds look foolish. Rinne gives up a huge rebound to the wrong person.
Crosby scores. Epic fist pump. No pics of it because we are in Nashville.
3-3.
Later on, Dupuis races and catches a loose puck. Dupuis to Kunitz to Crosby…. save by Rinne.
The heavy hitting starts. Tootoo and Engelland collide. Weber and Kunitz crash into each other.
It seems awfully intense for a Pittsburgh/Nashville regular season game. Great stuff.
Rinne shoots the puck over the glass, and it's a delay of game penalty. Somewhere Don Cherry is angry. Letestu forced it.
HEYYYYYY FANNNNNNS time.
The Pens take a timeout with 1:03 left in the powerplay. Mike Yeo, watching at home, changes the channel.
They draw up a play and get to it. No idea what was supposed to happened. But it didn't. Penalty dies faster than Bob O'Conner.
Malkin gets another chance but can't convert. Shea Weber gets all worked up.
Dupuis with a good chance in front of the net, but Rinne gets it and there's a scrum in front of the net. Shane O'Brien gets angry. Moron.
The Cooke, Adams, Talbot line goes on to take care of any chippy stuff. Time ticks down and we head to overtime.
Period Recap: What a hockey game. Sid and Geno are unreal. Mannnnn.
Overtime City
Letestu with a chance right off the bat. Baits Calvin Klein into making a mistake. Malkin gets to the puck after the Test Tube chance, but Rinne makes a save. Malkin then goes balls out grabbing loose pucks and basically working his ass off. Incredible shift.
But he's dog tired. He finally gets off as Hutchinson makes the worst turnover of the season. Butt-clenching turnover. Some dude gets a shot off. The shot bounces off of Fleury's glove and lands in the crease. Time stands still.
Dupuis with an insane clear right inside the Pens net.
He was the only Penguins who knew where the puck was.
The Pens take the puck back into the Nashville end.
Tyler Kennedy actually passes instead of shooting the puck at the glass. Crosby lays a pass on the platter to Letang.
Just hit the net….
4-3.
LeGame.
Great screen by Paul Martin. No idea why he was there. But we'll take it.
boooom
Great stunned pic from MUCK
— What a game. It doesn't get much better than that, especially for an October game between two teams with no history with one another.
— Geno and Sid were simply dominating at times. Fleury gets his first win
— Letestu: 8 of 12 faceoffs won. Magic.
— Crosby and Malkin: 17 shots, +4, 5 points, domination.
— Last time Pens won in Nashville? 1999, in OT. Kip Miller, man.