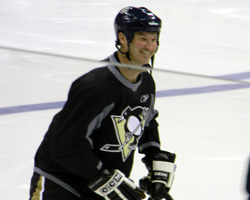 Tickets go on sale tomorrow.
Pens Roster:
Mario Lemieux
Paul Coffey
Ron Francis
Bryan Trottier
Larry Murphy
Gary Roberts
Bill Guerin
Phil Bourque
Rob Brown
Rod Buskas
Jay Caufield
Bob Errey
Dave Hannan
Francois Leroux
Troy Loney
Greg Malone
Gilles Meloche
Craig Simpson
Frank Pietrangelo
Gary Rissling
Rick Tocchet
Kevin Stevens
Warren Young
Caps Roster:
Peter Bondra
Michal Pivonka
Scott Walker
Sylvain Cote
Greg Adams
Don Beaupre
Alan Hanglesben
Nick Kypreos
Yvon Labre
Gord Lane
Craig Laughlin
Mark Lofthouse
Denis Maruk
Alan May
Paul Mulvey
Robert Picard
Errol Rausse
Pat Ribble
Ken Sabourin
Blair Stewart
Additions could be made later on.
The Pens coaches will be Eddie Johnston, Pierre
Larouche
and Randy
Hillier
. Jack Riley will be the GM.
Totally looking forward to this.
Go Pens.