Sidney Crosby. Unbelievable.
Hidden in all of this is the Penguins overcoming a 2-goal deficit.
It certainly has been a treat watching the maturation of Crosby.
His goal-scoring tear began in the playoffs last spring, and he hasn't let up.
He got his third hat trick of the season in this one.
We don't care where the Penguins fall amidst the 8 seeds going into the playoffs.
Their play on the road this year doesn't leave us concerned about 4 away games in a series.
Plus they closed out all four series last years on the road.
Regardless, any team with Crosby wearing its sweater is a threat.
Then add
Malkin
to the equation. And
Fleury
.
Not to mention Jordan
Staal
. He has become a force. His last handful of games have been unlike any stretch in his career since his rookie campaign. Finally got a goal. Such a shame that the first question he had to field in the locker room after this game was about Crosby.
Speaking of unknown stats, the Pens have had 4 giveaway nights this year.
And there's been a hat trick on three of those nights.
Those numbers may be made up.
Stunned
pics
galore after the jump.
TRADE RUMOR SPECIAL
Somebody called into Grover Monday night and mentioned RJ
Umberger
.
Is
Staal's
play of late making the Pens contemplate a shift in thinking?
As in, bumping
Staal
up to number-2 center and trying to acquire a solid two-way third-line center?
The resounding theory is that
Shero
is fishing for a defenseman.
Adam Claus
val
kilmer
kevin
p.
alex
b.
matt s.
Dz315
mike b
AxsDeny
Muck
HealthyScratch4
daver
jason
w. — some random
pics
in there, too
lisaarec
whistler
Before the puck drops, Joe
Beninati
reminds us that the
Sabres
didn't take a riverboat to Pittsburgh.
thanks.
47 seconds in, TK leads a 3-on-1 rush.
Feces was already leaking from Miller's pants.
Kennedy waits and threads a pass to
Letestu
.
1-0.
Been working hard. Chris
Bourque
sucks.
That goal took the Pens to even another gear.
They were flying.
Adam
Mair
gets hit in the face with a shot or something.
Darren Eliot on the broadcast segued to that by saying, "Speaking of identity…"
We were about to dedicate this entire recap to deciphering how that segue made sense.
Eventually, Nick Johnson was going to the box for being a rookie.
Staal
had a great chance early on the
PK
. If he dives there, he gets a call.
Still on the
PK
,
Letang
saved a goal by getting the puck out of the crease.
But it was all for naught. Roy puts home a loose puck on a pinball play. 1-1.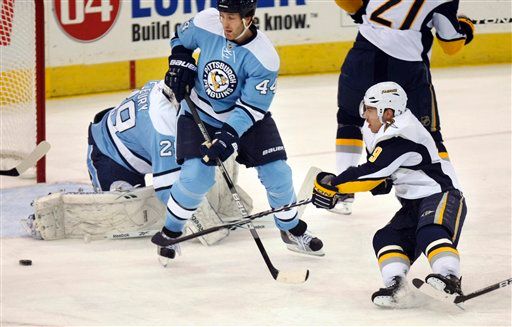 8 seconds later,
Vanek
and some joke came in with a 2-on-1.
Gogo
takes the some joke out of the play, leaving
Fleury
to take
Vanek
mano
a
mano
.
But
MAF
still looked like he was unsure about a potential pass.
Roofjob
.
2-1.
The Pens gathered their shit after those goals and settled down.
Sid leads a rush and drops a pass to
Letang
.
Letang
takes the shot and goes deep.
Face the facts: Crosby should've been back to take
Letang's
spot.
The
Sabres
head back the other way 2-on-1, and Feds has to take a penalty.
But the Pens killed it.
Staal
spent the rest of the period proving he's been eating his
Wheaties
.
Great post over at OUR 2
CENTALONES
.
The Pens were flying again to start the second.
TK came in with a
bizarro
Dupuis
Play™. No dice.
Guerin
takes maybe his second penalty of the year.
Pens kill it.
Right after the
PK
, though, the
Sabres
had another odd-man rush.
The Pens were about to experience the business end of a 3-on-2.
Tic-tac-toe
. TK goal.
3-1.
Mellon Arena crowd didn't seem worried.
Speaking of riverboats, Ray
Shero
plays 20 questions with a Versus guy.
The Pens finally got their first PP of the game halfway through the second.
The Pens cash in. Bingo. 3-2.
A delay came when a pane of glass broke.
Three minutes later, Jordan
Staal
finally gets rewarded.
3-3.
Vanek
and
Letang
went off for slashing behind the play.
That 4-on-4 was over, then
Guerin
and Stafford went off.
So, Crosby decides to score twice during that 4-on-4.
The first one, he was in the right place at the right time.
The pride of Team USA shits himself. 4-3.
Acting like she actually has friends to text
Then with about a minute left in the period, Crosby and
Dupuis
came in 2-on-1.
Sid has grown a reputation in his career of looking for the pass.
The tide has obviously shifted this year.
Miller didn't know what to do with that shot. 5-3.
Speaking of hats, Carrot's red hat made it into the
PG
a while back:
We love her.
Hard driving to start the third, no surprise.
Pens were out to maintain momentum, Buffalo was out to redeem themselves.
Normally the only things being redeemed in Buffalo are Wendy's coupons.
Crosby gets tripped by Miller, but he doesn't even get recognized in the box score for it.
Jochen
Hecht takes the heat.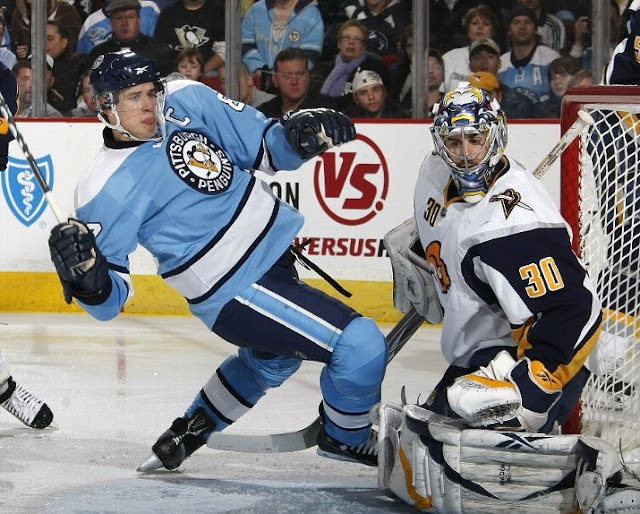 This is why we have zero respect for Ryan Miller or his family.
Powerplay
comes up snake eyes, but looked good at least, which is akin to winning bronze in the Special Olympics.
Sabres
gain some momentum from the kill, though.
Crosby had a chance a little later that Miller actually stopped.
Staal
neuters some joke
Sabres
D-man when he
stickhandles
around him and fires a wicked shot.
Miller is there with the answer, even though the question wasn't "Who's an emo who will disappoint his country?"
Buffalo was transitioning nicely out of their own zone, but not getting a ton of sustained pressure on
Fleury
.
The Pens take a penalty. Bad timing, because the
PK
was having a rare off night.
The
Sabres
had been hanging around.
You had to know the game wasn't over yet.
Why? Because Jason
Pominville
hadn't scored yet.
5-4.
The
Sabres
smelled blood.
And then
Orpik
heads to the box. Oh Christ.
Then Miller heads to the bench. Oh shit.
Rivet does a magnificent job to keep a puck in at the
blueline
.
He works it down the boards to Roy, who somehow gets it to
Vanek
in front of the net.
And then it happens.
Vanek
fires…and
Fleury
is there.
No photographer was on the ball to get a snapshot of the save.
And we won't disgrace it by putting some stock photo here.
Ron Newcomer spits on Getty Images.
That save is why Marc-Andre
Fleury
makes $5 million a year, drives a better car than us, lives in a fancier house, and actually has sex. His stats aren't the flashiest, and he'll never have a
closetful
of
Vezinas
.
But add Thomas
Vanek
to the list of people including Jeff Carter, Alex
Ovechkin
, Eric
Staal
, Dan Cleary, and
Nik
Lidstrom
who understand why
Fleury
may have a
trunkful
of Stanley Cups before he calls it a career.
High stick on the puck is called.
Referee comes flying in with the emphatic point to the other end of the ice.
Faceoff
in the
Sabres
zone with 8 seconds to go.
GAME.
Twitter contest returns this weekend.
Shhh. Don't tell anyone.