We will not do a traditional recap
until Chris Bourque scores, retires, or is sent to the minors and/or waived.

If you're jacked that we don't post an anthem pic, blame Chris Bourque.
……………………………………..
You'll have to jump for our newly christened Bour-cap.
Bour-crap.
Click "Read More."
On a night when the Pens blue line essentially was made up of a bunch of guys who sound like they were extras in Saving Private Ryan, how fitting is it that the once promised future of the Penguins was in the building?    Only shame is Ryan Whitney was watching the players fill his role better than he did.   They took his job.
ay terk er derb
Deryk Engyyylllaland's level of play is getting to the point where we don't butcher his name. Ben Lovejoy has risen above being Billy Zane's manservant, and Nate Guenin felt at home in the Mellon, having grown up in Hopewell or something. All have mostly toiled in the minors before getting their shots in the NHL. Their shots have come, and they have made the most of it.
Especially Engeellyyland. He's a beast.
He'll at least be on the taxi squad during the playoffs.
And what can you say about Eaton, McKee, and Skoula?
Three veterans keeping shit together.
They're scoring goals.
Jay McKee risked his life like five times in this game.
And it's a telling sign that the secondary scoring has woken up since Geno's return. Hockey teams are like machines. Every part has a job. When one part goes down, the others can maintain only for so long. When a bunch of parts break, the machine breaks, the factory shuts down, and you wake up in downtown Detroit.
With Malkin back, guys like Matt Cooke can play his game.
Cooke was outstanding tonight. So was Jordan Staal.
And how good has Pascal Dupuis been?
He narrowly missed another goal last night.
Guys like Cooke and Dupes netting two-goal games every so often is huge.
We're officially done semi-jobbing Dupuis.
He already has 5 goals this season.
— Bill Guerin ends the powerplay drought at like 0 for 60.
Guerin also tussled with Getzlaf.
Guerin was an assist away from the Gordie Howe hat trick.
He could have also made out with a man to complete the trick.
Stunned pic from Josh C.
This guy is probably just stunned that he's not an 1890s salloon owner.
— Every time we see Mark Letestu, all we see is #38 and we have flashbacks of Jan Hrdina.
— Man, what if Fleury scored when he had a chance at the empty net? Bourque jokes abound.
— Steiggy with a Free Candy mention. He used it in the context of the Ducks giving the Pens golden scoring chances.
Still gotta appreciate it.
— Steiggy also had a very interesting story about how the Penguins wanted to draft Teemu Selanne in the 1988 draft. But thanks to then-GM Tony Esposito, they passed. Selanne broke into the league in 1992-93, the same year the Penguins lost to Islanders. Selanne scored 76 goals in 92-93 with the Winnipeg Jets. He might have scored 150 with Jagr and Lemieux. Pens would have won the Stanley Cup for the next 12-15 years. Adding a Teemu Selanne and his eventual heavy salary would have been nothing but good news for the Howard Baldwin Penguins. Regardless, Tony Esposito needs to be brought back to Pittsburgh and held accountable for what he did.
— And finally, on a PP with 2:12 left in the second period, it almost happened. Mark Letestu carried the puck in wide.
All you see is #12 float in the picture. Giguere is leaning. The left side of the net is wide open.
Maybe the worst shot in the history of the Mellon Arena.
Generally, real goal scorers will miss high. This puck went straight into the boards.
The reaction from father Ray Bourque:
He had the same reaction when, during the same second period, Chris did some unrealistic dive on the forecheck
then, on the same shift, flubbed a perfect breakaway pass from Richard Lintner.
He got boarded in the mouth early in the first.
And took some penalty.
Word has it Talbot comes back on Thursday. Could have been Bourque's last chance.
But some of the disease has spread.
From e-mailer SB:
God help us.
We now know what Dustin Hoffman felt like in Outbreak.
Go Pens.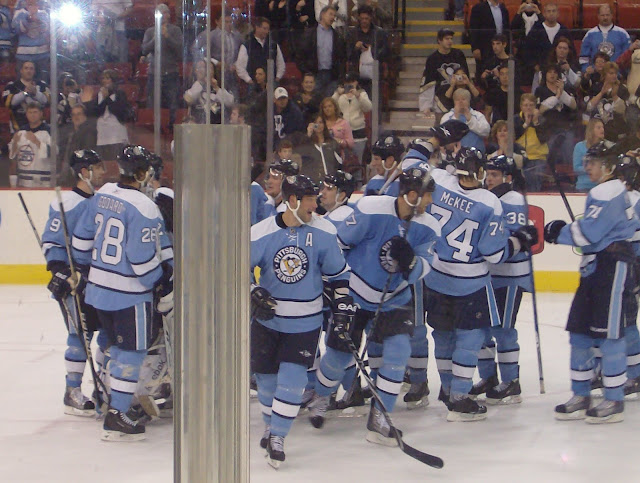 The omnipresent celebration pic from Fleuryous.
Please see banner at the top of the site.
Check out
Picasa
for some random PS's coming through G-Mail.