The daylight is just lifting. Throw a quarter to some homeless guy. You head past Gate Two and high-five some random dude….. flick the Flyers bus off, keep walking up that godforsaken hill. You look up at the parking lot where you spent hours waiting in traffic as a kid. You give a "

wooo

…" to

tailgateblog

up there, throw a wave to the hockey

jesus

. Open up to Gate Three and get your sac touched by some guard- getting close now. The blast of cold air hits you right as you peek behind the curtain and see the empty red seats. The arena is busy; you're in line behind 200 people. You're a

goddam

Penguin fan in the only Arena you've ever known. Is there any thing better in the world?
Rest in peace.
Posted May 4th: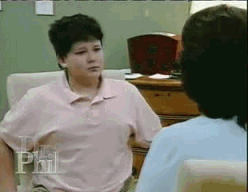 Move over, '96 Panthers and '93 Islanders.
You have company on Heartbreak Hill.
Don't want to recap this game or this series, but we have to for history's sake.
Five years from now, we'll want to read how we felt.
We'll never throw a player under the bus unless they are Chris
Bourque
.
That's why we never touch Marc-Andre
Fleury
. No reason to. Cup-winning goaltender.
But, man. You just can't give up a goal 30 seconds into Game 7.
It just can't happen. No way. No how.
You know what else can't happen?
Winning the Stanley Cup every season.
We as fans have had so much go right over the last three years.
We were due for something awful. We've lived with that fear since October.
From the outset of this season, something didn't feel right; something wasn't there.
If you thought different, you're lying to yourself.
No memorable games, no comebacks, no killer-instinct hero shit.
And the PP was stains all season.
Game 7 was a microcosm of the season.
PP couldn't come through.
MAF
got yanked.
Turnovers: Penguins-20,
Habs-1
. 20 to fucking 1.
The Pens Defined Ordinary.
Regardless, it was still a hell of a ride.
We'll take this season over watching the Kansas City Penguins on NHL Center Ice any day.
This post itself is in shambles. There is no rhyme or reason to it.
Just put the gold divider in there 'cause it's gay and we've hated it all season and never changed it.
We probably saw Sergei
Gonchar's
last shift as a Penguin.
His effort on the Travis Moen goal has people throwing hissy fits.
Newsflash
: It wasn't the game-winning goal. It doesn't matter.
Gonchar
has been our favorite Penguin since we started the blog in '06.
Doesn't matter.
It doesn't even shame us to say it, but we're jumping right back on board with the
Canadiens
the rest of the way.
Skating shifts with Hal Gill brings us pleasure.
People love the underdog story.
People loved George Mason going to the Final Four a couple years ago.
People were pulling for the Jets in the AFC Championship Game against the Colts in January.
Dominic Moore sucks.
There's just something about a team that is playing as a team.
They came into this series and made a lot of Pens fans look like assholes, us included.
Have to respect it.
Whoever the
Habs
play in the
ECF
——- Wait, wait, wait.
Flying under the radar in these playoffs right now is the story of the Flyers working their way back from a 3-games-to-none deficit to force Game 7 on Friday night.
Unbelievable.
The "history" the
Habs
have made so far in these playoffs has relied upon teams that were supposed to wipe the floor with them not being able to deliver.
But from now on, nothing will be seen as their opponents' failure, but rather the
Habs
' success.
We're pretty level-headed about everything in the wake of last night.
But don't e-mail us. We don't care about anything right now.
No clue why you'd do it to yourself, but a recap is waiting after the jump.
The crowd was into the game.
Jimerson
rocked out.
We've all watched about 300+ games in this Crosby/
Malkin
era.
You'll be hard-pressed to find a worse start.
Bing got called for a penalty, and the arena got tight.
In less than 30 seconds, Montreal tore down the Mellon Arena.
Soupcan
threw it on net. Brian
Gionta
tips it.
First goal on the first shot. Just deadly.
Unlimited amount of
Habs
fans in the Mellon last night.
Then Matt Cooke was called for a penalty.
The Pens were on the kill for another 2 minutes.
Just incredible.
Never have seen a game decided in less than 30 seconds in our lives.
First time for everything.
The
Habs
were everywhere. It was overwhelming.
Players that never make mistakes, we're making them.
The Pens had their first of six
powerplays
.
But like so many times this season, it betrayed them.
Dominic asshole scored after the puck wouldn't leave the Pens zone.
The first period was the worst period of hockey we may have seen a Pens team play since the lockout.
It didn't get much better in the second.
Even as the Pens showed signs of life, the
Canadiens
made quick work.
Mike
Cammalleri
does not miss. 3-0
This picture alone is enough to wake us up.
The look on Mike
Camalleri's
face makes our blood boil. Really just upsetting.
Can't do anything about it for 5 months.
Reality set in after Travis Moen blew one past
MAF
, ending his season.
No idea what
Gonch
was doing on that play. We'll remember
Gonch
for the good times.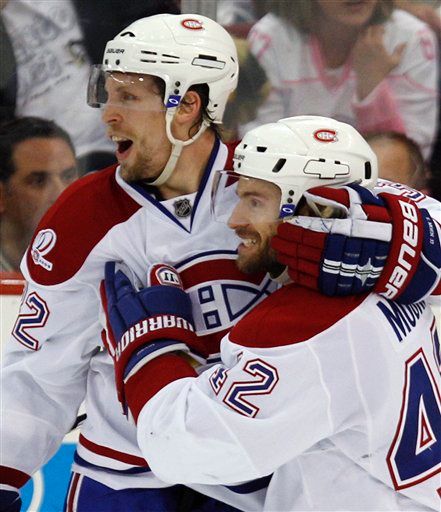 MAF
took his seat in the runway.
And how about after one of the
Habs
goals, the shot of all the Montreal fans in one section.
It had to be about 20 people deep.
How in the world did that happen? All in the same spot?
We're going to figure out a
Pensblog
ticket exchange thing next year. One of our big plans this summer.
The Pens woke up a little with a goal from
Kunitz
to make it 4-1.
And all of a sudden there was a pulse.
Poni
got a great shot on net,
Staal
sent it home. 4-2. Could it be?
Pens started drawing penalties.
Pens drew one right at the end of the second. Started the third with a 4-on-3.
Chances were there. But the story, in the end, was
Halak
.
He was brilliant. He robbed Crosby and
Malkin
point-blank.
Father Time made the trip in one last time.
Pens took a penalty.
Habs
made it look easy. 5-2.
Game. Set. Mellon.
Montreal 26 blocked shots
Pens blocked 3.
20 shots for the

Habs

, 5 goals.
It goes on and on. What a nightmare.
Crosby and

Malkin

one goal each. So similar to '96 against the Panthers, it's sickening.
Halak
and
Cammalleri
had one of the most dominant series we've seen against the Pens.
Cammalleri
had seven goals, two of which were game-winners.
Halak
was a monster. The Montreal
gameplan
revolved around him making unreal saves. He did.
Gives "hot goalie" a whole new meaning.
Refuse to issue this. Homo The Goat is on some cliff.
Should probably just give it to whoever came up with "Defy Ordinary."
Let's be honest. This was a huge opportunity lost.
The East was in the Penguins' hands. And they couldn't find it.
Just a lot of questions that we'll be asking ourselves for a while.
And having to watch the Mellon go out like that. Man.
The Pens were tired.
The drive to win the Cup was not there, for obvious reasons. See: 2009.
We all knew that, but we probably talked ourselves into believing whatever.
Nothing really happened in the season that distinguished itself. Just a bizarre time.
As far as the blog goes, we'll be putting the pieces together on a nice season-recap post.
We aren't going into G-Mail for a week, so don't even bother.
Twitter links on the sidebar if your wife gives birth to an actual penguin or something, with
pics
.
We're
gonna
distance ourselves from Penguins hockey in order to finally sit back and enjoy a Stanley Cup Final without our balls falling off.
But, in the big picture, the blog isn't going anywhere.
We love this shit.
Go Pens. See you at
Consol
.
damn it