Pretty much sums up the entire game.
Forget to mention all the bounces they got, though.
It's a race to 4. A marathon of sorts.
And Montreal put a pipe bomb in your mouth.
Worst part about playoff losses isn't the actual loss.
Starting this morning, you'll hear Tim Benz starting on the Penguins.
Guranteed
he'll call out
Malkin
.
Then we'll roll into the noon hour, and Stan and Guy will start fielding calls from brilliant callers blaming everyone they can think of.
Around 5:00, Mike Logan will say something, and everyone will laugh.
Rob Rossi will start running his mouth on the Mark Madden Show.
In between of all of this, co-workers will start saying stupid shit and message boards will be out of control.
Rich Walsh will bring it home on the nightly news with some moronic sequence of sentences.
The best part of the aftermath of the loss, though, was Rich Walsh outside Mellon Arena after the game trying to find a Penguin fan who was placing gloom and doom on the season. Happiness doesn't sell news. Despair does.
But Rich Walsh just couldn't find a bridge-jumping Pens fan. Everyone was just spitting in his face.
So, it's good to know we're not alone in that sentiment.
We've seen way too many playoff games and playoff series to even be concerned right now.
Fans everywhere are salivating over seeing Crosby frustrated and angry.
Pens fans are salivating, too. Because nothing's better than an angry Sid.
Heading into his backyard for Game Three. Could be an interesting night.
Story of this game was Montreal playing their "style." Their style consists of hoping to get the lead, and when they do, sit back and wait for an overeager
jugernaut
offense to start forcing things and making mistakes. In turn, Montreal then feeds off those mistakes and takes advantage of shooting on a goaltender who hasn't seen a shot in like 8 minutes.
That's it. That's their
gameplan
.
A goalie who's stonewalling your life fits into the equation, too.
Timely bounces help, too. Mike Cammalleri cashed in the two bounces he got.
The Pens went 4 for 4 on the PP in Game One.
In Game Two, they were 0 for your face.
If they manage one goal, the game is going to OT.
They still had a shit load of chances even strength, though.
But Halak decided to come to this one. And he refused to leave.
The way
Halak
and the
Habs
frustrated the Pens, especially in that "third period," if you want to give it the benefit of the doubt and call it a period of hockey, was staggering.
Habs
just sat back and waited for the Pens to score. The Pens couldn't, and
Cameljoke
was there to capitalize on a turnover due to the Pens pressing.
Letang
tried to corral the puck with his skate, it bounced too hard off said skate, and
Cameljoke
walked in and hit the bottle.

What's done is done.
Now it's time to see what Disco has up his sleeve. One thing the Caps' coaching staff was railed for was not making any adjustments.
Bylsma
will have a plane ride up to Antarctica to figure out a way to combat Montreal's rope-a-joke style.
With a team like the
Habs
, if you get up 2 goals, you are fine.
You just have to get there first. Vomit.
The first 5 to 10 minutes in Montreal will be hell.
Can't wait.
Jacques Martin set up the trap on Gmail log-in page.
No anthems.
Pens flying early.
Fleury
texting on his
cellphone
at the other end.
The Pens kept coming until they finally scored.
Off a
faceoff
right outside blue line,
Dupuis
to Talbot.
To Cooke. Cooke with some unreal patience. Goes backhand.
Malkin
was peculiarly not on the ice for the first 5 minutes of the game or something.
But once he got on, he started generating shit.

Even by the first commercial break, Montreal was still trying to figure out what was going on.
They looked like a Lady Gaga song.
With the Habs running around, the worst thing the Pens could do was take a penalty. And they did.
And in retrospect, it was the turning point of the game.
Fedotenko
takes the penalty in the offensive zone. Shady call, but
whatev
.
Pens kill it.
But the Pens early momentum was already kaput.
And the
Habs
were able to settle down.
Toward the end of the period, Montreal was able to tie it up.
Brian Gionta gets the puck all alone in front. 1-1.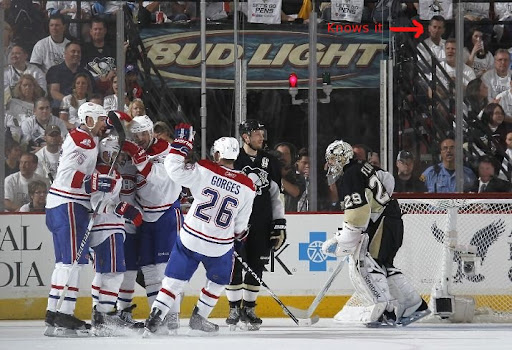 Somewhere in the first,
P.K
.
Stupidan
tried to slice a tendon in Matt Cooke's foot.
PKS
had like 24 minutes of ice time.
The only way he's
gonna
be stopped is if he gets hit by a bus on the street.
Huge thanks to C.
Ricketts
. Video quality is
Zapruder
city, but
whatev
.
Cooke reaction:
"It's the second time (it's happened)," said Cooke, who scored Pittsburgh's lone goal early in the first period. "I know it's not a penalty when skates collide but for that to happen in back-to-back games by the same guy is suspicious."
Cooke didn't accuse Subban, who has two points in his first two playoff games, of doing it intentionally.
"He's trying to hit, just as he was with Jordan, (but) he spins around and his skates slide along the top of my skates."
Rest of the period was stopped because the dude on the left has a massive bowel movement and it had to be cleaned up.
Pens came out for the second the same way as the first.
But Jacque Martin's master plan begins to unfold.
Crosby line hacks at
Halak
for a solid minute in front of the net.
And then another penalty derails the Pens.
Cameljoke
draws it on Candy.
It was devastating this time because Montreal scored on the PP.
Cammalleri
gets his 80th goal of the playoffs on the most fortunate of bounces.
2-1
.
Swamp ass city.
It would have been a high stick, but
Cameljoke
is like 4'2".
The rest of the period was some of the most frustrating hockey we've endured all season, evidenced by Crosby flipping out.
Sid breaks his stick in frustration.
Kind of respect
Halak
a little bit more now.
'Cause if that was Osgood, he'd be flailing in pain on the ice making people think he was slashed.
Hall Gill finally gets called for a penalty with 6 seconds left.
Big
powerplay
to start the third.
Pens had the
Habs
' sacs under the guillotine to start off the third period with 4 minutes of PP time.
Halak
makes a few saves, and the first
powerplay
is done.
Cameltoe
highsticks
GoGo
a minute after that, and it's another
powerplay
.
But
Halak
is in super-unreal-mode.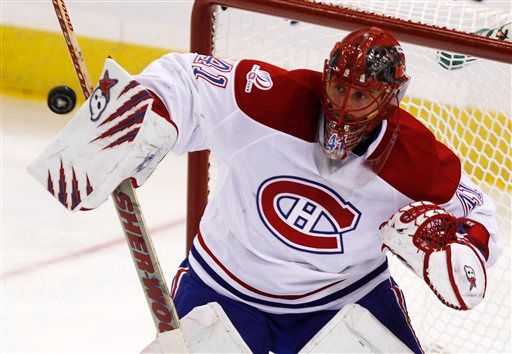 Halak
did what he needed to do.
Pens had some chances.
Started to sense it wasn't
gonna
happen.
Then the Pens had
another
PP as the third was almost halfway through.
Powerplay
looked pretty rough. Killed.
Habs were poetry in motion.
Every puck was being dumped in behind Fleury.
Then the Habs would lay back in the neutral zone.
Frustrating times. But Montreal had their playoff lives on the line. Had to do it.
Pens best scoring chance for the entire third period was probably Tyler Kennedy trying to sneak in a turnaround shot near one of the circles. Halak didn't see it, but his pad was in the right place at the right time.
A little wrinkle to Martin's plan is that he unleashes the hounds with under five minute to play.
Pens were tired and frustrated. Crosby commits an unreal turnover.
Then
Letang
commits an unreal turnover.
The puck bounces right to
Camelface
.
Nothing
MAF
could do. Except save it.
3-1.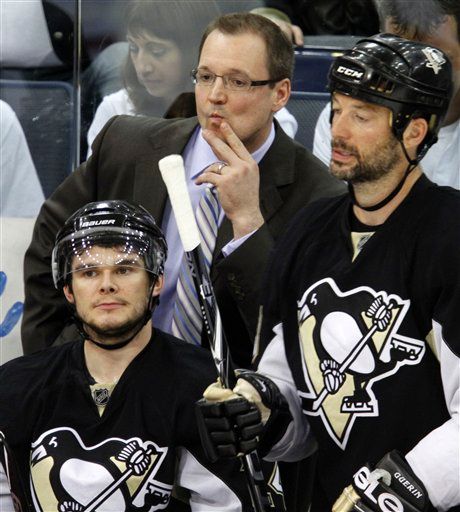 Game.
Not going to job

Poni

or Feds yet.
yet.
Wings down 2-0.
Pens offensive zone

faceoffs

: 4 for 27. Balls.
Didn't

spellcheck

. suck it.
First game after Sid went down with his high-ankle sprain.