Penguins Lead Series 2-0
Before this round, the Carolina Hurricanes had not been down by two games at any point in this year's playoffs.
The Pittsburgh Penguins were up 2-0 against the Flyers.
In game three of that series they lost 6-3 in Philadelphia.
They'll be looking for a different result tonight.
A win in this game gives the Pens a commanding 3-0 lead in the series.
A loss gives the Hurricanes the chance to tie the series up at home on Tuesday.
It's a huge game.
At least part of that noise must come from the three hundred sound effects they play after a goal:
Carolina is also home to this kid:
More random entries:
You could win a free "YES WE CAN" t-shirt from
Storeblog
.
TSN

says
that
Tuomo
Ruutu
skated this morning, but his status for tonight's game is still unclear.
He will likely be a game-time decision.
The Onion
has breaking news on Sidney Crosby's newest assignment.
Since at least one series (Detroit/Chicago) will go at least five games, the final round will start on June 5th.
Fri., 6/5/09 –
8:00 PM –
Stanley Cup Finals, Game 1 –
NBC
Sat., 6/6/09 –
8:00 PM –
Stanley Cup Finals, Game 2 –
NBC
Mon., 6/8/09 –
8:00 PM –
Stanley Cup Finals, Game 3 –
Versus
Wed., 6/10/09 –
8:00 PM –
Stanley Cup Finals, Game 4 –
Versus
Fri., 6/12/09 –
8:00 PM –
Stanley Cup Finals, Game 5* –
NBC
Sun., 6/14/09 –
5:00 PM –
Stanley Cup Finals, Game 6* –
NBC
Tue., 6/16/09 –
8:00 PM –
Stanley Cup Finals, Game 7* –
NBC
Note that games one and two will be played on back-to-back nights and game six will start at 5:
00pm
.
"Every time you think the National Hockey League can't possibly sink any lower in its subservience to the great god Television, Gary Bettman's outfit gives us fresh evidence that there is still plenty of grovelling room in the sub-basement."
"A possible Game 7 [would be on] on the 16th, a day later than the NHL's written-in-stone pledge to have the season end by June 15. So in order to keep its promise, the league would have to schedule another back-to-back within the series.

No two Stanley Cup final games have been played on consecutive dates since 1954, when the Red Wings played Game 4 in Montreal on April 10, and the teams travelled to Detroit for Game 5 on April 11.

And that's when the playoffs consisted of only two rounds.

In the modern era, such an idea would be considered preposterous: four rounds into the playoffs, when fatigue and injuries have mounted, playing on back-to-back nights — maybe twice in the same series?

Absurd. Unconscionable."
Also, remember that the big screen outside the arena will be dark for any NBC games.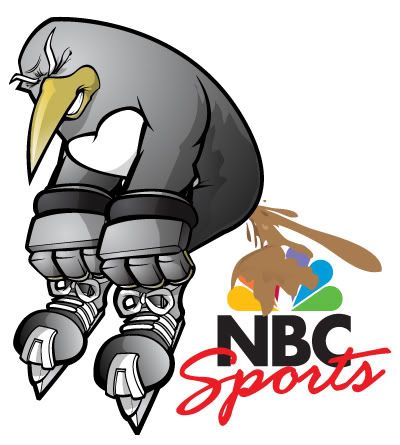 There are tons of Pens fans down in Carolina going to the game.
They have been sending us
pics
.
If these men and women should fall.
Who will carry the flag?
Unreal.
[Thanks to Matt S., Whistler and all the crew]
Do it.
Go Pens.