The Penguins have broken some pretty good goalies in the recent playoff runs.
It took them about 45 or so minutes to break
Jaroslav
Halak
in Game One.
Halak
was eventually pulled midway through the third period for Carey Price.
And the Pens went on to win 6-3.
The
powerplay
came alive.
If Mike
Yeo
had a blog, he would be posting a big picture of his sac.
The Pens had four
powerplay
goals.
Craig Adams scored a huge goal of his own.
Crosby and
Malkin
had 0 of the Pens' 6 goals.
A lot of great things to talk about coming out of this game.
Except for this.
Staal
was injured in the second period when he collided with Montreal's
P.K
.
Subban
.
No real indication of the severity of the injury, and that's to be expected.
Disco said the injury is "undisclosed."
Staal
has played 358 straight games.
But there is nothing anyone can do about that.
An injury is just another hurdle.
So the
Habs
looked tired.
That was also to be expected.
And they get no favors from life, as they have to turn around and play an afternoon game on Sunday.
When you consider how the Pens played in this one, along with Montreal trying to regroup in time for Sunday…
No sympathy for the
Habs
not having a rest between the rounds.
Maybe they should've started playing in the Caps series before Game 5.
Like 800 pictures after the jump.
Fiddy14
,
rns
, Erin U.,
Matt S.,
Sockar101
, Kevin P,
Ted G., Adam V., Ellen,
danny
v.,
StephenDedalus
Current banner
pic
can be found
here.
(Dylan)
As soon as Bill
McCreary's
moustache
appeared, it was go time.
It was the typical feel-out mode for the early moments.
Forgot how much we missed the Hal Gill subtle interference play.
And then
P.K
Subban
announced his arrival.
He got a shot through eight million people.
MAF
never saw it.
1-0.
Of if
MAF
did, he just decided not to stop it.
But it wouldn't last for long.
Pens had to kill a
Malkin
penalty in there somewhere.
Then Brian
Gionta
was called for a penalty when he jobbed
Geno
.
Pens set up shop on the
pppppppppppooooooowwwwwwwweeeeeeeeeerrrrrrrball
ppppppppppoooooooooooooooooowwwwwwwwwwwweeeeeeeeererrrrrrrrrrrrrplay
.
Malkin
,
Letang
, and
Gonch
take it upon themselves to tie it.
Blitzes one past
Halak
.
1-1.
And then Matt Cooke officially starts the series.
He cleanly finishes his check on Andrei Markov.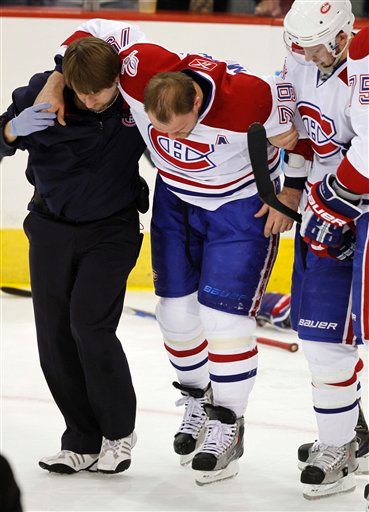 Compare this to the Pens losing
Gonchar
. Unfortunate for the
Habs
.
But the Pens would be dealt their own blow later.
Markov's whole life fell apart as he lay dead on the Mellon ice.
Scott Gomez acts like he is
gonna
do something about it.
No clue why you would go after someone for a clean hit.
Shows you how much Cooke is in people's heads.
Gomez and Moen both go to the box for the
Habs
.
Eaton for the Pens. Pens go on the PP.
The first
powerplay
went shit.
But then the second unit jumps onto the ice.
Jordan
Staal
takes a
Poni
pass then takes advantage of the
Habs
falling apart.
Schools
Halak
top shelf.
2-1.
Someone tell that dude on the left that it's 2010.
Sorry. No clue what this is about.
Montreal doesn't do themselves any favors in the first minute of the second period.
They get caught for too many men.
This time, it was
Letang
that made them pay.
Crosby had an equal hand in it, as well.
He makes one of two great plays that won't be in the box score.
Keeps the puck in the zone with a stick lift and board pressure.
Feeds
Letang
with a great pass.
Letang
. Corner pocket.
3-1.
Halak
refused to come out and take an angle.
Habs
get an attitude problem after that. Dominic Moore starts being annoying.
The Pens have some good shifts, but nothing was going on.
Talbot gets called for some penalty.
McCreary
misses a blatant high stick on Crosby.
On the Talbot penalty kill,
Staal
collides with
P.K
.
Subban
.
He's obviously hurt.
That girl behind the bench speaks for us all.
Pens eventually kill the
powerplay
and start taking it to the
Habs
.
Crosby has a big-time shift, but nothing doing.
Malkin's
line gets an extended shift.
Habs
start doing some work.
They refuse to let the Pens get out of their own zone.
Jokaleri
makes quick work of a pass from behind the net.
3-2.
To make matters worse after the goal,
P.K
.
Subban
drops some PCP and goes nuts.
Captivating.
But hold up. Dupes sets up a play. Then he and Matt Cooke do a give-and-go.
Puck bounces back to Dupes. The play seemingly falls apart.
But then you see a black flash going to the net.
Who is that son of a bitch.
It's Craig Fucking Adams.
And it's a goal. 4-2.
Just a huge goal.
That's why Craig Adams is in the NHL and Chris
Bourque
works at
TJ
Maxx.
"PS-your legs look like toothpicks. Start squatting."
Another period starts, and another mistake by the
Habs
.
Gionta
shoots one over the glass.
Mike
Yeo
sends his unit over the bench.
That
powerplay
was downright scary. The Pens almost had like three goals.
Then
Guerin
keeps a puck in.
Bing finds
GoGo
via the Whitney Play™ for Sid's second play of the night that won't live for eternity in a box score. What a pass.
5-2.
Halak
couldn't get over in time 'cause his sac was dragging on the ice.
Should've been pulled after the fourth goal.
Coach Martin waits like 10 minutes to pull
Halak
. Real bizarre.
Maybe Carey Price was taking a dump.
Regardless, Carey Price waddles in; in the arena where he made his NHL debut.
Malkin
had a breakaway, but he sees some dude jobbing his girlfriend in the stands and misses the net.
Then things get a little sloppy. Pens take two quick penalties.
Montreal buries their chance on the second
powerplay
.
Gionta
.
5-3.
The Pens regroup after the goal and dig in for the homestretch.
Montreal's batteries were depleted. Gill and Bing have some words.
Jacques Martin falls asleep and forgets to pull Price. But then he does.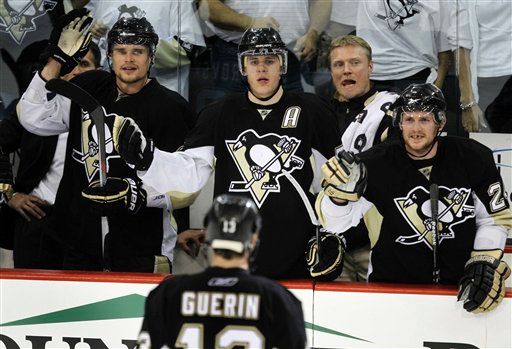 Only for
Guerin
to send them home.
6-3. Game.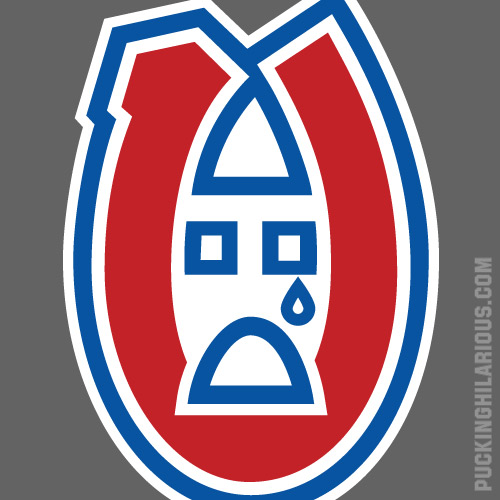 "Watching the game as it progressed, maybe you had the same sense as I, that the

Canadiens

as we know them were unrecognizable against Pittsburgh, and that the team that had so soundly undone the Capitals
had….
…and then it hit me. The

Canadiens

were unrecognizable in defeating the Capitals. The perception is a little

twisted….and

then it double hit me, the

Habs

were blasted by Washington,

outshot

in dizzying numbers in six of seven games in the series won by a hair on

Jaro's

goatee."
[
Habs

Eyes on the Prize
]
:::::::::::::::::::::::::
History Will Be Made — Joe

Pavelski

?

wtf

iPad is nasty.
Who else thought Tiger Woods was narrating that animal-cruelty commercial?
Tim Benz thinks the outdoor screen is stupid. Too bad his name sucks.
Versus color guy made a

Roethlisberger

joke. Excellent.