*Honest miscommunication on our part.
We were told the contest ended on March 30th at midnight.
Midnight is 12:
00am
, meaning the first minute of March 30th.
But the contest actually ends at midnight Tuesday night.
But
Qdoba
already shut the entries down.
Stephen thanks everyone for their support.
And we thank you, too. Good shit.
Stephen had no part in what was said on this blog recently.
Too bad the Penguins (and we as a blog) gave
Qdoba
free advertising all through the playoffs last year.
Not giving the prize to Stephen will mean
Qdoba
will never run an online contest as long as we're alive.
Give Stephen his rightful victory, and they never hear from The
Pensblog
again.
And then James The Boss
Baetke
chimed in trying to look like the victim:
Sorry, James. Can't hear you from way back there in third place.
Or maybe it's just 'cause we have
Qdoba
wrappers in our ears.
Regardless, Stephen is waiting in the wings, recording his victory speech live from a
Qdoba
.
It's been reported by the Post-Gazette that it looks like the NHL is leaning toward putting the 2011 Winter Classic in Pittsburgh.
But talk about ambiguous reporting.
Look at this:
— Title reads "Winter Classic likely at Heinz Field."
Okay. Got the reader's attention.
— First sentence states that "things are falling into place."
Oh, man, this article is
gonna
be juicy.
Nope.
—
Molinari
says the Penguins and NHL are declining comment.
—
Molinari
then says PNC Park has already been ruled out as a possible site for the game and was never a serious candidate to host it, because of the larger seating capacity at Heinz Field.
Uh…has
he watched the last two Winter Classics?
Fenway Park holds like 200 people, and it got a game.
— The rest of the article consists of saying the Steelers play a home game on December 23 then finish the regular season on the road the following weekend. Further details will be known when the NFL beats off on their schedule-release party next month.
So, where exactly are "things falling into place"?
All you read in this article are assumptions while Dave
Molinari
plans the Winter Classic by himself.
But since Dave
Molinari
has sparked the conversation, we might as well address the pros and cons of a Winter Classic in Pittsburgh, whether it be at PNC Park or Heinz Field.
PNC PARK
Seating Capacity: 38,496 OR
Alyce
Poyner
.
Availability: 100% free.
Unless the Pirates make the playoffs and play an extra-innings game that lasts 2 months.
Advantages of PNC Park Winter Classic
1. NBC broadcast team can touch itself about the Pittsburgh skyline for upwards of 3 hours.
2. Mike Lavaliere may drop the puck for the ceremonial
faceoff
.
Disadvantages of PNC Park Winter Classic
1. Luke
Ravenstahl
will be prominently involved.
2. The seating capacity is mud.
Not sure why it's even worth the NHL's time to sell this few tickets.
You can actually start counting the people.
And can see a boob or two.
Heinz Field
Seating Capacity: 65,050
Availability: No clue. Games could be moved to a state prison next year.
Is the NFL even
gonna
have a season next year? Who knows.
Advantages of Heinz Field Winter Classic
1. Seating capacity.
We've mentioned this in a post before.
The attendance at Ralph Wilson in 2008 equaled the 2009 and 2010 attendance COMBINED.
If not, it's pretty damn close. Close enough for us not to go look it up.
People flipping the channel were stunned when they saw this packed house.
2. Neil O'Donnell may drop the puck for the ceremonial
faceoff
.
3. Steelers will pay everyone off to get more coverage.
4. All fans through the gates receive a Get Out Of Jail Free card, courtesy of the
Rooneys
.
And they get to partake in the new Steelers Fan Experience™.
Which includes games such as Throw Shit at a Woman's Face.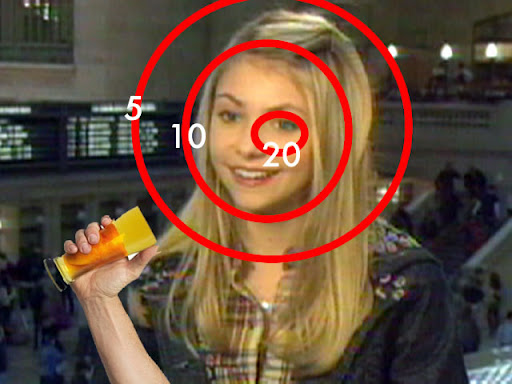 Do You Have What It Takes?™
Disadvantages of Heinz Field Winter Classic
1. Luke
Ravenstahl
will be prominently involved.
2. Seating still not enough.
Take the game to another NHL city with a big college/pro stadium nearby.
Beaver Stadium at Penn State would be ideal for a Pens-Flyers matchup.
But from what we've heard, as long as Joe
Paterno
keeps recharging his Rascal at night, this ain't happening.
Pens fans will have to listen to Stiller fans throw beer cans and beat their wives around about how the Penguins made the
Stillers
play their last one or two games of the season on the road. Consequently, the Steelers' playoff chances will rely on beating Cleveland on the road in Week 17.
4. Pens players may become rapists and wife beaters.
Wonder if Dan Rooney will bail them out of jail, too?
5. Jeff Reed will be at the game supporting his Pens.
Maybe he'll take the time to pee on a cop or something.
6. Hard for the home team to win games played at Heinz Field in January.
No way we're ever retiring that line.
After outlining all the advantages and disadvantages, we come to the biggest factor in all of this:
Sidney Crosby's Pittsburgh Penguins will once again be shoved in America's mouth.
First of all, Alex
Ovechkin
will be playing in the 2011 Winter Classic.
That's as close to a sure thing as you'll ever encounter in life.
But our standing as one of the most-hated
fanbases
in the NHL will be cemented.
All these NHL teams pleading for a Winter Classic appearance.
And the Pens return to the WC three years removed from Buffalo.
If the Winter Classic comes to Pittsburgh, we'll be sucking balls on corners to get tickets.
We aren't
gonna
start up petitions to keep it out of Pittsburgh, by any means.
But we just wish it were in another city and the Penguins weren't involved.
It's a stupid idea and we'd rather have that moment in a few years so that it means more, so it feels like more than a stupid marketing/TV ratings ploy, so that it has the magic that it has the potential to have.
And so other great franchises in the NHL have a chance to experience the Winter Classic.