Game 3 Sunday Won't Be On Outdoor Screen

Pittsburgh Penguins Apr 17, 2009, 1:36 PM EDT

The Penguins will not show Sunday's Game 3 of the Stanley Cup playoffs on the outdoor screen in front of Mellon Arena because of a decision by NBC Sports.

Sunday's game will be televised nationally by NBC. As a policy, NBC Sports does not allow teams to show their broadcasts on arena screens.

The Penguins will show Game 2 tonight on the outdoor screen, and will resume the screen for Game 4 Tuesday night. Both of those games will be broadcast locally by FSN Pittsburgh.
NBC, the channel that has used the Pittsburgh Penguins and Sidney Crosby in just about every commercial since the network started airing hockey games, is refusing to let the team show game three of the Penguins/Flyers series on the giant screen outside the arena.
Ironically, MSNBC
published this article
on Wednesday in which they wrote "during the Penguins' run to the Stanley Cup finals last season, the outdoor TV routinely drew a couple thousand fans."
NBC is airing the game nationally on Sunday and must figure that a thousand or so people watching on a big screen will ruin their ratings.
It's funny that the NBC company line is now that "NBC Sports does not allow teams to show their broadcasts on arena screens."
You might remember that a giant screen was outside the arena last year.
In case you don't, you can read all about it
here
.
NBC aired those games and the giant screen did as well.
Perhaps when they walked into the arena the NBC staff didn't notice a huge screen surrounded by a thousand people.
Strange that a thousand people were easily ignored by NBC last season, but this year those same thousand people watching a game outside the arena are a danger to the company's ratings.
This is the decision of the NBC national network and not any local affiliate.
If you are planning on going to the game tonight, either inside the arena or to watch the screen outside, and you disagree with this decision bring a sign and/or start a chant.
Possible suggestion: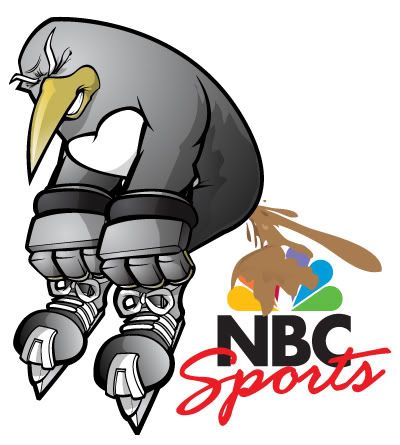 Click for high res image
If you disagree with this decision and feel the need to respectfully have your opinion heard, NBC Sports can be reached at
nbcsports@nbcuni.com
Brian Walker, Senior Director at NBC Sports can be reached at
brian.walker@nbcuni.com
Adam
Freifeld
, Director of Communications at NBC Sports can be reached at
adam.freifeld@nbcuni.com
Mike
McCarley
, VP Communications and Marketing at NBC Universal Sports & Olympics can be reached at
Mike.McCarley@nbcuni.com
Lyndsay
Iorio
, Communications Coordinator at NBC Sports can be reached at
Lyndsay.iorio@nbcuni.com
Kathy Connors, Manager, Sports Communications at NBC Sports can be reached at
kathy.connors@nbcuni.com
Kenneth
Schanzer
, President of NBC Sports can be reached at
Kenneth.Schanzer@nbcuni.com
Dick
Ebersol
, Chairman of NBC Universal Sports & Olympics can be reached at
Dick.Ebersol@nbcuni.com
NBC can be reached by phone at 212-664-4444 or by fax at 212-664-4426
NBC Sports can be reached by phone at 212-664-2642