There are a lot of great Penguin blogs on the Internet. Over the summer we're asking some of those blogs to guest post over here. It's a great way to discover a new blog you may not be reading and it's easier than having to come up with our own material…
Today we are happy to bring you Jesse from Faceoff Factor and his yearly draft preview.
As always, the guys at Pensblog have asked us draft geeks at Faceoff-Factor to stop by and provide some insight into the upcoming NHL Entry Draft. This is, without a doubt, our Christmas. Knowing that, Pensblog Charlie actually screen-printed matching "Team Taylor" and "Team Tyler" shirts for Mike Farkas and I in preparation for the Taylor Hall and Tyler Seguin sweepstakes. (I will personally be sporting the Team Tyler shirt come Friday night.)
Shameless self-promotion, us folks at the Factor will be releasing our full, in-depth top 30 ranking shortly as well as a complete first round mock draft. Last year we mocked three rounds and it proved to be an absolute disaster so we're trying to tone it down a little.
So, once again, thanks to the guys here at The Pensblog for giving us the forum. We figured we'd throw a few names at you in terms of players we think the Penguins could and should look at when they step to the podium this year.
How awkward will it be having teams pick after us at this draft? We've gotten used to that 29 and 30 slot.
Quinton Howden – LW – Moose Jaw Warriors (WHL) – 6'3 – 183lbs. – Shoots L
Howden is a kid that has Ray Shero's name all over him. If there's anything we've learned about Shero and his team, it's that they love a big North American forward that can protect the puck and score goals in a plethora of ways (see: Pierro-Zabotel, Casey and Veilleux, Keven). Howden's best attribute is his size, but he doesn't play the game like a typical power-forward. He has blazing speed and is already an established two-way player. He can kill penalties extremely well and has a penchant for generating turnovers based off his reach and his quick feet. He's got some bulking up to do, but there's no reason why Howden can't continue to improve on an already established set of skills. He put up 28 goals and 37 assists in 65 games for Moose Jaw before he was sidelined with a collarbone injury. He needs to bulk up and gain a little bit of confidence, but both of those traits ought to be picked up as he continues to mature.
Brock Nelson – LW/C – Warroad HS (Minn) – 6'3 – 205lbs. – Shoots L
First off, how bad ass of a name is Brock Nelson? It's ringing with testosterone. The best part about the name is that it fits the bill. Nelson is a beast at 6'3 – 205lbs at such a young age. Nelson dominated the Minnesota High School scene this year putting up 95 points (53+42) in 31 games played. He plays a solid offensive game and is gifted at virtually every stage in the offensive zone. One of his biggest knocks is that he has great acceleration but his top end speed is a little bit lacking. If he's going to stick at center, he's going to have to prove that he can hang defensively at the next level. Nelson's committed to North Dakota, so the timeline on his NHL debut might be far out, but if we're looking for a solid wing that can play with our talented centers, Nelson might be worth the wait.
Charlie Coyle – RW – South Shore (EJHL) – 6'2 – 202lbs. – Shoots R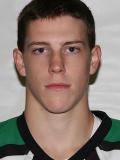 Coyle is a crapshoot. I think he'll either go early or fall to the second round. The lack of a true test in opponents has alarmed some scouts and the EJHL isn't exactly renowned for producing top-flight talent. Regardless, Coyle is getting some love from some of the major scouting services and rightfully so. The first thing you should notice when you see Coyle play is that he will hit anything that comes within his range. He doesn't bypass opportunities to play the game in a physical fashion. You have to love that. He's also got excellent poise with and without the puck and a nice shot that he probably ought to use more. He was South Shore's most consistently dangerous player this year and logged a ton of minutes in key situations. He's another kid that is taking the collegiate hockey route as he's committed to Boston University for the fall. The bonus for Coyle is that no prospect in his range did better at the combine. He proved to be one of the strongest and best conditioned athletes in the entire facility and was also reported to be an excellent interview. That will only help Coyle as draft day draws near. He had 63 points (21+42) in 42 games for South Shore this year.
My personal hope for the Penguins?
Beau Bennett – RW – Penticton (BCHL) – 6'1 – 173lbs. – Shoots R
I've seen Bennett ranked as high as 17 and as low as 34. He's a complete wildcard in this race. That said, no one has scored more points as a rookie in the last seven years of BCHL hockey as Beau Bennett has. When it comes to pure offensive talent, Bennett has all the tools. He's an excellent skater, he has a solid shot, and his vision makes him a threat distributing the puck .What makes him an attractive option to me is the fact that he played alongside another BCHL star in Denver Manderson. (Brock Nelson? Denver Manderson? Unreal names). Bennett and Manderson put on a show, and Bennett proved that putting him with a talented center can produce lucrative results. That's exactly the situation we have here. It might be a bit of a stretch if some more attractive options are on the table, but I'm hoping the Penguins can reach for this kid when they select their first pick this year. Bennett's offensive upside is so high that it could be worth it. He registered 120 points (41+79) in 56 games for the Vees this year. He's also headed to Denver University this fall to pursue hockey at the next level.
Be sure to stay tuned to Faceoff-Factor throughout the week. We'll be updating our rankings and doing some more in-depth analysis. We'll also break down the Penguins picks this year and give our best insight into how they do on draft weekend.
Get your Team Taylor and Team Tyler T-shirts ready and enjoy the draft.