7:30 PM
Scotiabank Place

Listen to the game at [
WXDX
]
You can submit questions via the discussion tab for the Crash the Net segments or Penguins Hotline after the game.
Of course, it's impossible to have all good news on the injury front.
Mark Eaton, the one defenseman that has played every game this season, missed the morning skate and will be a game-time decision.
Dan Bylsman "remains optimistic" that Eaton will play, despite him having back spasms.
If Eaton doesn't play, he will be replaced by Chris Lee (who was called up from WBS.)
That means the Penguins will dress four defensemen that have a combined total of 22 games of NHL experience between them.
She had a serious heart condition and doctors were forced to induce her into a coma.
When she came out, her first words were "Is there a hockey game on tonight?"
"Celesnik invited Talbot inside to her living room, where her daughter, Mandy, and family friend Pat McCabe and her daughter, Megan, were located. Talbot gave Celesnik a big hug before the two sat down on the sofa to talk about Celesnik's amazing journey.

As they sat down, Talbot gave her the white jersey complete with signatures from the entire Penguins team around the logo. Celesnik was shocked."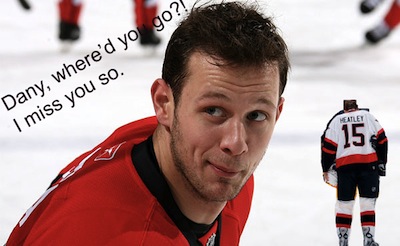 Tonight's lines:
Ruslan Fedotenko – Sidney Crosby – Evgeni Malkin
Pascal Dupuis – Jordan Staal – Bill Guerin
Matt Cooke – Craig Adams – Maxime Talbot
Chris Bourque – Mike Rupp – Eric Godard
Sergei Gonchar – Nate Guenin
Martin Skoula – Ben Lovejoy
Mark Eaton/Chris Lee – Deryk Engelland
Marc-Andre Fleury
The last time we saw Max Talbot in a game:
And, just so you remember what Gonchar brings to the ice:
We tried calling up some of our most experienced minor league gameday characters.
Each one of them was hurt in a series of freak accidents and none of them will be available tonight.
Check back in two-to-four weeks.
Do it.
Go Pens.