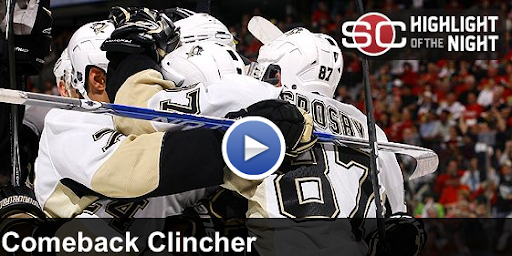 Last week or so Ron
MacLean
, the leader of the Canadian Media propaganda machine, speculated what the Penguins' playoff motto "Out For Justice" meant.
Last night, the Penguins showed the world what it meant.
After seeing
Rupp's
goal called back and then that shaky
Malkin
interference call, the Pens
seeked
justice.
And they got it.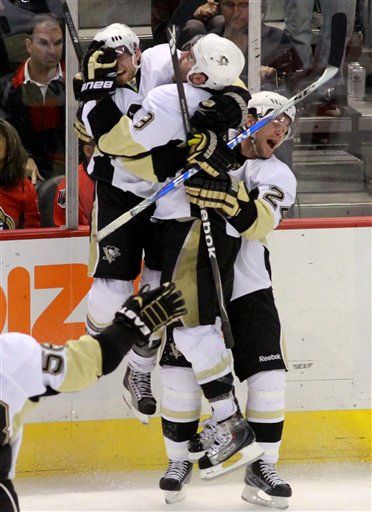 Wasn't this Game 6 eerily similar to a Game 6 that happened almost one year ago to the day?
Flyers had the Pens down 3-0 at home. The Talbot fight sparked the comeback of course. Pens won
4-3
5-3.
In this one, there was no definitive turning point.
But if you want one, it was Cooke quickly answering that third
Sens
goal with one of his own.
Huge goal.
The best part about this comeback was that
Geno
and Sid almost had nothing to do with it.
Hell, Crosby was a -2.
Matt Cooke's two goals and Pascal
Dupuis's
classic OT goal led the way with a little help from Bill
Guerin
.
Mark Eaton had a hell of a game.
So, as it was a year ago, the Penguins crawled through a river of a three-goal deficit and came out clean on the other side. The boys are coming home.
The World Championship defense lives on.
As things stand right now, Boston will be coming to Mellon sometime this week.
Carroll T. Amazing.
The mailman got things started early. Ottawa fans were at a fever pitch.
Pens came out and played a simple road game.
First few minutes were okay. But then the
Sens
broke it open.
Alfie
rounded up a puck right outside his own zone.
All of a sudden Matt Cullen is on a breakaway.
1-0.
The Senators weren't playing out of their minds.
The Penguins just couldn't get anything going.
MAF
had to make some big-time saves just to keep the game 1-0.
It wasn't looking good.
But the Pens started to get some shit going a little bit later.
LoLeclaire
made like one save in the first period, and it was
totall
bullshit
The fourth line got going, and the puck bounced up into the air.
It landed on
Rupp's
stick.
He slammed it on goal.
LOLeclaire
was deep in his crease. It looks like the puck gets in somehow.
We go to the War Room.
The verdict comes back. No goal.
Definitely a goal. Just not concrete enough. Bad times.
After the no-goal, the Pens still couldn't penetrate the
Sens
' D.
Blocked shots everywhere.
Cookie takes a penalty late.
Frustrating period overall.
If you're the creator of this picture, could you e-mail us?
Pens started the second on the penalty kill. And everything was fine.
But then
R.Kelly
made some move on Eaton.
Delayed penalty was on its way, but Chris Neil nailed one home against
MAF
.
2-0.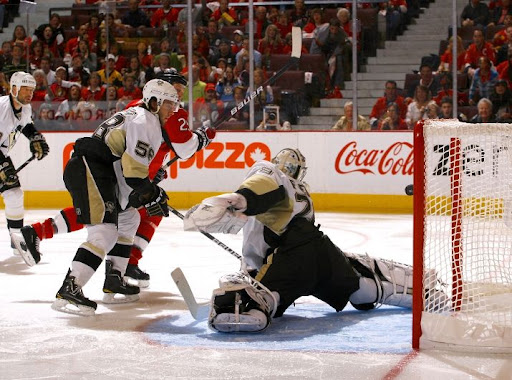 Gutty performance by Chris Neil all series.
He's still a joke.
Started looking like Tuesday night was
gonna
be booked.
Things were just in a funk. Felt like the Pens were never going to score ever again.
And it got worse.
Alfie
got a pass, buried a shot.
3-0.
Game. Set. Match.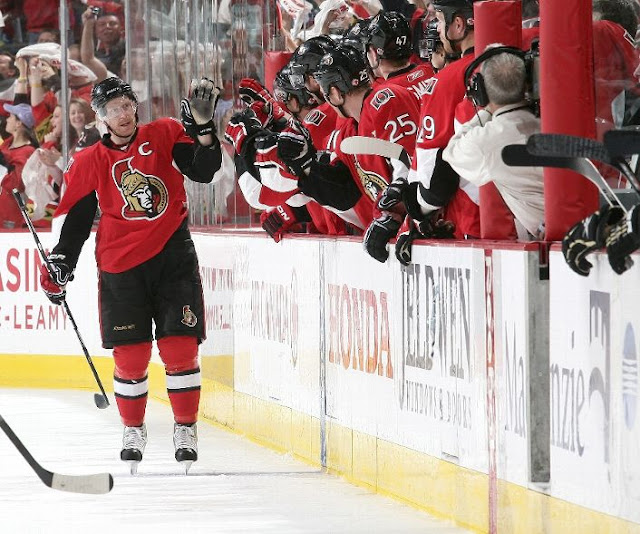 But then something happened that only Champions can do.
The Pens finally said that was enough.
Cooke innocently jumps over the boards.
Dupes-Staal
– Cookie have a great shift. Shot on net finally gets through.
Cookie nails it home. 3-1. Huge.
Maybe there was a chance. But right before intermission, the
Sens
have an unreal shift.
Matt Cullen. What a nightmare he has been. He goes crashing to the net.
Puck pops out to Fisher.
All you see is the net off its mooring and the ref pointing goal.
But hold your balls.
War Room time. Again.
You know its bad when we're digging for
photoshops
sent back in '08.
Were there this many reviews in Pens games during the entire regular season?
After a lengthy review, Justice showed her beautiful face.
Huge break.
Pens still had to kill a penalty from Matt Cullen driving the net.
And it was killed with the blood and guts of Craig Adams and Jay McKee.
Malkin
gets some unreal
slapper
at the very end of the second.
It doesn't make it the net. Probably blocked by
Volchenkov
.
And then we see the replay.
cannonball
Jesus.
As the third period began, the mood changed.
For the first time in two elimination games, the
Sens
were playing
not to lose.
No clue if they thought a two-goal lead was enough.
But whatever they thought, it cost them their season.
The Penguins began their comeback. There's been a lot of talk about the Pens flipping switches and shit, but honestly, if you watched the third period, it is exactly what happened.
First they started working.
Volchenkov
took an interference penalty.
Pens got it going on the
powerplay
.
After some hard work,
Poni
buried one top shelf.
But before you could give a high-five, the ref is waving his hands.
They called
Malkin
for
interfence
on the goalie.
No penalty on
Geno
, but the goal is still taken away.
Worst call in the last 15 years.
Malkin
was pushed.
Then it really was time for some fucking justice.
Bill
Guerin
had seen enough. After LOL lost his stick. Go-Go puts one in Billy G's wheelhouse.
That tough son of a bitch beats
Leclaire
.
3-2.
Ottawa had no chance after that.
They looked like they knew what was coming.
A few minutes later, Mark Eaton dumps one to the net.
Poni
in front, puck bounces to Cookie.
Your dog bites you in the same place as last year in Game Six as your jump off your couch.
3-3.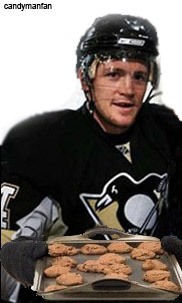 While all this was going on,
MAF
was quietly doing what he does, keeping the Pens in the game.
The
Sens
tighten up. So do the Pens.
OT City.
Things were different in this OT right off the bat. Pens brought the play to the
Sens
.
But it is playoff OT, so despite the Pens dictating the ice, the
Sens
could still win the game.
They almost did when Chris Neil walked around the net.
But
MAF
is a big-money goalie. This is why we don't job
MAF
. Big moment.
Job job job.
And then it happens. Again, suddenly.
Mark Eaton partially leads a rush into the
Sens
zone.
The puck makes its way to Jordan
Staal
.
Seems harmless, as the Pens are outnumbered on the boards.
Staal
refuses to die. The puck squirts to
Dupuis
.
Again, where would the Pens be this year without
Dupuis
?
GAME. SERIES.

Any time a series goes six or more games, it is hard to job the opposing team.
The Senators gave the Penguins all they could handle.
But in the end they just weren't as good.
If they would've had a healthy
Kovy
and a decent goalie, it is anyone's guess as to what could have happened.
Even with the way the
Sens
were playing, no one had a doubt the Pens were taking this series.
Guys like Matt Cullen, William Regal, and even Neil and
Rutuu
made life a living hell.
You hate Chris Neil as much as we do, but he scored like 3 goals in the series, more than
Alfie
and
Spezza
.
But the lack of any semblance of goaltending helped contribute to the demise of the Senators.
If it wasn't for the
Sens
blocking 129 shots in the series, it might have been over much quicker.
No way you can't give this to Bing. His work in games 1 through 5 was outstanding.
He recorded 14 points against the Senators.
He was held in check in Game 6, but his ability to wear down the top pairings of Ottawa allowed favorable matchups for the Pens all night, all series.
Phillips and
Volchenkov
couldn't even dream of being out there against anyone else.
Brought to you by Mr. Holland.
Chris
Kunitz
.
Kunitz
already has more goals in this postseason than he did all of last year's run.
He was especially strong in Games 5 and 6, which means he got better as the series went on.
Honorable mention to Craig Adams and Jay McKee for being beasts.
Presented by Homo The Goat
Like we said, hard to job people when a series goes six.
But as all of us have learned in life…
There is always a goat.
And after some thinking,
Spezza
was definitely a
turd
.
But we didn't think he'd show up anyway, so he's not a goat.
Could give it
Alfredsson
. But
meh
.
The Goat Award goes to Andy Sutton.
Sutton was the
villian
who woke up the city of Pittsburgh with his crushing hit on Jordan Leopold and the "Expert" rant in the hit's aftermath.
But Sutton was also on the ice for, in our opinion, the biggest Pens goal of the series.
The Crosby dance out of the corner and the OT goal for Dupes.

Could go with William Regal.
But offense isn't something the Pens necessarily lack.
32 blocks. Guy has no fear of the puck at all.
In the playoffs, that's who we want on our team. What an effort.
Jason S.