As much as you may have been pissed at
Fleury
for ruining your Wednesday night,
his displeasure with his own performance completely dwarfs your life.
He bounces back. It's proven in the past.
It's not even an issue.
MAF's
psyche used to be fragile. But not in the past couple years.
Still, it'd be nice to give the man some love on Friday.
FLUR-EE
,
FLUR-EE
,
FLUR-EE
.
Even on a save on a bullshit shot by Chris Phillips from the point.
FLUR-EE
,
FLUR-EE
,
FLUR-EE
.
Starting Sunday, the chants turn into
FLUURRRREEEE
,
FLURRRREEEE
.
We're all fans of the defending Stanley Cup champs.
Fans of a team that has been to the Finals two years in a row.
So we have no clue why the sky is falling in certain circles today.
Did people really forget that you can lose a game in the playoffs?
Oh, right. Chris Kelly's goal on the bad bounce was a "
powerplay
goal."
It was definitely a letdown, no shit.
But this is where the Stanley Cup swagger kicks in.
Losses like this shouldn't phase anyone.
Brian Elliott is probably the shakiest goalie the Pens have faced in the past three playoffs.
Don't tell Gene Collier that, though.
Four goals against. He had a clear look on three of the goals.
Craig Adams scored his first goal of the season. On his backhand.
He made one save worth touching yourself about, stopping
Poni
point-blank.
Gene Collier didn't even watch the game. Guaranteed.
Dan
Bylsma's
mantra is the longer a series goes, the better it is for his guys.
The cream eventually rises to the top.
So, this series may not be over quickly.
Give credit to the
Sens
. They didn't let
Malkin's
early goal mess up their shit.
They came into the contest with Trust Fund
Clouston's
game plan, and they executed it.
People will be all over
MAF
today.
Anytime Chris Neil and
Jarko
Joko
score against you, that's going to happen.
But blaming
MAF
is too easy. Tough night all around.
Bottom line: We will know a lot more about this series, and this season, on Friday night.
If you are feeling down, there are plenty other
fanbases
sharing that feeling.
The high-seeded Devils lost, and Colorado stunned San Jose late last night.
Every game was decided by a goal.
Click
pic
to head to the
Rinko
blog.
Divisional layouts for users is coming soon.
Developers surprised even us by unveiling real-time scoring.
Didn't know that was coming.
Fiddy14
itsfleuryingout2971
Mike8120
NATE K
Jumpabug11
Erin U
RussMuffin
Joe B.
PowderedToastMan
xocharmedchildox
charlie
Ryan D.
Chris D.
AJD
Sockar101
Daniel S.
Jimerson
rocks the anthems. Towels waving.
Playoff hockey is a drug. Man.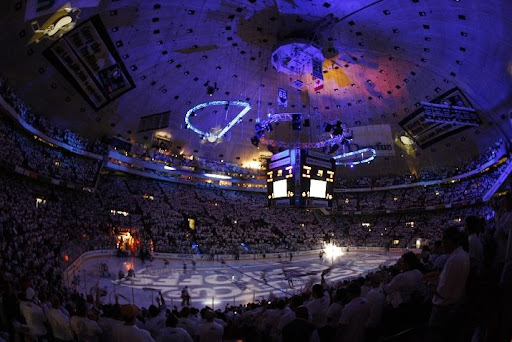 Nothing like that first minute of a playoff game.
Things settle down for a while.
Then William Regal takes a dumb penalty.
Five seconds later. The defending Conn
Sythme
winner lays one past Bill Elliott.
1-0.
Switch is flipped. All is good. Pens all over the Sens.
But not so fast. Trust Fund was weaving his web.
We saw more of Chris Neil in the first ten minutes then we anyone would have like.
No
Spezza
, no
Alfie
. Nothing. All third-line shit.
Then just when you were checking to see if
Spezza
was playing…
he busts down the wing and unleashes a big-time shot.
MAF
gives up a big time rebound. William Regal knocks it home.
1-1.
And it gets worse.
Before you know it, the Pens don't register a shot for six minutes, and Chris Neil puts one top shelf.
2-1.
Oh my god. Senators scored.
Sickening feeling to see Chris Neil do something good.
Sens
took a penalty afterward.
Powerplay
was mud.
Poni
got called for slashing. Ref had to call it.
Period comes to a end.
Second period opens up with Lady Mellon turning its back on the Pens.
Some guy goes to dump a shot in around
MAF
.
MAF
goes behind to play it.
Puck hits something on the glass. Bounces in front.
R.Kelly
pees it home.
3-1.
It was all
Sens
all the time after that.
Shockingly, the Pens didn't get a shot for like seven minutes.
Then William Regal takes another penalty.
And
Malkin
burns him for it. He takes a shot from the right-side boards.
3-2.
Did you see Bill
Guerin's
face after this goal? Shit.
Playoff momentum. Nothing compares.
Pens were flying around. And then the turning point.
Chris
Kunitz
gets called for maybe the worst penalty in the young playoff season.
Jason
Spezza
falls down, and
Kunitz
gets penalized for it.
Totally forgot about the rule in the NHL that protects Jason
Spezza
at all times.
Sens
waste no time on the PP.
Karlsson
has all day to bury it.
4-2.
It was a seemingly back-breaking goal.
The Senators get caught with too many men.
Pens shit the bed on the PP.
Period.
The game was over. Hapless performance. Chicken Little starts posting on message boards.
But then Craig Adams appeared. No goals in 82 games.
One goal.
One huge goal in the playoffs. 4-3.
Seriously. Brian Elliott is the sole reason not to even worry about this series.
Momentum again. One shot away from continuing to break Bill Elliott.
But an old friend comes calling.
Chris Neil leads a rush. Makes a pass to
Ruutu
.
Yikes. 5-3.
Pens storm back late with a goal from Go-Go. 5-4.
Malkin
and Crosby go nuts on the shift. Go-Go with a great shot.
But it is too late.
The Senators come back after the goal with a shift that eats 30 seconds.
Huge mistake by
Letang
to let that happen.
Game. One.
Senators' blog reaction:
"New rule alert! "Ottawa, number 43. Two minutes. Annoying Sidney Crosby"
. [
Five For Smiting
]
But let's not get ahead of ourselves. The Pens will be better come next game, they will adapt, and their experience will not allow them to get down heading into game 2.
[
Sensay
]
But for some reason, the Senators weren't content with that. They showed up with some fight and it's not something I've seen from this team in awhile. I don't know how long it will last but I'll take it. We were getting goals from guys who don't usually score and Erik

Karlsson

was cool as a cucumber out there. Both

goaltenders

were a wreck tonight but it makes for a nice change when it's not just our team with poor

netminding
. [
Scarlett Ice
]